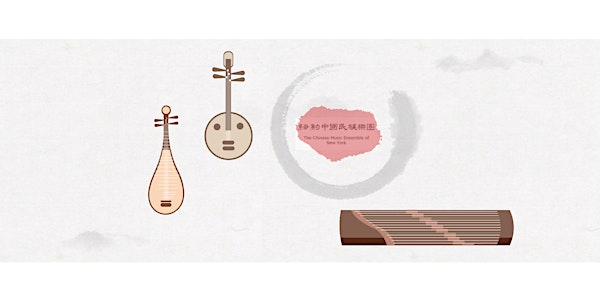 Chinese Music & Culture Workshop - Chinese Instruments Tell Idiom Stories
Sales Have Ended
Registrations are closed
Thank you for registering the Chinese musical instrument workshop! Welcome to follow us and join more of our wonderful activities. 感谢注册纽约中国民族乐团公开课!欢迎关注我们,观看我们的YouTube视频并参加我们更多精彩的活动 http://www.chinesemusicensemble.org/ https://www.instagram.com/cmeny1961/ https://www.facebook.com/cmeny1961/ https://www.youtube.com/channel/UCO6U-QLBWSe-_GK21KSkqnA
Sales Have Ended
Registrations are closed
Thank you for registering the Chinese musical instrument workshop! Welcome to follow us and join more of our wonderful activities. 感谢注册纽约中国民族乐团公开课!欢迎关注我们,观看我们的YouTube视频并参加我们更多精彩的活动 http://www.chinesemusicensemble.org/ https://www.instagram.com/cmeny1961/ https://www.facebook.com/cmeny1961/ https://www.youtube.com/channel/UCO6U-QLBWSe-_GK21KSkqnA
Free Online Chinese Music & Culture Workshop from CMENY - Chinese Instruments Tell Idiom Stories 纽约中国民族乐团免费线上民乐公开课 - 用民乐讲述文化故事
About this event
About This Workshop:
Four professional Chinese musical instrument players of CMENY will give a free online workshop again to introduce four famous Chinese musical instruments: Guzheng, Pipa, Erhu, Dizi, and traditional Chinese music with interesting stories.
四位来自纽约中国民族乐团的专业的民乐演奏者会为大家再一次带来一场免费的线上公开课,介绍四种中国民族乐器:古筝,琵琶,二胡,笛子,以及中国传统民乐。
Each teacher will give a 15 minutes presentation to introduce one kind of Chinese musical instrument as well as playing it to show one piece of beautiful music. Also, they will introduce the background, technic and feature of each piece, and tell the cultural stories associated with the music. All of them are very experienced with Chinese Musical instruments playing and are enthusiastic to share them with you!
每一位老师会用15分钟来介绍一种乐器以及演奏它们,给大家带来优美的音乐。老师会介绍乐曲的背景、技巧、特点,并讲述乐曲相关的文化故事。所有老师都有丰富的民乐演奏经验,并期待与你们分享!
Workshop is designed to be inspiring for all people who are interested in music and Chinese culture. For beginners and people who are not familiar with Chinese Music, this workshop is a great window for you to see a new world of the Traditional Chinese Music. For students and people who are interested in Chinese Music, this is a great opportunity to find a good teacher and know the best musical instrument for you to learn. For mature players and musicians, this is a good chance to get friends and communicate with Chinese musicians.
公开课适合所有对音乐及中国文化感兴趣的朋友。对于初学者和不了解民乐的人,这次公开课是一个非常棒的了解中国传统音乐的窗口。对于学生和对民乐感兴趣的人来说,这是一个很好的机会找到优秀的老师及自己适合学习的乐器。对于成熟的民乐演奏者和音乐家,这也是一个认识朋友,互相交流的好机会。
The Chinese Music Ensemble of New York (CMENY) is supported by the New York State Council on the Arts with the support of Governor Andrew Cuomo and the New York State legislature, New York City Department of Cultural Affairs along with many other friends.
Introduction of Teachers:
Katelyn Weng 翁梦昕 set forth on her musical journey learning piano at the age of six and Chinese flute at the age of eight with Mr. YuYuan Xu. She became a member of The Chinese Music Ensemble of New York in 2010 and performs with them bi-annually at Merkin Concert Hall. After winning first place in the Eastern Music category in the SNO-US International Campus Cultural Arts Festival in Beijing in 2011, she returned to attend the CCTV Colorful Gala in 2013.
Fan, Chen 范琛 is a decorated pipa and jazz musician. She studied pipa, jazz piano, and jazz electric bass at the Shanghai Conservatory of Music. Following her graduation, she came to the United States to further her musical education by attending NYU Steinhardt, where she received her master's degree in Music Education. Her acclaimed performances mesh mixed-media artwork, pipa performance, and dance in a singular expression of Chinese culture through the lens of her life experiences.
Sun, Wei 孙薇 is a certified advanced guzheng teacher, and member of Chinese National Music Association and International Association of Guzheng. She began guzheng studies with Liu, Qiaojun at the age of seven, and continued with Yuan, Sha at the Communication university of China, from which she holds a BA in literature. She is a decorated virtuoso and has received numerous awards for her guzheng performances.
Yang, Feifei 杨飞飞 is a celebrated huqin artist and an award winning singer. She is a member of the Chinese Musicians' Association and a researcher in the Digital Arts and Humanity Research Center at Pratt institute. Ms. Yang has been invited to perform at notable institutions across the United States, including Lincoln Center, the Barclay Center, the United Nations Summer State, and New York Fashion Week among others. Feifei's first self-composed and live-recorded huqin music album Dance of the Strings, was released in 2015.
Links of CMENY: