China(Zhongshan) International Games&Amusement Fair 2017
Description

China(Zhongshan) International Games&Amusement Fair 2017
China Welcomes Global Insiders With Open Arms!
As China's game and amusement equipment manufacturing reaches its maturity, an industry reshuffle is also looming ahead. In order to survive among intense market competition, lots of China's game and amusement enterprises are now eagerly trying to inject more creativity into their products and transform themselves from "Made in China" to "Created in China" by cooperating with oversea leading enterprises. Meanwhile, due to the great market potential that China owns, more and more international enterprises is seeking business opportunity in China.
If you also want to find a Chinese business partner to help you penetrate into China's game and amusement market, please come to G&A 2017 and grasp your opportunities which are easily within reach in just a few months!
Date: Aug 11th-13th, 2017
Main Venue: Zhongshan Convention Center
Sub-Venue:Guangdong Game and Amusement Culture Industry City
Introduction of G & A
First held in 2008, G & A managed to become the world's most forward-looking and the most attractive high-end trading fair at one stroke with contracts worth millions of RMB signed at site. From 2010 to 2016, G & A was embedded in 《Guangdong Culture-rich Province Planning Framework》, the exhibition scale rose from 44,000sqm to75,000sqm, and the number of exhibitors has risen from 243 to more than 400, which makes G & A one of the largest-scale game and amusement fair in China.
Review of G&A 2016
More about 400 companies exhibited at G & A2016, which covered an exhibition area of 75,000m2. According to the official data, G & A2016 attracted 16356 professional purchasers from over 36 countries and regions such as America, France, Korea, Indonesia, Switzerland, Turkey, India, Dubai and so on. Thousands of Game & Amusement Equipments(Indoor and outdoor) were displayed! Get the detailed show report from us: grand.ti@grahw.com.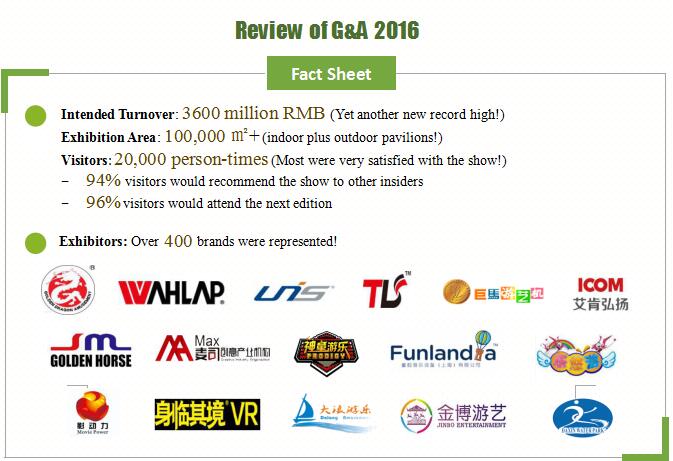 Strong Support from exhibitors and G & A2017 Prospection
Since the 2017 exhibition invitation were sent, 263 old exhibitors have confirmed their booths. Thanks amusement brands such as UNIS, WAHLAP, Golden Dragon, G-LOOK, Golden Horse, rides brands Jiuhua, Global, Derun Rides, Kingsun and Design brands such as UNITE ART, Matee, Huazhongxing, Shi Merit, Leshanshui, Ebulliency, Max, Icom. If you are interested to be an exhibitor, please feel free to contact us for details.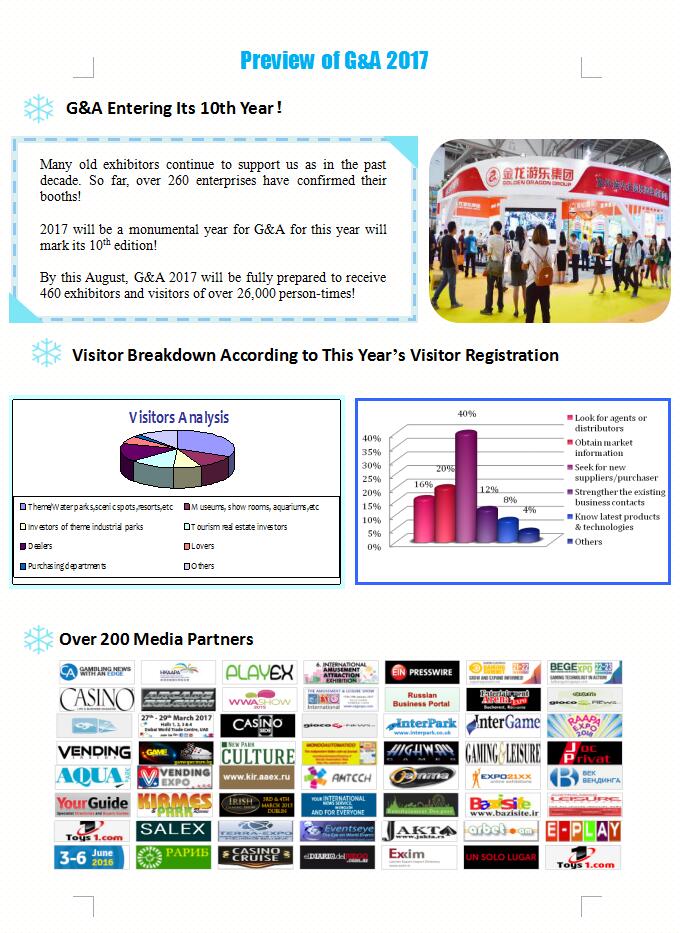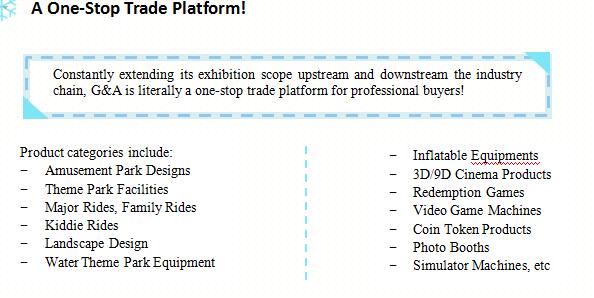 Please notice that we provide 2 nights free hotel for our overseas visitors. Free room is limited, please register now to get it!
If you are interested in exhibiting in G&A 2017, please contact Ms. Dora Leung at chinagamesfair@163.com or call 86-20-29178995. Any question is welcomed!
Contact:
Dora Leung
China Zhongshan International Games & Amusement Fair
Guangdong Grandeur International Exhibition Group
Tel: 86-20-29178995 Fax: 86-20-82579220
Mobile/Wechat/whatsapp: +86 13066247489
Web: http://www.zsgaf.com/
Email: chinagamesfair@163.com/grand.je@gdhw.com
Add: 3th Floor,No.7,the First Street of Kehui, Kexue Avenue,Science City, Huangpu District, Guangzhou ,China.