Location
Portsmouth Square
Washington Street
San Francisco, CA 94108
Refund policy
Contact the organizer to request a refund.
Eventbrite's fee is nonrefundable.
APICC is proud to co-present a series of outdoor performances at Portsmouth Square in San Francisco's Chinatown.
About this event
The Asian Pacific Islander Cultural Center is proud to present a series of outdoor performances at Portsmouth Square in San Francisco's Chinatown as part of the 24th annual United States of Asian America Festival.
ADA accessible. ASL interpretation will be provided.
Tickets are limited to 50 seats per showcase. If tickets run out, you can still attend by signing up to volunteer: http://bit.ly/volunteeratusaaf
Click here for our Health and Safety Plan for the Event
ARTIST & PERFORMANCE LINE UP 艺术家同表演阵容
Maggie Wong (MC)
Maggie Wong currently works as a program host in Sky Link TV . She is also an active community member in SF and donates her spare time supporting non profit organizations such as CCC / self help for the elderly / friends of On Lok etc.
Maggie Wong 目前在天下衛視擔任節目主持人。她同時也是三藩市一名活躍的社區成員,在業 餘時間捐款支援非牟利組織,如基督教會、老人自助會、安樂(On Lok)朋友會等。
1:00-2:45 PM PST 太平洋标准时间下昼1:00-2:45
Michael Warr and Chun Yu
3:30-5:45 PM PST 太平洋标准时间下昼3:30-5:45
All That We Hold (Audrey Thao Berger & Noah Wang)
Tayo'y Amoy Araw! We Smell Like Sunshine! (Erina Alejo, with Jai Severson and Friends of Cyphers and Solidarity)
Altar-N8 Realm: Chinatown (Macro Waves)
TNT SideCaraoke (Michael Arcega and Paolo Asuncion)
Never Again, NOW! (Jon Jang and Paul S. Flores)
REGISTRATION & CHECK-IN 登记与签入
This event is divided into two showcases on the same day. Both showcases are free and open to the public. Donations are welcome and will go toward the Chinese Progressive Association and Sewa International's COVID Oxygen Concentrator for India.
Registration is open for individuals and groups of up to THREE (3) people from a single household for social distancing purposes. Up to 50 seats total are available per showcase. For contact tracing, please enter the details (name, phone number and email address) of each attendee in your party.
Your ticket reserves socially distanced seating. Make sure to arrive at least 30 minutes in advance at the Washington St side entrance of Portsmouth Square Park to guarantee your spot. We ask that you (and your party) get to the venue in a timely fashion because we need time for check-in and to allocate distanced seats. Once assigned a seat, please do not move or alter the chairs.
If you do not check-in at least 30 minutes in advance, your spot could be given away to someone on the waitlist. The waitlist will be available for walk-ups starting ONE (1) hour in advance of each showcase.
The exit and bathroom are located at the Clay Street entrance of the park. There will be hand sanitizing stations located at every entry and exit. Please wash hands and use sanitizer regularly and refrain from touching your face with unwashed hands.
本次活动喺同天分为两个展区。呢两个展区都免费向公众开放。欢迎啲人捐款,啲捐款将用于唐 人进步会同Sewa国际COVID为印度集中氧气机构。
出于社会疏远嘅目的,一个家庭最多三(3)人嘅个人同团体可以落。个个展区最多可供五十个位 。为咗联系跟踪,请输入你所在团队嘅个个与会者详细信息(名、电话号码同埋电子邮件地址)。
你张飞预定咗保持社会距离嘅座位。至少要提前半个钟到朴茨茅夫广场公园嘅华盛顿街侧入口, 以确保你个位。我哋要求你(同你团队)及时到会场,因为我哋要啲时间治理签入手续并派保持 距离嘅座位。一旦指定座位,唔该唔好褪或者变更座位。
如果你唔提前半个钟治理签入手续,你嘅座位可能会派畀候补名单上嘅人。喺唔同展区,候补名 单会自开始前一(1)钟起供。
出口同厕所位于公园嘅克莱街入口。喺唔同出入口都有洗手站。唔该经常洗手,使用消毒剂,唔 好用未洗手嘅手玷你嘅面。
EVENT SAFETY 活动安全
We will be sanitizing seats and high-touch surfaces between each showcase. If you register for both showcases, you will be asked to exit and check-in again on the Washington St side entrance of the park for the second showcase.
Please try to maintain a 6' distance with all other patrons who are not a part of your socially distanced group. We ask that we all take care of each other and wear masks at all times.
If you are feeling unwell or have been exposed to someone who has tested positive for COVID-19 we respectfully ask that you remain home.
我哋将对个个展区嘅座椅同接触率高表面进行消毒。如果你同时注册呢两个展区,就会要求你出 去并喺第二个展区嘅华盛顿街侧入口再次治理签入手续。
请你尽量与其他唔系属於你社交隔群体嘅顾客保持6呎嘅脚。我哋要求大家互相照顾,始终戴好口 罩。
如果你觉得唔适,或者认为接触咗检测为COVID-19阳性嘅人,我哋谨请你留喺屋企。
ACCESSIBILITY & CONSENT 可访问性同埋同意
This event is ADA accessible. ASL interpretation will be available.
If you require any special accommodations or assistance, please let us know by filling out the accommodation question when you register or email us at info@apiculturalcenter.org.
Photos and video from this event will be documented and shared publicly on APICC's website and social media. By registering and attending this event, you consent to the potential of your image being shared publicly through APICC's channels.
此活動遵守《美國人殘疾法案》。將提供美國手語翻譯服務。
如果您需要任何特殊的座位安排或協助,請在登記時填寫座位安排問題或發送電子郵件至
info@apiculturalcenter.org 告知我們。
本次活动嘅相同影片将上载到APIC嘅网站同社交媒体上分享。注册并唔系本次活动,意味着您 同意通过APICC嘅渠道共亯你嘅图像。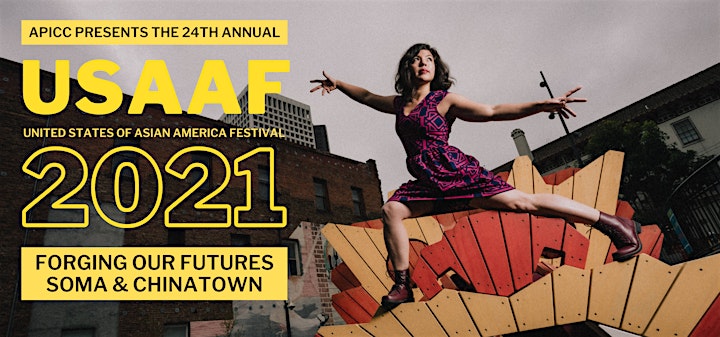 UNITED STATES OF ASIAN AMERICA FESTIVAL 美國亞裔美國人節確認郵件
This year's 24th annual United States of Asian American Festival (USAAF) presents over 20 different programs reflecting the artistic accomplishments and cultural diversity of San Francisco's Pacific Islander and Asian American communities. USAAF showcases artists representing a diverse range of ethnic and cultural groups and aims to heighten the visibility of Asian and Pacific Islander (API) artists working in all disciplines - theater, music, dance, film, literature, visual arts, and more! Our goal is to nurture and empower these groups to be self-sufficient while providing the support they need to grow.
This year's theme, Forging Our Futures - SoMa & Chinatown, explores how we are fostering recovery, resilience and regeneration in our communities, what place-making and community building looks like, past, present and future and how we're imagining and manifesting empowered future for ourselves and our communities.
See the USAAF line up and a full calendar of events here.
USAAF 2021 is funded by the San Francisco Arts Commission, San Francisco Grants for the Arts, California Arts Council, Fleishhacker Foundation, Zellerbach Family Foundation, startsmall and National Endowment for the Arts.
今年的第 24 屆美國亞裔美國人節(USAAF)會表演 20 多項不同的節目,反映三藩市太平洋島民和 亞裔美國人社區的藝術成就和文化多樣性。USAAF 的節目演出成員都是來自不同種族和文化群 體的藝術家,旨在提高亞洲和太平洋島民藝術家在戲劇、音樂、舞蹈、電影、文學、視覺藝術等 各個領域的知名度!我們的目標是培育和指導這些團體能夠做到自給自足,同時提供他們成長發 展所需的支持。
今年的主題是「締造我們的未來—南市場街與中國城」,探討我們如何在我們的社區中促進復 蘇、恢復和再生活力,了解地方建設和社區建設是什麼樣子的,在過去、現在和未來又是什麼樣 子的,以及我們如何為自己和我們的社區發揮想像力和締造未來發展。
2021 年美國亞裔美國人節由三藩市藝術委員會、三藩市藝術大獎、加州藝術委員會、弗萊什哈 克基金會、澤勒巴赫家庭基金會、startsmall 和國家藝術基金會資助。