Description
Come Join Our Holiday Party & ic! berlin Trunk Show on December 2nd!
Hi everybody!
We are pleased to invite you to Chinatown Optical's Holiday Party & ic! berlin Trunk Show!
In honor of our December's Brand of the Month, ic! berlin, an innovative eyewear company featuring durable and stylish screwless frames, we'll be hosting a German Themed Holiday Party in-store on December 2nd! You will enjoy multiple discounts on eyewear purchases, an ic! berlin Trunk Show, free food and drinks, and a ton of exciting prizes. There will be ic! berlin giveaways and not to mention a raffle for two store gift cards, two pairs of ic! berlin eyewear, and two round-trip tickets to Berlin, Germany to visit ic! berlin's factory!
Join us at the party! We can't wait to see you.
Happy Holidays~
Chinatown Optical

Party Information
- Date & Time: Saturday, December 2nd, 2017, 4-7pm
- Location: Chinatown Optical. 40 Mott Street, New York, NY 10013
Party Highlights
** All guests will enjoy 25% OFF ic! berlin frame purchases PLUS $100 OFF complete pair purchase of any other brands (with minimum spend of $300) during the party. Restrictions apply, please see store for more details.**
- German themed holiday decoration
- ic! berlin Trunk Show: eyewear trends presentation, new product try-ons
- Free one-on-one eyewear consultation: appointment needed, click here to book an appointment TODAY

- Free food & drinks: German finger food and beer served
- Free ic! berlin giveaways
- BIG RAFFLE TIME: All guests will automatically receive a raffle ticket upon arrival. For every $100 you spend, you will get an extra raffle ticket.
1st Prize: A FREE pair of ic! berlin eyewear (worth $500) and a $300 store gift card
2nd Prize: A FREE pair of ic! berlin eyewear (worth $500)
3rd Prize: A $200 store gift card
Grand Prize: 2 Round-Trip Tickets to Berlin, Germany to visit ic! berlin's factory. Winner will be announced on December 31st at 6:30pm.




---
About Chinatown Optical

Chinatown Optical: Your Premium Eyewear Specialist Since 1979
Established in 1979, Chinatown Optical has since become an industry leader in offering exemplary professional eyecare services and eyewear products. By housing an unparalleled selection of fashion eyewear and independent designer brands from Italy, Germany, England, France, Korea, and Japan, Chinatown Optical is now one of the biggest optical retailers in downtown Manhattan.
Services
Professional Optician & Optometrist Team
We have licensed opticians and optometrists available in-store 7 days a week.
One-on-One Eyewear Consultation
Our eyewear consultants will help you pick the right frames to compliment your personality and style.
DMV + Referrals
We are one of the vision providers for the DMV Vision Registry. If we identify the early signs of any eye diseases, we will refer you to local eye specialists.
Contact Lens Fitting
Our optometrists are able to fit you with the right contact lenses for your lifestyle including soft and toric disposals, RGP, and color lenses.
Repairs & Adjustments
We provide complimentary adjustments and repairs every day.
Same Day Service
When you are in a hurry to get a new pair of glasses, we offer Same Day Service to offer you the maximum convenience.


Products We Sell
We carry big fashion eyewear brands such as Ray-Ban, Prada, Gucci, Giorgio Armani, DITA, etc., and exclusive and independent brands including LINDBERG and ic! berlin. We offer a wide range of contact lenses from daily and biweekly disposables to colored and RGP lenses.
Insurance We Take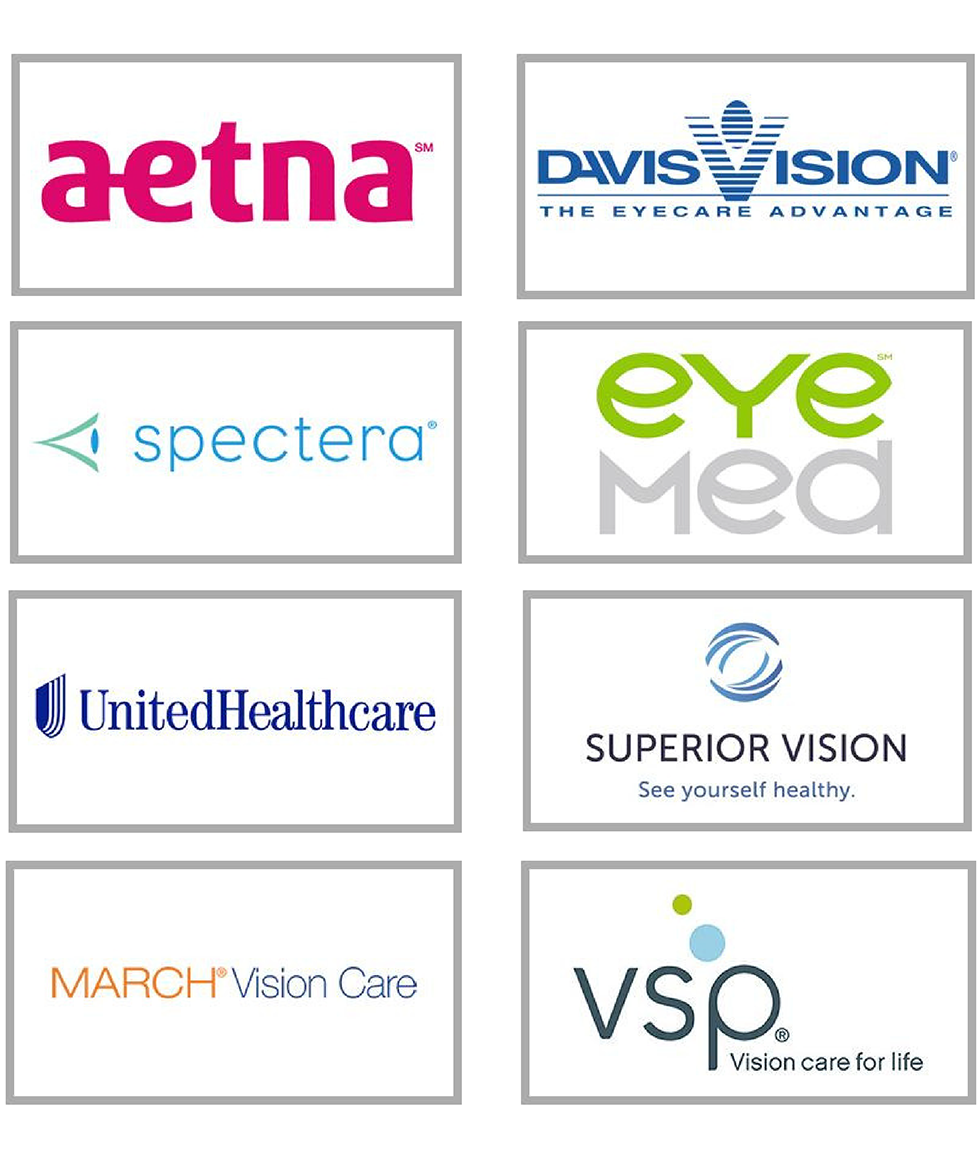 ---
About ic! berlin
ic! berlin designs and produces screwless prescription glasses and sunglasses in its own Produktion Haus in Berlin, Germany, for kids, women, men and everyone in between. Each and every ic! berlin frame features a one-of-a-kind patented screwless hinge system, which combined with high quality materials, makes ic! berlin eyewear virtually indestructible. ic! berlin eyewear is designed with passion, produced with technical precision and handcrafted with love. ic! berlin frames are only found in the best opticians' shops worldwide, including Chinatown Optical.

---