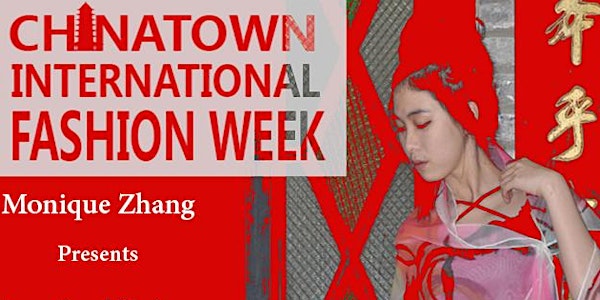 Chinatown Int'l Fashion Week Red Carpet Gala
When and where
Location
Hilton San Francisco Financial District 750 Kearny Street San Francisco, CA 94108
Refund Policy
Contact the organizer to request a refund.
Description
ESCAPE THE ORDINARY

Imagine SF Chinatown transformed into a CATWALK!
The first-time-ever, one-of-a-kind, Chinatown International Fashion Week (CIFW) is coming!

GALA INTRODUCTION

This Oct 27th is the Big Glam Fashion Show & Party with Style!

Dress in your best exuberant style to celebrate the newest and hottest annual event taking place at 750 Kearny Hilton in the heart of San Francisco oldest Chinese community outside of Asia. Beautiful fashion, music, culture and fantasy, this event will tantalize you.

It's no longer about being seated to wait for a fashion show.
Oct 27th Gala is proudly designed for your full indulgence, surrounding you with stylish people, be photographed exclusively by top Bay Area fashion photographers. and have intimate social activity with friends. You are free to move about in between the food served reception hall to the lavish decorated ballroom. You are able to see up close all the models in voluptuous dresses on our multiple stages. Two large fashion shows are presented side by side covering 2 hours of both Asian Inspired designs modeled by a Hundred Asian Beauties, who are stylish fashionistas of the Bay Area. The exquisite runway Designer Fashion Show of couture caliber is the highlight of the gala featuring established California and European designers who create artistic, edgy, opulent and lavish designs. Among them is LA Designer of the year, Adolfo Sanchez.

SCHEDULE

5pm-6:30pm Designer & VIP Reception
7pm-8pm Hundred Asian Beauty Fashion Show
8pm-9pm Designer Fashion Show
9pm-10pm After Party

OVERVIEW

VIP reception starts the evening on Oct 27th at 5pm in the plush red-carpeted reception hall of the Hilton with DJ music and finger food served. The excitement begins with the opening of a Hundred Asian Beauties in tight curvy Asian design and qipao who are rocking the scene.
The Fashion Show continues through the night with top runway models, followed by desert. Immediately after the runway fashion show ends, the after party celebration begins with original DJ music and I-phone capture votes and awards for the Best Dress, Best Curves, Best Legs, Best Beauty and Best Pose.

We have prepared the entire evening with amazing fashion, models, beauties, performers and creative music rhythms for your enjoyment!
Special Thanks to our designers who will be participating in Chinatown Intl. Fashion Week Gala Event and our Sponsors who have made Chinatown Intl Fashion Week possible:
CIFW PARTICIPATING DESIGNERS:
Modern fashion designer Jesse Liu
modern fashion designer Victor Tung
Wire couture designer Tuan Tran
women shirting designer PTaylor
surface designer Meixi Bai
Asian European fusion couture designer Monique Zhang
special event & bridal couture Noy Chanthavongsa
special event & bridal couture Le Thanh Phuong
Inspired Luxe designer group headed by Denise Bradley Tyson
ethnic fashion designer Suzi Click
adornment designer Gretchen Shields
fabric printing art designer David Klein
kimono inspired fashion designer Suzuki Kenzo
special event Couture designer Adolfo Sanchez (LA designer of the year)
CIFW Sponsors & Partners: Hilton SF Financial District, Creativ PR, Miss Asian Global & Miss Asian American Pageant, New Bridge Group, Inc,. GMaple Design, Ideology Studio, Salon Blu, Aminah Mitchell Events, ES Creations, Paul Mitchell, Inspired Luxe, Charleston Pierce Presents, Inspired SF, ByrdSong. and Mattie Wei Real Estate Team
2015 CIFW Honorary Chairs: Doris Grover | Rose Chung | Denise Bradley- Tyson | Lan Kay | CIFW Founder & Executive Producer Monique Zhang

DRESS CODE
Creative Black Tie, we celebrate your fashion statement

TICKETS
If you haven't gotten your tickets, book it NOW!
BUY Other Events ticket link: http://bitly.com/ciFWLoVe

PARKING
Public parking is conveniently located across the Hilton San Francisco financial district.
Hilton also provide valet parking and a hotel parking garage.

SUPPORT Chinatown International Fashion Week
We presents the dynamic fashion platform to feature fashion, beauty, culture, and to bring style and people together.
Terms & Conditions:
By completing your online registration you are accepting and agreeing to our Terms & Conditions including giving us permission to take photographs and use your image or likeness, agree that all sales are final and NO REFUNDS will be offered regardless of changes to venue, date, time, speakers, guest list, numbers of attendees, sponsors or other details. Furthermore mistakes in event descriptions or text may occur and buyer is responsible for verifying any discrepancies or concerns prior to registration by contacting us via the contact us links or emails provided on event pages. You furthermore agree to contact us prior to attending the event or at most two (2) days after the event and clearly explain any issue. Any disbutes over payments that are made by you directly contacting any merchants (paypal, google, meetup, contstant contact, square, eventbrite, etc.) will be automatically declined and you will be responsible for any chargeback or bank reversal fees. In extenuating circumstances and solely at our discretion, we may offer you a credit towards future events. If you do not accept our Terms & Conditions, do not register. Thank you for your cooperation.
All sales are final. No refunds or exchanges allowed.