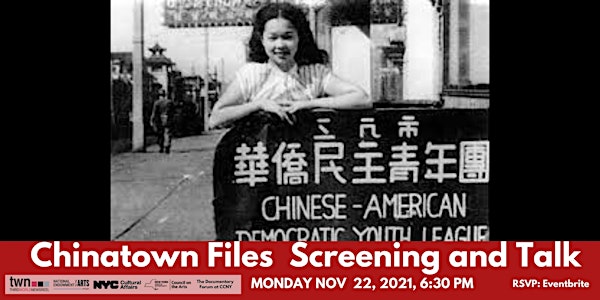 Chinatown Files - Screening and Talk
THE CHINATOWN FILES is a cautionary tale of paranoia that continues to impact Asian Americans now. See the film, hear from the director.
About this event
Join us to screen THE CHINATOWN FILES and hear from director Amy Chen, who will be in conversation with filmmaker/multimedia artist and activist Betty Yu.
THE CHINATOWN FILES brought to the public, for the first time, a story that was classified as secret by the US government for over four decades. Exploring the roots and legacy of the Cold War on the Chinese American community during the 1950s and the 1960s, it presents first hand accounts of seven men and women's experiences of being hunted down, jailed and targeted for deportation in America. During McCarthy era witch-hunts, the loyalties of over ten thousand American citizens of Chinese descent were questioned based on their ethnicity and alleged risk to national security. While China remains an enigma to most Americans, the prejudice and jingoism that has negatively affected the lives of Chinese Americans has rarely been examined. THE CHINATOWN FILES is a cautionary tale of paranoia and hysteria that serves as a dramatic and enduring reminder of the fragility of constitutional protections today.
THE CHINATOWN FILES (2001, 57 min) has particular resonance at this moment, in the face of rising anti-Asian violence and US-China tensions.
See the film which will stream freely from Friday, November 19 to midnight, November 24th, and join the talk with director Amy Chen and Betty Yu at 6:30 PM on Monday November 22nd. Your RSVP will give you a link to view the film and a Zoom link for the talk.
This event is sponsored by Third World Newsreel and the Documentary Forum at CCNY and is being cosponsored by AAARI (Asian American and Asian Research Institute of the City University of New York).
Amy Chen, producer/director of THE CHINATOWN FILES (2001), the little known story of how McCarthyism impacted the Chinese American community during the 1950's. Ms. Chen previously worked in film production, distribution and exhibition and was formerly the Executive Director of Women Make Movies.
She is currently the CIO at the Smithsonian Institution, the world's largest museum, research and educational complex. She received her BA in government at Oberlin College and MBA from Cornell University.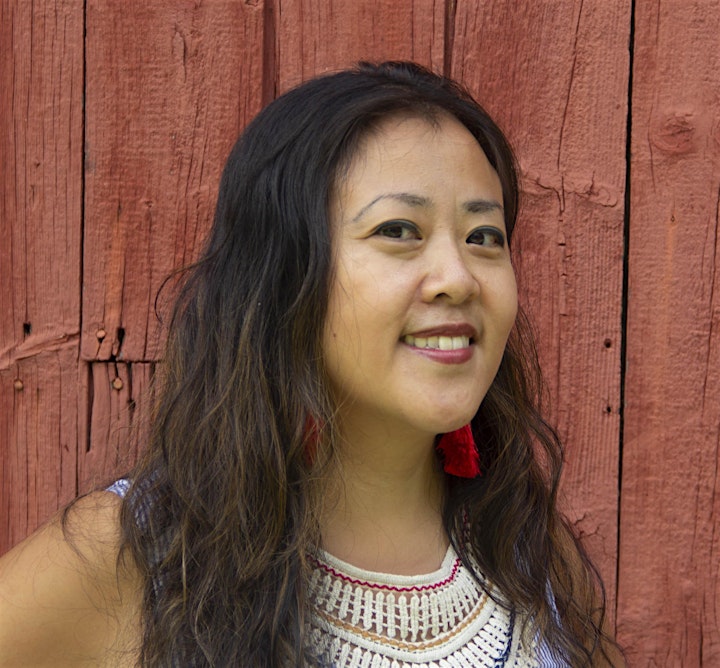 Betty Yu is a multimedia artist, photographer, filmmaker and activist born and raised in NYC to Chinese immigrant parents. Ms. Yu integrates documentary film, new media platforms, and community-infused approaches into her practice, and she is a co-founder of Chinatown Art Brigade, a cultural collective using art to advance anti-gentrification organizing. Ms. Yu has been awarded artist residencies and fellowships from the Laundromat Project, A Blade of Grass, International Studio & Curatorial Program, Intercultural Leadership Institute, Skidmore's Documentary Storytellers' Institute, KODA Lab, Asian American Arts Alliance, En Foco, China Residencies, Flux Factory and Santa Fe Art Institute. Her work has been presented at the Brooklyn Museum, Queens Museum, Margaret Mead Film and Video Festival, Tribeca Film Festival's Interactive Showcase, the 2019 BRIC Biennial; Old Stone House, and Squeaky Wheel Film and Media Art Center. In 2018 she had a solo exhibition at Open Source Gallery in New York. In 2017 Ms. Yu won the Aronson Journalism for Social Justice Award for her film "Three Tours" about U.S. veterans returning home from war in Iraq, and their journey to overcome PTSD. She holds a BFA from NYU's Tisch School of the Arts, a MFA in Integrated Media Arts from Hunter College and a One-Year Certificate from International Center Photography New Media Narratives program. Ms. Yu teaches video, social practice, art and activism at Pratt Institute, Hunter College, and The New School, in addition she has over 20 years of community, media justice, and labor organizing work. In the Fall 2020, Betty had her curatorial debut as she presented Imagining De-Gentrified Futures, an exhibition that featured artists of color, activists and others along with her own work at Apex Art in Tribeca, NYC.