Description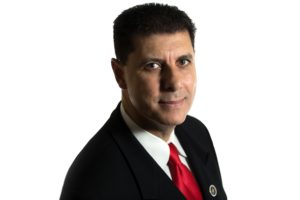 The World Affairs Council of Austin is pleased to have David Oualaalou (known also as Dr. O) discuss China's growing influence in the Middle East. Dr. O is a global-affairs consultant, analyst, blogger, author, educator, and former international security analyst in Washington, DC.
His 15 years of experience in support of the US government's foreign policy initiatives have given him a valuable perspective. His duties included providing regional orientation, mediating cultural differences among the U.S. and its allies, helping parties understand differing religious beliefs and values, assisting with foreign internal defense, offering insights into countries' politics and economics, and disseminating information to high-level officials during negotiations with foreign officials of targeted countries. Similarly, he framed U.S. government policies and interests within the proper cultural and political context of countries engaged while facilitating cultural, political, economic, and religious awareness between the U.S. and its counterparts.
Agenda
6:00 PM Networking
6:15 PM Speaker Presentation followed by Q&A
7:30 PM Event Concludes
David worked in the field with elite U.S. military forces carrying out operations at the behest of U.S. policymakers. On many occasions, he worked in and visited many countries in the Middle East and around the world in an official capacity representing the United States government. He speaks Arabic/French fluently, grasp the depth of the Middle East's economic, social, cultural, and religious interactions, and, from both abstract and practical perspectives, know how the region's internal politics work. His assignments took him to Afghanistan, Bolivia, Cambodia, Canada, Denmark, Djibouti, England, Finland, France, Germany, Holland, Iraq, Ivory Coast, Japan, Kuwait, Mexico, Poland, Romania, Saudi Arabia, Spain, Sweden, Switzerland, Thailand, and Yemen.
David has written numerous analyses on global affairs issues which have appeared in many newspapers and online journals, including the Slovak Atlantic Commission (SAC), an affiliate of the European Atlantic Council, The HuffPost, the Waco Tribune-Herald, South China Morning Post (SCMP) in Hong Kong, Eurasia Daily, Journal on European Perspectives of the Western Balkans, Defense Alert Journal, MSN News, Al-Jazeera, Middle East & North Africa (MENA) Forum, Security News Wire, and Freedom and Justice Gate Journal in the Middle East, among others.
David has an international audience that spans the political spectrum. Some of his 140 plus articles have been translated into Arabic, Chinese, Farsi, French, German, Malay, Russian, Spanish, Thai, Turkish, and Vietnamese.
David is the author of the Ambiguous Foreign Policy of The United States toward the Muslim World: More Than a Handshake (2016). His forthcoming book, Volatile State: Iran in the Nuclear Age due for release in Jan/2018. Currently, he is working on his third book, The Kingdom of Saudi Arabia: the Hidden Truth. David has also co-authored other books including: Dying to Eat: Cross-Cultural Perspectives on Food, Death, and the Afterlife, (January, 2018).
David's academic, linguistic, and cultural background, coupled with his substantial experience, has proved vital to understanding the geopolitical trends and the political, economic, and security risks organizations face when operating overseas. His insights are key to organizations' long-term strategic planning and access to new markets not only in the Middle East but also in the world writ large.