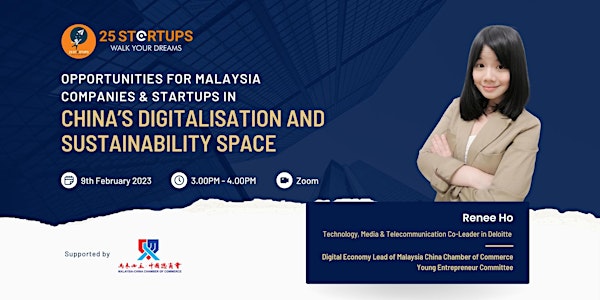 China's Digitalisation and Sustainability Space Opportunities for Msia Cos
Opportunities for Malaysia Companies & Startups in China's Digitalisation and Sustainability Space
About this event
As China opens its borders and travel resumes, the nation's ultra-large market will bring new opportunities for businesses not only within the country but to many outside.
With this development along with favourable economic policies from the Chinese government, Malaysian companies and startups are presented with an opportunity to take advantage of this window.
Providing a deeper insight on the matter, Renee Ho, Technology, Media & Telecommunications Co-Leader in Deloitte and Digital Economy Lead of Malaysia-China Chamber of Commerce (MCCC) Young Entrepreneur Committee, will share her thoughts in an upcoming webinar, China's Digitalisation And Sustainability Space.
RSVP now to tune in to what she has to share.