Description

Background
As the most value-added link in the four major automobile manufacturing processes, Paint plays a significant role in protecting and strengthening automobiles, decorating and beautifying automobiles as well as identifying automobiles. Paint is the link with the highest cost of investment and the greatest energy consumption among the four major automobile manufacturing processes. At the same time, a large amount of waste gas, waste water and waste residue will be generated in the automobile painting process, which brings numerous challenges to the automobile painting. Therefore, how to achieve an intelligent, green and efficient paint shop has become a core topic for automotive manufactures.
China Vehicle Painting & Coating Summit 2019 will focus on the automotive painting and coating market in China, with the intelligent, green and high-efficient paint shop as its theme, explore the development status and core technologies of automotive painting and coating in the era of intelligent manufacturing era, and provide a professional exchange platform for participants with the most advanced technical interpretation and practice sharing, aiming to strengthen the core competitiveness of automotive painting and promote the green and sustainable development of the entire automotive industry.
Highlights
Interpretation of Action Plan for Volatile Organic Compounds in Key Industries and its Impact on Automotive Painting and coating

Building an Smart, Green and Efficient Automotive Paint Shop

Coating Performance Evaluation from Automotive Manufacture's Perspective

Exploring Smart Paint Shop—How to Improve Efficiency by Digitization

Pretreatment Solutions of Hybrid-Material Car body in the Lightweight Era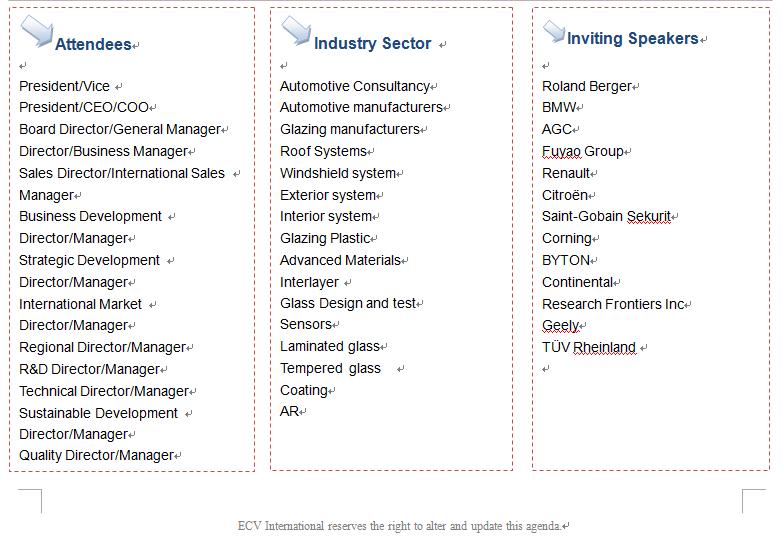 Contact Us
Name: Holly Wei
Tel: +86 21 8026 0707-819
E-mail: hollyw@ecvinternational.com
About ECV
ECV International is a leading organizer and contractor of high-end international business events in
Asia, with nearly 200 professionals in industrial research and event planning & execution. Every
year, we hold around 40 high-level international summits involved in the fields of vehicle, retail,
textile, footwear, IoT, New Science & Technology industry, etc.
We have served more than half of the Fortune 2,000 companies, and every year more than 6,000
delegates from multinational enterprises, specialized organizations and creative companies take part
in our events, i.e. Daimler, GE, Adidas, Coca-Cola, Alibaba, ABB, etc.
Our mission is to provide professional services to connect and inform the stakeholders who would be
able to shape the industry landscape in the future and to create more value for our clientele
through our efforts to help them seize opportunities, meet challenges and achieve sustainable
development on a global basis.