Description
No relationship will be as important to the twenty-first century as the one between the United States, the world's great power, and China, the world's rising power. – Council on Foreign Relations
Join 80+ communities across the United States in a national conversation on China. Featuring an interactive webcast with Ambassador Susan Rice and on-site panel discussion exploring how the U.S.-China relationship directly impacts us here in Connecticut.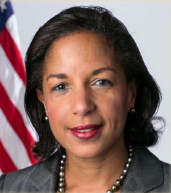 The Honorable Susan E. Rice, former National Security Advisor and U.S. Ambassador to the UN
2017 National Webcast Speaker
Ambassador Susan E. Rice served President Obama as a national security advisor and U.S. permanent representative to the United Nations. In her role as national security advisor from July 1, 2013, to January 20,
2017, Ambassador Rice led the National Security Council staff and chaired the Cabinet-level National Security Principals Committee. She was responsible for coordinating the formulation and implementation of all aspects of the Administration's foreign and national security policy, intelligence, and military efforts.
Local panelists include:
Dong Xue, Consul, The Economic & Commercial Office, the Consulate General of China, New York
Donald Chapman, Director of Community and Small Business Development, City of Hartford
Dave Manke, Vice President for International Government Relations, United Technology Corporation
Peter C. Bennett, Career Services & Corporate Outreach, UCONN School of Business
Xiangming Chen, Director, Center for Urban and Global Studies, Trinity College, Moderator
Refreshments will be served.
A partnership of