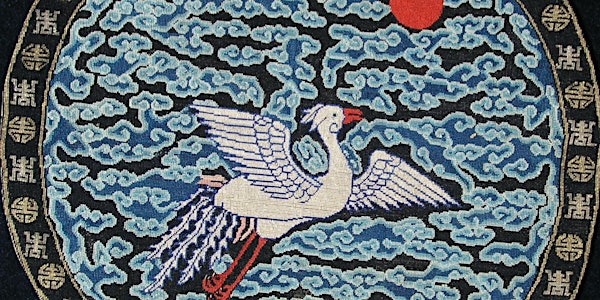 China Society: David Hugus on the Evolution of Chinese Rank Badges
China Society: David Hugus on the Evolution of Chinese Rank Badges
About this event
See the evolution of design of Chinese rank badges from the Ming Dynasty to the Early Republic and how the changes reflected the psyche of the nation.
Join the China Societhy of Southern California, the Chinese Historical Society of Southern California, and Textile Museum Associates for this joint sponsored Virtual lecture buy Dr. David Hugus, author of Chinese Rank Badges: Symbols of Wealth, Power and Intellect in the Ming and Qing Dynasties on Monday, January 10th at 7:00 PM PST.
This Zoom talk will be part 1 of a two part talk on the evolution and dating of Chinese rank badges and will feature some of finest examples of Chinese textile art. David Hugus's past talks on the civil service examination process and how to identify the birds and animals can be seen of You Tube by visiting the China Society of Southern Califonia site.
Jin Hing Co will be stocking David's book. It is $65 plus sales tax. All profits from the sale of the book resulting from this announcement will be donated to the China Society.