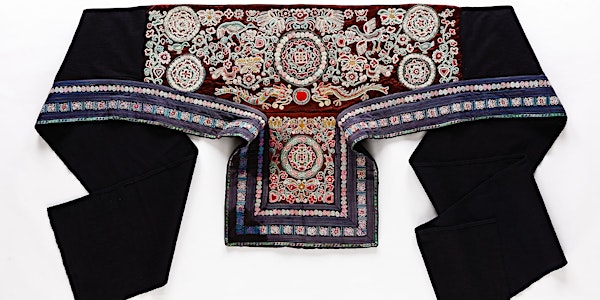 China Society: Baby Carriers from China and Taiwan with brenda Lin
Hope, that you can wear Baby Carriers from China and Taiwan in the Christi Lan Lin Collection of Chinese Children's Textiles
About this event
Hope, that you can wear
Baby Carriers from China and Taiwan in the Christi Lan Lin Collection of Chinese Children's Textiles
With
brenda Lin
Brand Management Group Vice President of les enphants Co., Ltd.
and
archivist for the Christi Lan Lin Collection of Chinese Children's Textiles
les enphants Co., Ltd. is a children's apparel brand and retailer in Taiwan whose senior consultant, Ms. Christi Lan, has spent the last twenty years traveling to rural parts of China and Southeast Asia, searching for and collecting traditional, handmade textiles relating to children (bibs, hats, shoes, marital blankets, and baby carriers). The purpose of her collection is twofold. First, she is trying to preserve this vanishing art by publishing books about her collection. And second, Ms. Lan hopes that these thoughtfully designed and exquisitely crafted textiles will inspire les enphants designers to create each article of clothing with the same meticulousness that a mother would make for her own child. Ms. Lan's daughter, brenda Lin, is in the process of creating a digital archive for the collection so that it can be more accessible to people who have an interest in, and passion for Chinese children's textiles. brenda will be presenting to the China Society of Southern California via Zoom on December 6, 2022.
The talk will focus on the baby carriers in Ms. Lan's collection, and more specifically, the baby carriers from minority cultures in China and Indigenous cultures in Taiwan. brenda will begin with a brief overview of her mother's collection, then share a few examples of baby carriers from the collection that highlight different embroidery, weaving, and dyeing techniques, and share the significance and stories behind oft-used motifs and symbols. She will share some ways that her mother's collection has inspired les enphants designers to incorporate traditional needlework and symbolism into modern designs for children's wear. brenda will speak for 45 minutes, then open it up for questions.
Ms. Christi Lan's publications –
STORIES OF CHINESE CHILDREN`S HATS: SYMBOLISM AND FOLKLORE
BONDING VIA BABY CARRIERS
SYMBOLISM OF CHINESE CHILDREN'S BIBS: A MOTHER'S AFFECTIONATE EMBRACE
SYMBOLISM OF CHINESE CLASSIC PURSES: BLESSING FROM WITHIN
Ms. brenda Lin's publications
WEALTH RIBBON: TAIWAN BOUND, AMERICA BOUND
HOPE, THAT YOU CAN WEAR
For information on past and current exhibits and events, please visit https://www.lesenphantstextile.org/