Actions and Detail Panel
Chilliwack Family Soccer Club (Ages 3-15)
Sat, April 1, 2017, 10:30 AM – 11:30 AM PDT
Description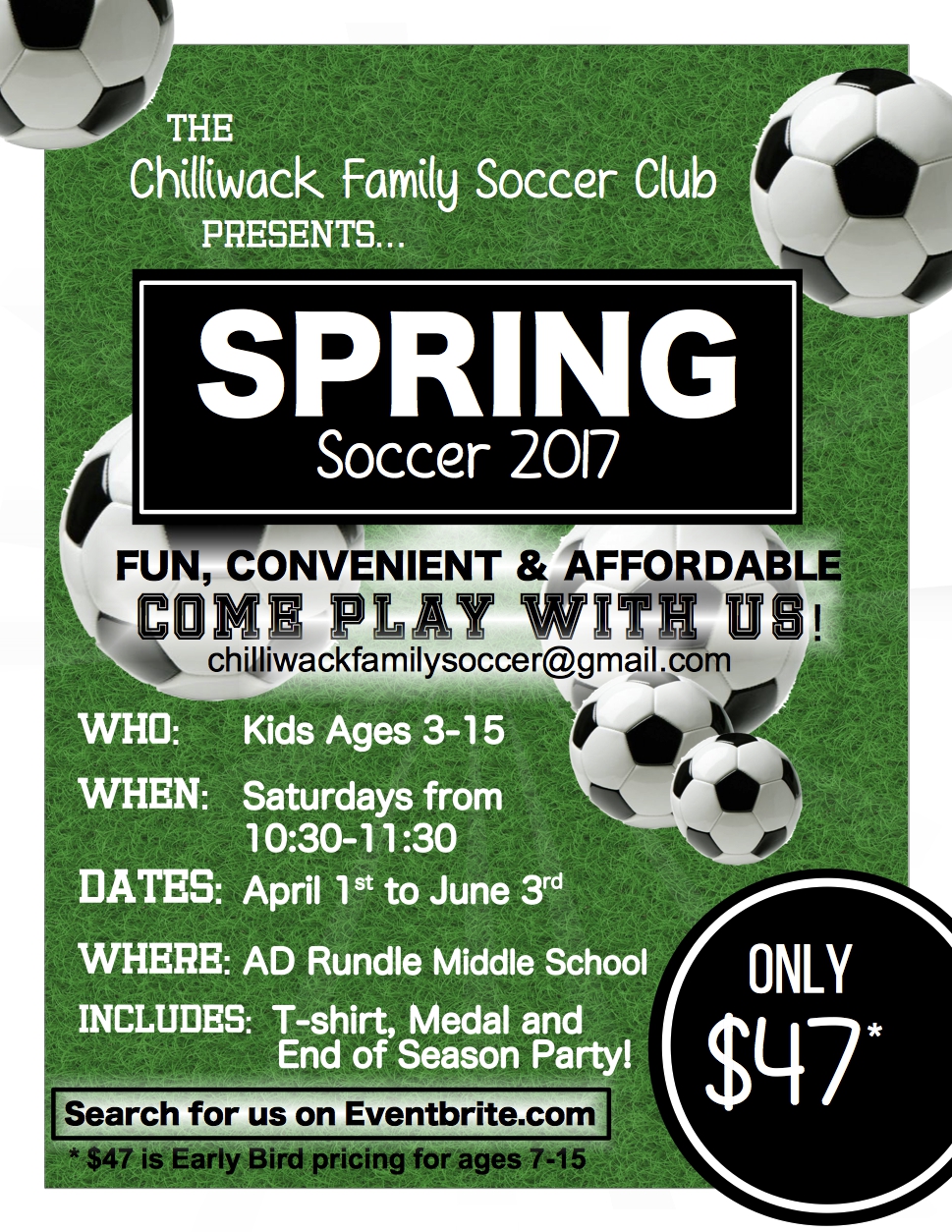 All of our groups are now full!
To be put on a waiting list, please email your player's name and age to chilliwackfamilysoccer@gmail.com
Welcome to the Chilliwack Family Soccer Club!
We are a parent run soccer league for kids ages 3-15 years old (kids are divided into groups according to their age/skill levels). We play once a week on Saturday mornings from 10:30-11:30 at AD Rundle Middle School. Our 2017 Spring Season runs from April 1st to June 3rd (with a break for the Victoria Day weekend). Each registration includes a t-shirt, a participation medal and an invitation to our 'End of the Season' party!
What's so great about our soccer league? This league was made by parents to make soccer more affordable, to make it easier to fit it into our busy schedules and to instill a love of the sport in our kids! All age groups meet at the same time and place every week so no matter how many players you have registered, soccer will only take up one hour of your time per week!
What's more, instead of boring drills, we use fun games and activities to learn new skills! For kids ages 7-15, each session starts with learning new skills and concludes with a scrimmage game.
To register kids from 3 years old to Grade 1, please go to Chilliwack Little Feet's Eventbrite page at:
https://www.eventbrite.ca/e/spring-2017-session-tickets-31102283768?err=29
To register kids from ages 6 to 15, please use this site (click on the green "Tickets" button).
Also check out our facebook pages:
Chilliwack Little Feet (Ages 3 to Grade 1)
https://www.facebook.com/ChilliwackLittleFeetSoccerClub/?fref=ts
Chilliwack Family Soccer Club (Ages 6 to 15)
https://www.facebook.com/notes/chilliwack-family-soccer-league/general-information/1069771969702817
MORE DETAILED INFORMATION
(This info is for players 6-15 years old. Please see Chilliwack Little Feet's Eventbrite or Facebook page listed above for more detailed information for players ages 3 to Grade 1)
Fees are $47 per player for the entire season (or $52 for late registration if you sign up after March 18), making soccer more affordable. In addition, we have sought out proven training methods that emphasize not only individual player development through age appropriate skill training but that also focus on the importance of good sportsmanship while striving to create a positive soccer experience for all players.
1. Sessions are held once a week on Saturday morning. We meet at AD Rundle Middle School from 10:30-11:30AM. The spring season will start on April 1, 2017 and ends on June 3, 2017. All sessions are one hour long and include skill practice and a game. Please note that we will not be having a session on the May long weekend (May 22) and the city may cancel a session if it is too rainy or if the grass is too muddy. Our end of the season party will be on June 10.
2. Players will be divided into groups according to their ages.
3. Players must wear shin pads and soccer cleats (Younger participants may substitute running shoes for cleats). In addition, each player will need to bring a water bottle and a soccer ball (with their name written on it) to each session. We recommend a size 3 ball for kids up to 7 years old, a size 4 ball for kids 8 to 10 and a size 4 or 5 ball for kids 10 to 15.
4. Parents must be on the premises at ALL times during each session.
5. Parents are required to sign up to be a Parent Helper for a certain amount of weeks each season. (Please see the Chilliwack Little Feet's page for info about parent's with players who are ages 3-Grade 1).
In order to be able to have parents help out on their own child's team, the number of times they will be required to sign up as helpers will be dependant on the number of children they have registered. On the designated week, the Parent Helper will arrive 15 minutes early to help the coach set up, will assist the coach during the session, and will stay afterwards to help clean up. If you are not able to be a Parent Helper this season due to extenuating circumstances, please let us know.
If you have: You will be asked to signup for:
1 player 2 weeks
-------------------------------------------------------------------------
2 players 4 weeks
-------------------------------------------------------------------------
3 players 5 weeks
-------------------------------------------------------------------------
4 players 6 weeks
-------------------------------------------------------------------------
5 players 7 weeks
To register your player, click on the green "Get Tickets" button.
Play for free! Consider becoming a coach! Regular coaches can have two kids play for free! And co-coaches or bi-weekly coaches can have one child play for free! (After the start of the season, coaches will receive a refund for their registration fee(s)).
We strive to make coaching and coaching preparation quick, easy and enjoyable! You will be provided with everything you need including a coaching packet with weekly session plans, videos and equipment. All you need to do each week is watch a short video (usually 15 minutes or less) and then use that week's session plan sheet to do those activities with your group. We also provide you with a parent helper each week to help you with getting the equipment ready and to assist you during the session.

If you have any further questions, feel free to contact us at: chilliwackfamilysoccer@gmail.com.