About this Event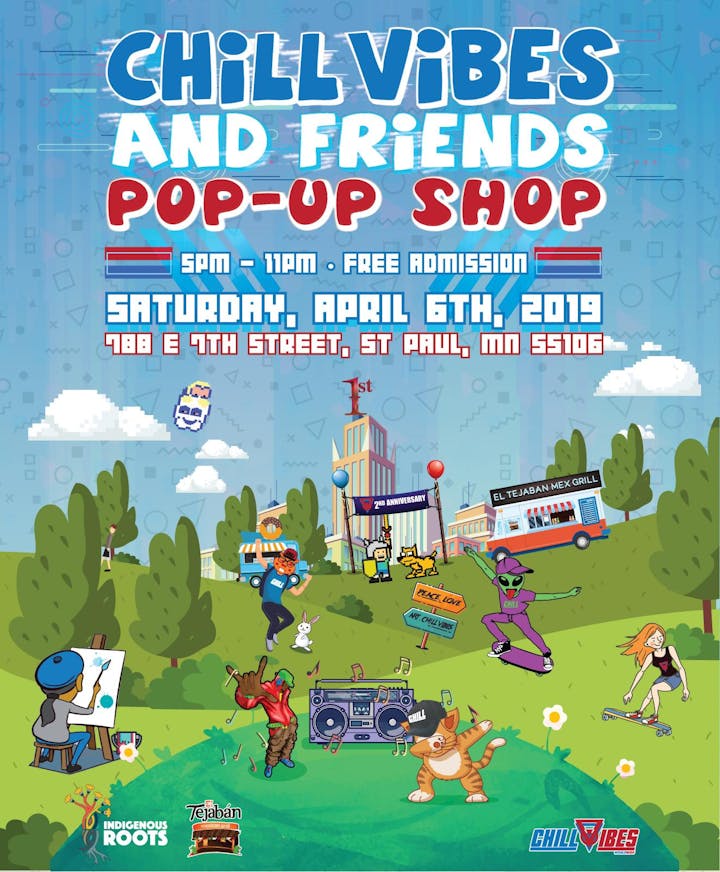 Chill Vibes is a streetwear brand based in the Twin Cities and we are hosting a Pop-up Shop on April 6th at Indigenous Roots Cultural Arts Center in Saint Paul to celebrate our 2nd anniversary as a company.
We would love to invite everyone to be a part of this CHILL VIBES experience and community. This is an all age event. Please invite your friends & family. There will be food vendors, art vendors, live performances, photographers, designers, and a chance to network with the art community. This is the spot to make friends too! :)
Starts at 5pm - 11pm
The event is FREE admission and open to the public! however DONATIONS would be appreciated.Since Indigenous Roots is generously providing their space for the community. Suggested donations to help keep this and their community alive is $10 and up. More info about Indigenous Roots at https://indigenous-roots.org/
Chill Vibes will be selling their shirts, clothing, and accessories. Some of the items in our inventory won't be found on the Chill Vibes' website, online, or anywhere else. EXCLUSIVE MERCH!!!
We will have 3 raffle drawings for 2 free items & the mystery box!
Want to win raffle tickets? Here is how!
RSVP on Facebook Event
RSVP Eventbrite-SHARE THIS EVENT (Facebook, Instagram,etc.)
Buy 2 items at the Chill Vibes Booth
Bring a friend with you to the Pop-Up Shop
Never heard of us?? Visit: Chillvibesclothing.com
Follow us on Instagram: @Chillvibesofficial
Can't wait to CHILL with ya'll! Stay CHILL for more!