Location
Foothill Christian School
242 West Baseline Road
Glendora, CA 91740
Description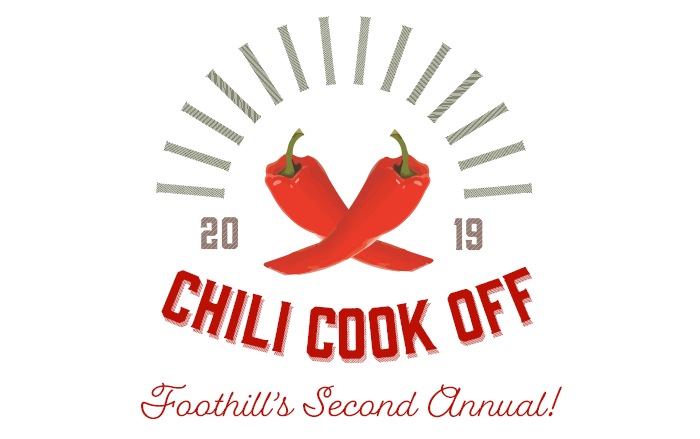 Foothill's family fun night will return on Friday, March 29th at Foothill Christian School from 6pm – 9pm. It will feature our second annual Chili Cook-Off, a hot dog BBQ, live music, a SCHOOL HOUSE AUCTION and games on the lawn! The event is free to attend and meal tickets will be sold for $5.
Have a homemade chili recipe that you think will WOW the crowds? Register here to sign-up to be a contender!

---
Voting & Award Categories

Grand Champion
A group of preselected judges will blind taste each chili and vote based on five categories:
Taste

- Taste, above all else, is the most important factor. The taste should consist of the combination of the meat, spices, etc. with no particular dominant ingredient.

Aftertaste

- The aftertaste, or bite, is the heat created by the various types of spices and/or peppers. (Note: HEAT is not a grading scale factor)

Color

- Chili should look appetizing. A reddish-brown appearance is generally traditional and expected.

Aroma

- Chili should smell good, indicating what is in store when you taste it.

Consistency

- Chili must have a good ratio between sauce and meat. It should not be dry, watery, grainy, lumpy, or greasy. Vegetarian chili (no meat) is also acceptable for entry, and will not be judged on meat content or lack thereof, but rather on overall flavor.
People's Choice
Attendees will be able to cast their vote by purchasing a $5 meal ticket which will include voting tickets, chili samples, chips, and an ice cold drink. There will be jars at each chili station to collect voting tickets for that chili. The chili with the most votes wins the people's choice award!
Most Unique

A new spin on an old recipe? One secret ingredient? Interesting blend of ingredients? Make the most unique chili and win a prize!
Chili Cook Off Guidelines
Chili
Chili must be homemade. No canned or store-bought chili accepted

Food Handling Guidelines must be upheld!


Prepare a minimum of 10 quarts of chili for the cook-off. Samples will be served in 2 oz sampling cups.

You must provide a way to keep your chili hot (crockpot, camping stove, single burner etc).




You may also bring any extra toppings you would like available for your chili (note: chips, spoons, sample cups, and napkins will be provided by FCS).

Bring your own serving utensils.
Booth
You will be given one 6 ft table, 1 chair, and electricity.

Sign with Ingredients – please bring a sign that lists your ingredients included in your chili to display on the table to potentially alert guests with allergies.
Chili Cook Off Timeline
5:00 PM - Booth Set Up
6:00 PM - Judge's Tasting
6:00 - 7:45 PM - People's Choice Tasting
8:00 PM - Awards