About this Event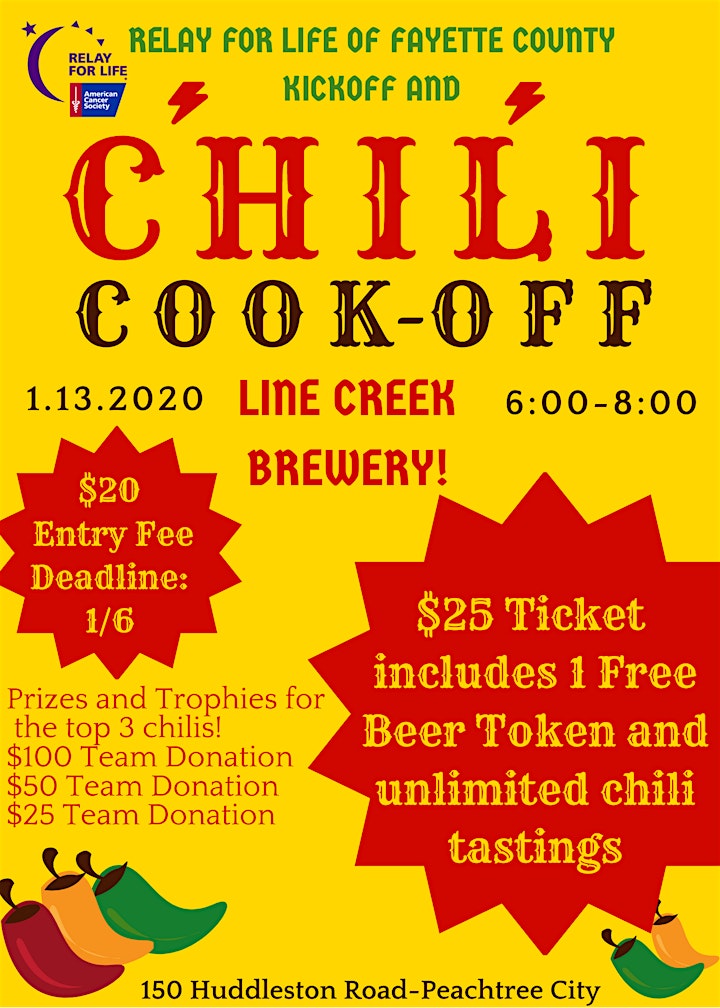 Relay For Life of Fayette County invites you to our Kick-Off and Chili Cook-Off! Enjoy a great night of judging unlimited tastes of the best chili in all of Fayette County in one of the hippest venues in Peachtree City. Prizes for the top three chilis will include bragging rights, social media recognition and a donation made to the Relay team of your choice. All proceeds will go to the American Cancer Society's Relay For Life of Fayette County.
Details:
o All Chili Contestants must bring a 6 quart crock pot/slow cooker full of chili and provide any toppings needed. Please also bring a ladle.
o Must be set up/delivered by 5:30 PM on January 13th at Line Creek Brewery.
o $20 Contestant Entry Fee must be paid by January 6, 2020 deadline. Registered chili contestants receive unlimited tastes of chili (beer token not included).
o $25 tickets for participants include one beer token and unlimited chili (Judging will be completed by these participants).
o Free water and sodas will be provided at event to all registered participants and contestants.
o Open to the public. All Relay For Life teams are strongly encouraged to participate.
o Prizes for top 3 teams in addition to trophies, bragging rights and social media recognition: First Place: $100 donation to Relay For Life team of choice; Second Place: $50 donation to Relay For Life team of choice; Third Place: $25 donation to Relay For Life team of choice.