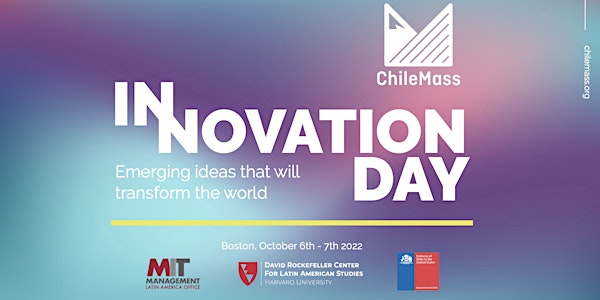 ChileMass Innovation Day 2022
"ChileMass Innovation Day 2022: Emerging Ideas that will Transform the World"
By Chile Massachusetts Alliance
Date and time
Thursday, October 6, 2022 · 8am - 7:30pm EDT
Location
MIT- Kresge Auditorium 48 Massachusetts Avenue #w16 Cambridge, MA 02139
About this event
"ChileMass Innovation Day: Emerging Ideas that will Transform the World" is our annual summit positioned as an open meeting space for actors from the United States and Chile's innovation ecosystems. The event is a great opportunity to promote fertile collaboration, exchange of skills and development of high-value business and technological ventures, focusing on strategic ideas that will affect the way we eat, live, and think.
ChileMass is a Massachusetts-based non-profit organization that catalyzes collaboration between Chile and Massachusetts in the areas of technology, energy, education, and economic development. ChileMass has the support of the Government of Chile, through the Ministry of Foreign Affairs, Corfo and Prochile; and of the Government of Massachusetts, through the Massachusetts Office of Trade and Investment (MOITI).
ChileMass Innovation Day 2022 is the second of its kind in Massachusetts. The first was in 2019 at MIT and focused on Clean Technologies and Advanced Manufacturing. More than 280 people participated, both from USA and Latin America, generating several fruits that range from the creation of new startups to the development of major projects, such as the agreement between the MIT Media Lab and the Chilean Chamber of Construction to bring a City Science lab to Chile. The objective of this 2022 event is to strengthen our work in Massachusetts, through a conference that will address challenges in different areas, such as biotech, impact investment, cleantech and the cities of tomorrow, to show Chile as an ally and a natural laboratory to test new technologies. It also represents an opportunity to invite companies and universities in the United States to invest and collaborate with our country.
This event is possible thanks to the collaboration of MIT Sloan Latin America Office, David Rockefeller Center for Latin American Studies at Harvard University, and the Embassy of Chile to the United States.
First Day: Thursday October 6th.
8am to 3pm, Kresge Auditorium.
There will be keynote speakers, discussion panels, and time for networking and matchmaking sessions during coffee break and lunch at the largest hall at MIT. Topics:
Inauguration Block with government officials from Massachusetts and Chile.
Innovation in Times of ESG.
The Cities of Tomorrow.
The Life Science Revolution.
The Future of Food.
ChileMass Award: a special recognition of a person or institution that shares the ChileMass mission and values.
5-7:30pm "Pitch and Wine Chile Night"
Pitch feedback Session and networking event at the Venture Café Cambridge with Chilean wine, food and live music.
5- 6pm Live music with JUANAROSA, Latin American ElectroPop female trio.
6-7pm Pitch Session: 90-seconds pitches from 15 innovative Chilean startups before a panel of judges: Fran Barros, CDO and partner at The Engine at MIT, Markus Schreyer, founder and President of The Ganesha Lab, Oliver Sanchez, Co-founder of AccelHub and CEO @ Extrasense , and Elías Tefarikis, Executive Director Corporate Impact Wayra Hispam.
7-7:30pm Fireside Chat about investment in Latin America.
Second Day: Friday, October 7th. By invitation only
8:30am - 13:00pm- David Rockefeller Center for Latin American Studies at Harvard University
Due to the limited space of 150 seats, it will be by invite only.
Topics:
Collaboration, key to innovation
Energy for a Clean Future
Impact Investment
5-7pm- Boston Harbor Sunset Cruise.
Closing networking activity. By invite only.
If you want to participate in the second day or you need further information, please contact us at info@chilemass.org.
Confirmed speakers:
Kent Larson - Architect, entrepreneur, and academic. Director of City Science at MIT Media Lab, MIT Media Lab City Science Group.
Manolis Kellis - Professor of Computer Science at MIT, a member of the Broad Institute of MIT and Harvard, and Director of the MIT Computational Biology Group.
Katie Stebbins - Tech and innovation leader, Executive Director Food and Nutrition Innovation Lab- Tufts University.
Nicolas Shea- Chilean social entrepreneur & angel investor. Founder of Start-up Chile, Cumplo, Asech, eclass, G100 & innovamerica.
Forest L. Reinhardt - Economist, John D. Black Professor at Harvard Business School, global expert on the relationships among climate change, business, and energy.
Juan Gabriel Valdés - Ambassador of Chile to the United States.
Brian Walsh- Head, WIND Ventures, the strategic venture capital arm of Copec in San Francisco.
José Ignacio Escobar - CEO of Colbún, Chilean electric utility company that generates and transmits electricity. It produces electricity from various sources including hydro, diesel, natural gas, coal, wind and biomass.
Francisca Barros- Partner & Chief Design Officer at The Engine, venture capital firm, Built by MIT.
Lorenzo Gazmuri - President of Icare (Chilean non profit industry association), member of the board of several companies in Chile, and former Executive Vice President of COPEC, Chilean holding company that operates in natural resources and energy.
Joseph Vecchiolla - CEO Triumph Modular, award-winning solutions for commercial building space.
Adam Behrens- Co-founder and CEO of Mori, startup that created an all-natural protective layer slows down the spoiling process of food. Forbes 30 under 30.
Libby Wayman -Investor, Partner Breakthrough Energy Ventures - $1B+ Fund founded by Bill Gates.
Josefa Monge- Executive Chairman of Sistema B Chile, board member at cumplo, eclass & 3xi
José Miguel Benavente- Vice President of CORFO, the Chilean Economic Development Agency that works daily to improve the competitiveness and the productive diversification of the country by encouraging investment, innovation and entrepreneurship, and that manages a budget of $700M+
Felipe de Mussy- President - South America at Lilac Solutions, lithium extraction company that developed a new ion exchange technology to extract lithium from brines while protecting the environment.
Philippe Prochasson- Vice President, Biosciences and Analytics & Head of SynBio at Motif FoodWorks.
Alan García- Executive Director Sofofa Hub.
Galen Nelson- Chief Program Officer at Massachusetts Clean Energy Center.