Children's Mindful Values Workshop

Weekly Event - Every Tuesday & Thursday: 2:00 PM to 4:00 PM (PDT)
Event Details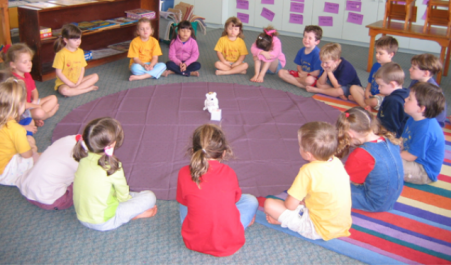 Based on the Mind Up Curriculum by Goldie Hawn and The Hawn Foundation.  The curriculum teaches children about the brain and how it functions.  It offers lessons that foster: 
Social & emotional awareness

Increases psychological wellbeing

Enhances Academic Success

Develops mindful attention

Creates tolerance to diversity

Promotes self-regulation



Offered Tues & Thurs: 2PM-4PM from June 17th till July 24th.
Love donation of minimum $10 per child/per class would be greatly appreciated.  All proceeds go directly to fund the programs by The Children's Institute For Humanity.
Workshops will be held in a safe setting inside with a maximum of 20 children ages 4-8.
This workshop/group requires attendance from June 17th.  This is a closed group.
 To reserve a spot please call Jill Armstrong direct at: 714.421.6694 or
 email:  jillarms@hotmail.com 
by 6PM, Saturday July 14th, 2014.
Special offers for the parents to participate in during children's workshop.
Individual and group sessions/classes in areas health, self-improvement, relationships, mindfulness, attracting abundance, peace, happiness will be held by specialized practitioners involved with  Indevo Treatment Partners. 
Reiki/Energy work
Self-Improvement Educational workshops
Massage/Body Work
      Want to  find out more about these  special offers, please contact Jill Armstrong. Details will be added shortly.
Find out more about what The Children's Institute for Humanity by visiting our official site at:
Where

The Children's Institute for Humanity/ Therapy Cable
17900 Sky Park Circle
Suite 100
Irvine, CA 92614


Weekly Event - Every Tuesday & Thursday: 2:00 PM to 4:00 PM (PDT)
Add to my calendar
Organizer
Mahastee Mehdizadeh,
 Mahastee is a Licensed Psychotherapist, Clinical Hypnotherapist,  & CEO of Forward Life.
For any questions please contact Mahastee at 818.632.4565 or at her personal email at goforwardlife@gmail.com
Visit her website with event information at www.forwardlife.net.
Become a fan of Forward Life at www.facebook.com/forwardlife
Children's Mindful Values Workshop