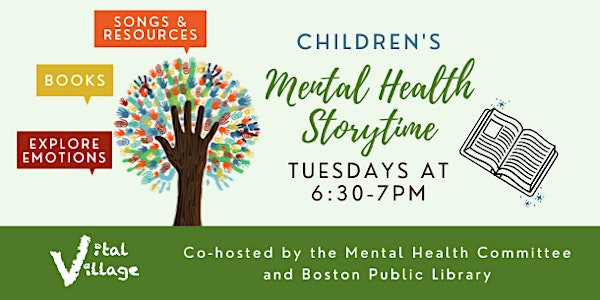 Children's Mental Health Storytimes
Join us for an interactive Children's Storytime focused on mental health and social-emotional learning for families with young children!
About this event
Families with young children are invited to Children's Mental Health Virtual Storytimes co-hosted by the Vital Village Network Mental Health Committee and Boston Public Library.
Together, we will bring families together for book readings and activities focused on Social-Emotional Learning inspired by our Children's Mental Health Storytime Toolkit.
Sessions are designed for children 3-8 years old, however, younger and older siblings are welcome to join the fun! At the end of our session, there will be an opportunity for Q&A and resource sharing with parents/caregivers.
*Only 1 registration form is needed per family. After registering, you will receive Zoom information.
*Event is designed for children and families. If you are interested in learning more about the Children's Mental Health Storytime Toolkit and format as an adult or organization, please email Desiree.Hartman@bmc.org.