Children's Mental Health Matters: A Virtual Event for Caregivers & Families
Join Us for a Conversation with Dr. Malena Banks and Dr. Maryam Jernigan-Noesi, authors of the new children's book, "I Miss My Friend".
About this event
Malikah misses her best friend, Amina. They always had fun together - dancing, playing games, making cookies - you name it. But since the pandemic began, Malikah's been stuck at home with the same people, the same games, and a bunch of tough feelings. She's kind of over it.
It's okay because...once she expresses herself, Malikah realizes that she is not alone in feeling sad, angry, worried, and bored - (we are all in this together) AND she CAN cope with these changes by finding new, creative ways to do the activities she loves with the people she loves!
The authors, Dr. Malena Banks and Dr. Maryam Jernigan-Noesi, will discuss the impacts of the pandemic and share tips that caretakers can use to help promote the emotional well-being of children during unpredictable times.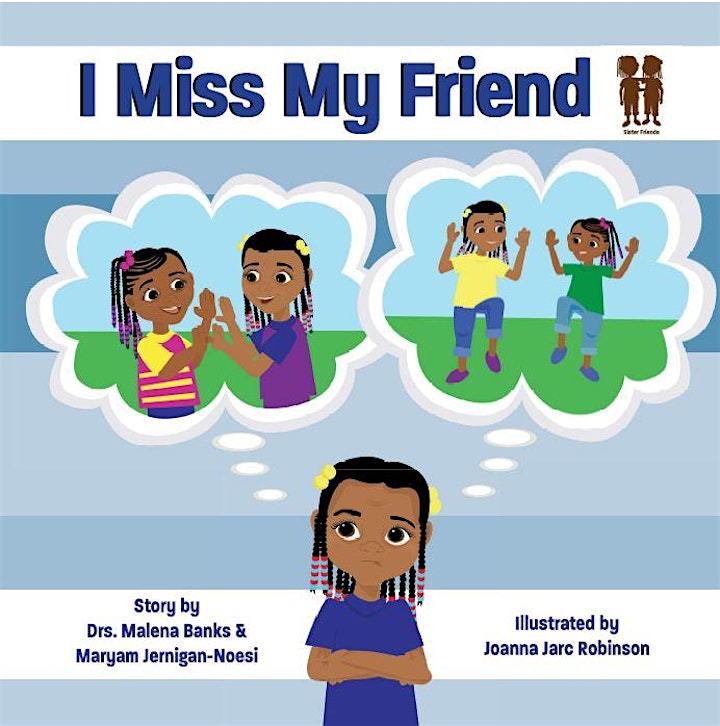 ABOUT THE AUTHORS
Dr. Malena Banks is committed to combatting the stigma of mental illness through advocacy and education. After graduating with honors from Fisk University, Dr. Banks earned her medical degree from Howard University College of Medicine in Washington, DC, and completed her adult psychiatry residency at Howard University Hospital. She also served as Chief Resident while completing fellowship training in Child & Adolescent Psychiatry at Georgetown University. As a practitioner, Dr. Banks has more than 15 years of experience diagnosing mental health disorders, providing crisis and medication management, treating patients through therapy, and offering clinical supervision. Dr. Banks is the Co-Founder and CEO of Lotus: The Center for Behavioral Health & Wellness, LLC, a mental health clinic, located in Washington, DC.
Dr. Maryam M. Jernigan-Noesi is a licensed psychologist, professor, clinician-scientist, and equity and inclusion consultant with a particular emphasis on race and culture. She is the Founder and CEO of Jernigan & Associates, LLC. She has extensive training and work experiences in psychology, the intersection of mental and physical health outcomes, women's health, as well as specialized training in youth, adult, and family interventions. Clinically, Dr. Jernigan-Noesi has worked alongside a multidisciplinary team of health providers in various inpatient and outpatient mental health, community, medical, academic settings, and private practice. She frequently consults with organizations to assess and implement culturally responsive policies and practices with the goal of facilitating inclusive and anti-racist institutions and work experiences. Additionally, Dr. Jernigan-Noesi provides professional development workshops and training to a wide range of organizations, executives, professionals, trainees, and staff.

Organizer of Children's Mental Health Matters: A Virtual Event for Caregivers & Families
Located in Newton, Massachusetts, William James College strives to be a preeminent school of psychology that integrates rigorous academic instruction with extensive field education and close attention to professional development. We assume an ongoing social responsibility to create programs to educate specialists of many disciplines to meet the evolving mental health needs of society. To learn more, visit www.williamjames.edu.