Description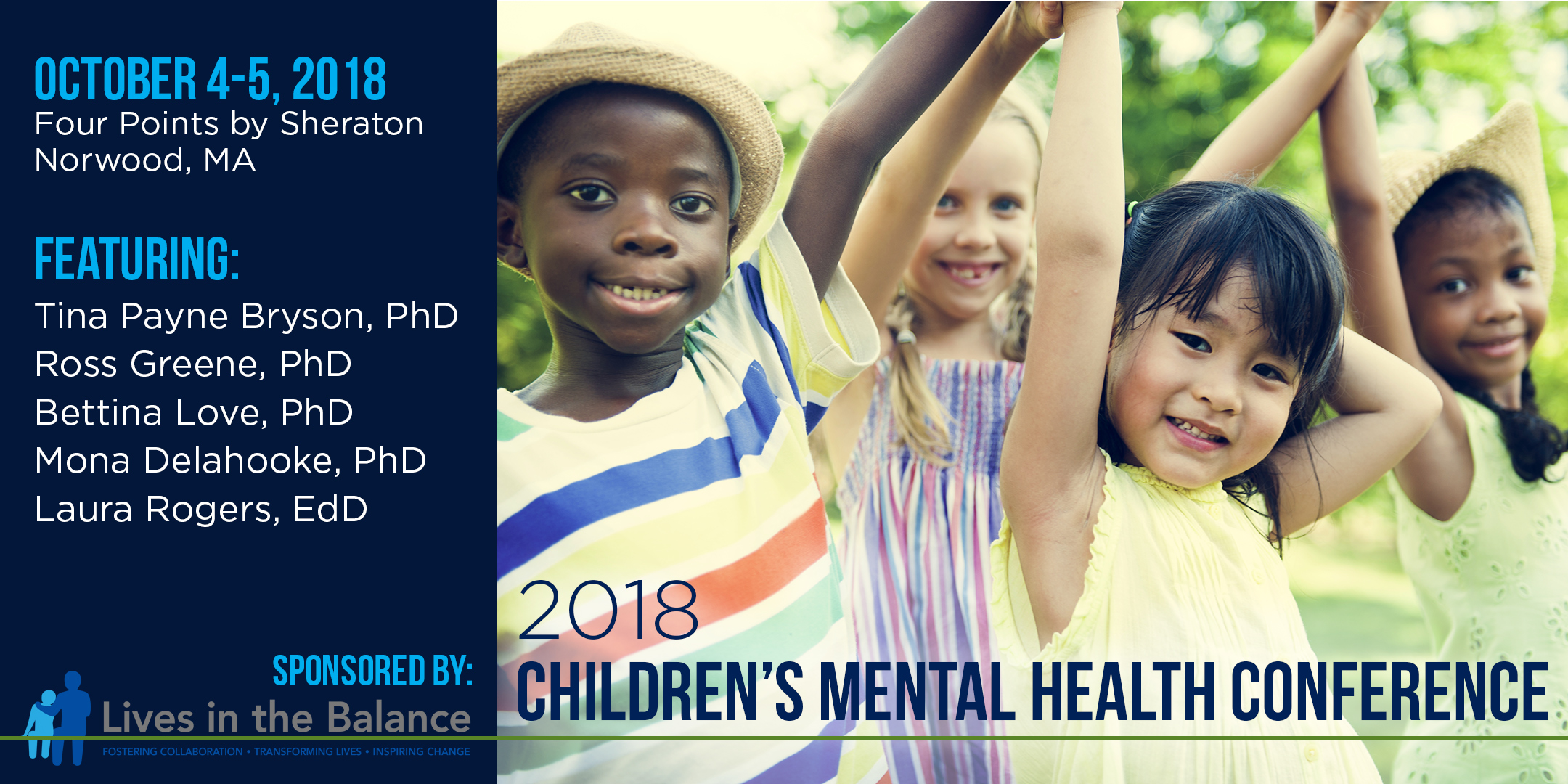 Featuring a screening of excerpts from the documentary film from Lives in the Balance, The Kids We Lose
School-based professionals, classroom teachers, administrators, mental health clinicians, school nurses, and paraprofessionals are increasingly challenged to effectively meet the needs of youths with social, emotional, and behavioral challenges. In schools, tight budgets, high-stakes testing, and Zero Tolerance policies haven't made the task any easier. In clinical settings, these youths can be extremely difficult to work with, engage in treatment, and help. By the time these youths end up in juvenile detention and treatment settings, they are often alienated, disenfranchised, and marginalized and have lost faith in those trying to help them.
This conference is about how to start moving things in the right direction, and features cutting-edge interventions and dynamic speakers, including Dr. Tina Payne Bryson, psychologist and New York Times bestselling co-author of The Whole Brain Child and No-Drama Discipline; Dr. Ross Greene, psychologist and New York Times bestselling author of The Explosive Child, Lost at School, Lost & Found, and Raising Human Beings and Founding Director of Lives in the Balance; Dr. Bettina Love, Associate Professor of Educational Theory & Practice at the University of Georgia, whose research focuses on the ways in which urban youth form social, cultural, and political identities; Dr. Mona Delahooke, child psychologist and author of Social & Emotional Development in Early Intervention, and Dr. Laura Rogers, Senior Lecturer and Co-Director of the School Psychology Program at Tufts University. The conference also features a screening of excerpts from the forthcoming documentary film, produced by Lives in the Balance, The Kids We Lose.
It's two full days you won't want to miss, filled with invaluable information and practical, innovative ideas and intervention strategies. And you can earn up to 12 CE's!
You can register for both days or just one. But don't miss it!

Registration: (8:00 to 8:30) ~ Continental Breakfast
Keynote: (8:45 to 10:15) ~ Tina Payne Bryson, PhD
No-Drama Discipline: Based on the ideas from Dr. Bryson's New York Times bestseller No-Drama Discipline (with Dan Siegel), this keynote highlights the link between a child's neurological development and the way clinicians and educators react to misbehavior, providing an effective, compassionate roadmap for dealing with challenging behavior in the classroom. Defining the true meaning of the "D" word (to instruct, not to shout or reprimand), Dr. Bryson explains how to reach a child, redirect emotions, and turn a meltdown into a teachable moment. By doing so, the cycle of negative behavior (and punishment) is essentially brought to a halt, as problem-solving becomes a win/win situation.
Keynote: (10:30 to 12:00) ~ Ross W. Greene, PhD
Collaborative & Proactive Solutions: Shifting From Power and Control to Collaboration and Problem-Solving: Collaborative & Proactive Solutions (CPS) is the evidence-based model Dr. Greene described his influential books The Explosive Child, Lost at School, Lost & Found, and Raising Human Beings. The CPS model has transformed thinking and practices in countless families, schools, inpatient psychiatry units, and residential and juvenile detention facilities throughout the world, and has been associated with dramatic reductions in adult-child conflict, challenging behaviors, disciplinary referrals, detentions, suspensions, seclusions, and physical, chemical, and mechanical restraints. The model represents a significant departure from discipline-as-usual: it focuses on solving problems rather than on modifying behavior, emphasizes collaborative rather than unilateral solutions, encourages proactive rather than reactive intervention, de-emphasizes diagnostic categories, and provides practical, research-based tools for assessment and intervention.
LUNCH: (12:00 to 1:00) ~ Lunch Provided
BREAKOUTS: (1:00 to 2:30 and 2:30 to 4:15)
Teaching the Developing Brain: (First Breakout Session Only) Tina Payne Bryson, PhD Using stories, examples, and lots of humor, Dr. Bryson encourages clinicians and teachers to keep their own developing brains in mind as they nurture their students' growing minds.
Get the Ball Rolling: Identifying Lagging Skills and Unsolved Problems, Ross W. Greene, Ph.D
If you want to solve problems collaboratively and proactively with kids, you'll need to identify those problems proactively. In this breakout group, you'll learn how to use the Assessment of Lagging Skills and Unsolved Problems (ALSUP), an instrument developed to help clinicians, educators, and caregivers focus their intervention efforts.
When The Educational Goals Didn't Change, Laura Rogers, EdD, and David Aptaker, JD How will the unanimous Supreme Court ruling on the benefits children with disabilities are entitled to under IDEA (Endrew F v Douglas County School District) affect your practices? This session will provide an opportunity to review the significance of the Court's decision within an historical context. We will discuss how our practices can align with the Court's determination that for all students with disabilities, "the IEP is reasonably calculated to enable the child to make progress appropriate in light of the child's circumstances." Participants will receive documentation for attending a NASP-approved workshop of 1.5 hours regarding ethical practice and/or the legal regulation of school psychology.
Kids Do Well if They Can (Move)! (Second Breakout Session Only), Greg Santucci, MS OTR
Active students make better learners. This breakout session will explain sensory processing and how it impacts a student's behavior and learning. Participants will learn about the different sensory systems, sensory "diets," and how to help kids improve their self-regulation skills. Get ready to MOVE and learn practical strategies to implement in clinical settings and classrooms immediately.
THE KIDS WE LOSE Screening of Excerpts: (4:30 to 6:00)


Registration: (8:00 to 8:30) ~ Continental Breakfast
Keynote: (8:45 to 10:15) ~ Bettina Love, PhD
Moving Beyond Survive: A Pedagogy of Mattering: All clients/students have potential that clinicians and educators must nourish, protect, and grow for a better world. Dr. Love's talk will focus on how innovative civic education, students' knowledge production and multiple identities, and Hip Hop culture can be cultivated to engage clients/students in the work of fighting for visibility, inclusion, and justice.
Keynote: (10:30 to 12:00) ~ Mona Delahooke, PhD
The Tip of the Iceberg: Looking Beyond Behavior in Helping Behaviorally Challenged Kids: Dr. Delahooke will present a "developmental iceberg" model that describes why challenging behaviors (what we can readily observe in a child) are only the tip of the iceberg, with the causes and triggers often invisible. When we understand the underlying reasons for challenging behaviors, we can provide the correct supports and help build psychological resilience through trusting and engaged relationships. Video-taped examples will provide a compelling argument about the need to shift the lens from a disorder and deficit-based framework to a relationship-based paradigm on the cutting edge of neuroscience, mental health and education.
LUNCH: (12:00 to 1:00) ~ Lunch Included
BREAKOUTS: (1:00 to 2:30 and 2:30 to 4:15)
Get Free: Creativity, Hip Hop Civics Ed, Intersectionality, & Joy, Dr. Bettina Love, PhD Discover a civics curriculum for youth, entitled GET FREE, inspired by the exuberance, ingenuity, political energy, resistance, love, and DIY model of underground Hip Hop. As relevant to clinicians as it is to educators.
Solving Behavioral Challenges from the Bottom-Up: A Neurodevelopmental Approach, Mona Delahooke, PhD
Dr. Delahooke will describe how caregivers and professionals can help bolster basic capacities that lead to successful social problem solving and symbolic reasoning. Video examples will highlight how emotional co-regulation, an appreciation of individual differences, and an understanding of the child's social and emotional milestones help create a roadmap for interpersonal safety, communication, healing and hope.
Stickers Don't Solve Problems, Ross Greene, PhD Learn how to solve problems collaboratively and proactively using the three steps of "Plan B" and see what it looks like in schools.
School Refusal: I'm Not Going to School, Laura Rogers, EdD What are the best ways to help clients/students who are refusing to come to school? This breakout will review contemporary research and recommendations for responding to children who are not coming to school. The reasons children do not attend school are varied, and often shift over time, so that whatever first kept a child away may no longer be the primary cause. We will highlight several approaches, focusing on one case study using the principles of Dr. Greene's Collaborative & Proactive Solutions model. Breakout participants will have an opportunity to adapt the intervention model to a situation occurring in their own work.
---
---
FAQs
Can I pay by Purchase Order? Yes, click on the REGISTER button. You will be directed to Payment. Under Payment you can choose what method you would like to use.
How do I choose my breakout groups? You will be able to choose your breakout group when you order your ticket.

What time should I arrive? Registration is from 8:00 am to 8:30 am. Continental Breakfast will be offered. Keynotes begin at 8:45 each day. The conference ends at 4:15 each day.

What if I have more questions? Feel free to contact Liz Rudman at Liz@livesinthebalance.org.
Will lunch be provided? Yes, lunch is included, as is a continental breakfast.
Where can I stay if I need overnight accommodations? Four Points by Sheraton, Norwood, Massachusetts, is the host hotel and has overnight rooms for a discounted rate of $165.00 for single or double occupancy per night. Reservations can be made by calling (781)769-7900. All reservations should be made no later than September 5th, 2018 for the discounted rate.
Other hotel options nearby: Special group rate: Marriott Courtyard Boston Norwood/Canton for $209 USD per night ~ Book your group rate for Lives in the Balance
Residence Inn, 781-278-9595
Can I receive a refund? Attendees can receive a refund 7 days prior to October 4th, 2018. After that you will receive a credit toward any future workshop with us within 5 years. Credit will not be given if you do not cancel prior to the event.
Can I receive Continuing Education Credits? Continuing Education credits for this program applied for through Commonwealth Educational Seminars (CES) for the following professions:
Social Workers: Commonwealth Educational Seminars (CES), provider #1117 is approved as a provider for social work continuing education by the Association of Social Work Boards (ASWB) www.aswb.org through the Approval Continuing Education (ACE) Program. CES maintains responsibility for these programs. ASWB Approval period: 10/5/15-10/5/18. Social workers should contact their regulatory board to determine course approval for continuing education credits.
Social Workers-New York State: Commonwealth Educational Seminars is recognized by the New York State Education Department's State Board for Social Work as an approved provider of continuing education for licensed social workers #SW-0444. Some states do not require pre-approval. If your state is not on the below list, please check with your state board.
Commonwealth Educational Seminars can grant Social Work CEs in the following states:
AK, AL, Alberta, AR, AZ, British Columbia, CA, CO, CT, DE, DC, FL, GA, HI, ID, IL, IN, IA, KS, KY, LA, MA, MD, ME, MI, MN, MS, MO, MT, New Brunswick, NE, NH, Newfoundland & Labrador, NM, NY, NC, ND, Nova Scotia, OH, OK, OR, PA, RI, Saskatchewan, SC, SD, TN, TX, UT, VA, Virgin Islands, VI, VT, WA, WI and WY.
Please contact your state board if you have concerns about CE credit. All Social Workers attending programs that have been awarded Social Work Continuing Education from CES will receive a Certificate upon completion
Psychologists: Commonwealth Educational Seminars (CES) is approved by the American Psychological Association (APA) to sponsor continuing education for Psychologists. Commonwealth Educational Seminars maintains responsibility for these programs and their content.
Licensed Mental Health Counselors, Licensed Clinical Mental Health Counselors, Certified Professional Counselors, Licensed Professional Counselors, Associate Professional Counselors, Licensed Professional Clinical Counselors: Commonwealth Educational Seminars (CES) can grant Continuing Education credit for the above listed professions in the following states: AZ, AR, CA, CO, CT, DE, DC, FL, GA, HI, ID, IL, IN, IA, KS, KY, ME, MA, MO, NE, NH, NJ, NM, NC, OR, PA, RI, SC, SD, TN, TX, UT, VT, VA, WA, WI and WY.
Educators: 1.2 CEUs for Educators applied for through Conferences and Institutes, University of Maine.