Children's Lit: Diversity and Representation Matters
About this event
Children's books eight times as likely to feature animal main characters as Black, Asian or Minority Ethnic people
According to UK study, just 5% of children's books have black, Asian or minority ethnic protagonists – a small improvement from 1% in 2017.
This headline was taken from The Guardian, Nov 2020 and I must note, that I do not like the term BAME as it suggests that we are lumped into one melting pot of a category called 'different' i.e non-white.
I would prefer to focus on the amazing amount of indie authors and indie publishers who are doing their bit to redress the balance. So whilst this static may be true we can TRULY make a difference.
At Conscious Dreams Publishing, we have published nearly 20 books featuring diverse characters and our cohort of authors is both ethnically diverse and representative of a plethora of races, cultures, genders and sexualities.
This month is Black History Month so come and meet 6 of our 70+ authors of African-Caribbean descent.
WHO's in the lineup?
We're celebrating the launch of two books and
JoJo and the Adinkroes, by Jodi Barima, an accurate reflection of one boy's perspective of lockdown and a magical journey into his Ghanaian cultural heritage
Shadow & US: A Game of Hide-and-Seek, by Patricia Morrison, a sweet story of two siblings who find friendship with their shadows
Other authors include
7-year-old, Tiana Akoh Arrey who is publishing her very first book with us, My Afro a book celebrating the joys of afro hair. Tiana is officially our youngest author ever!
Sonia Omojola, author of The Purple Potion, a wonderful middle-grade adventure-fantasy book that takes you on a magical journey of parallel worlds
Kelly Eastmond-Jeffrey, author of Lily Says No! a book that explores sexual abuse and soon to come, Melissa's First Day, which tackles racism in the dedication system.
Enonmwoyi Damali, two-time author of the Nzhinga series: Nzingha and Being Kind and Nzhinga and Saying Goodbye focus on themes such as how to deal with death and loss and teh importance of compassion
Conscious Dreams Publishing is a Black-owned company that stemmed from a desire to share our stories and give a platform to diverse authors. I strongly believe that if we do not see our images in teh mainstream then we must create them. We must tell our own stories to leave as a legacy for our children.
I hope to see you there as we are only as successful as the support shown.
Do you think the mainstream should be doing more to be more inclusive and representative of the world we see today? Come and have your say.
If you want to publish a book, you can also tell us more about your project at www.consciousdreamspublishing.com/contact and book your free 30minute consultation with, Book Journey Mentor and host of the event, Daniella Blechner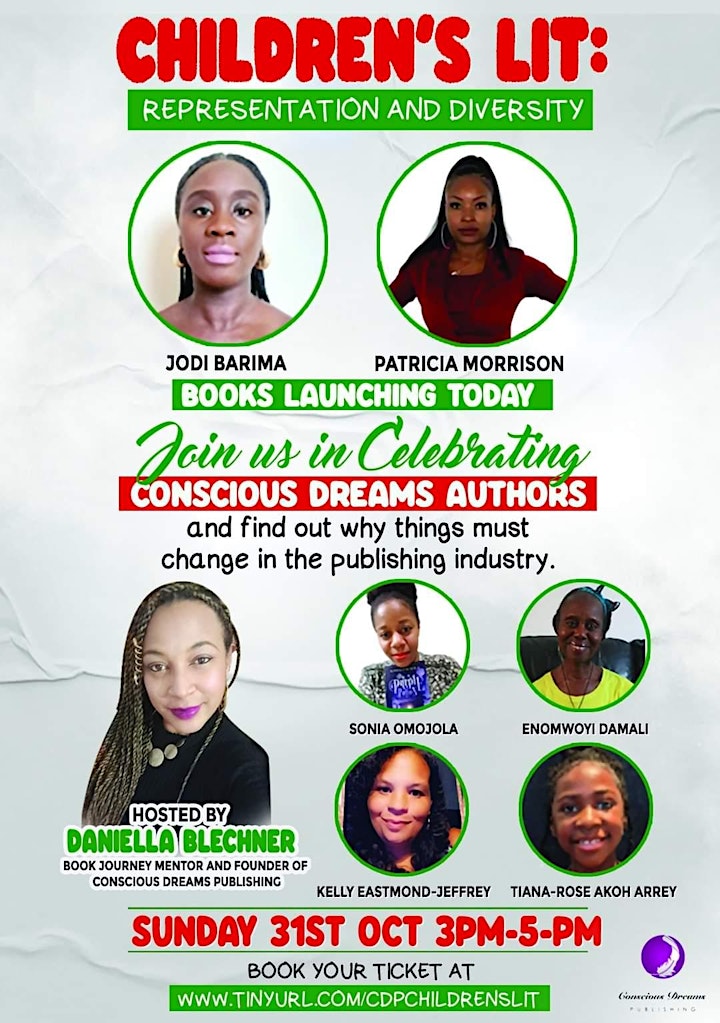 Organiser of Children's Lit: Diversity and Representation Matters
Conscious Dreams Publishing is passionate about publishing manuscripts that inspire and empower others. We provide bespoke coaching and publishing services for authors with powerful messages and stories to share with the world and are ready to start their publishing journey. Our aim is to demystify the publishing process and help you create a clear vision for your book. We provide professional services tailored to each author to ensure that your book is of a professional and high quality standard.
Publishing a book is a major achievement so it's important that you get it right. We want to hear from fiction authors who have unique and original stories to tell; ones that transform, inspire and empower. We want to read non-fiction manuscripts from authors who can offer new and fresh ways of exploring new ideas and provide information that heals and elevates.