About this Event
Feeling Lucky? Want to win great prizes?
Go All In and join The Children's Hearing Institute at our Casino Night Fundraiser. Invite a few friends and enjoy an exciting evening while raising money for a great cause. CHI's Casino Night will feature Poker and Blackjack tables. Intimidated...Not a gambler...don't worry. Our professional dealers are on hand to make it a fun, exhilarating experience for all, even making the most novice player feel like a winner. Door prizes and grand prizes for the highest chip winner. Cocktails and light fare will be served.
Featured Prizes:
The McKittrick Hotel: Maximilian's list reservation for two (2) to attend SLEEP NO MORE. Reservation includes front of the line access, complimentary coat/bag check, and a reserved table in Manderley Bar at The McKittrick Hotel
SugarhillmuseumChildren's Museum of Art & Storytelling: 90 Minute Children's Birthday Package
4 Tickets to see the New York Mets: Enjoy the game from the Citi Field Metro Club Seats and enjoy a VIP Parking pass.
SoulCycle Classes
Morgan's Brooklyn BBQ $100 Gift Certificate
Davidovich Bakery Gift Certificate
More Great Prizes to come!
Funds raised at CHI's Casino Night will benefit our ongoing #HearInNewYork campaign that helps support pediatric hearing loss programs in the metro area. By working with CHI's alliance programs #HearInNewYork is committed to expanding educational outreach, enhancing support service and award recognition programs for children with hearing loss, and to provide direct grant funding for technology, education, and medical research.
If you are unable to attend CHI's Casino Night but wish to make a donation, you can click on the "Tickets" button and make a donation of any amount.
Founded in 1983, The Children's Hearing Institute is a 501(c)3 charitable organization.
Connecting the Hearing Loss Community by: ...Empowering...Educating...Advocating!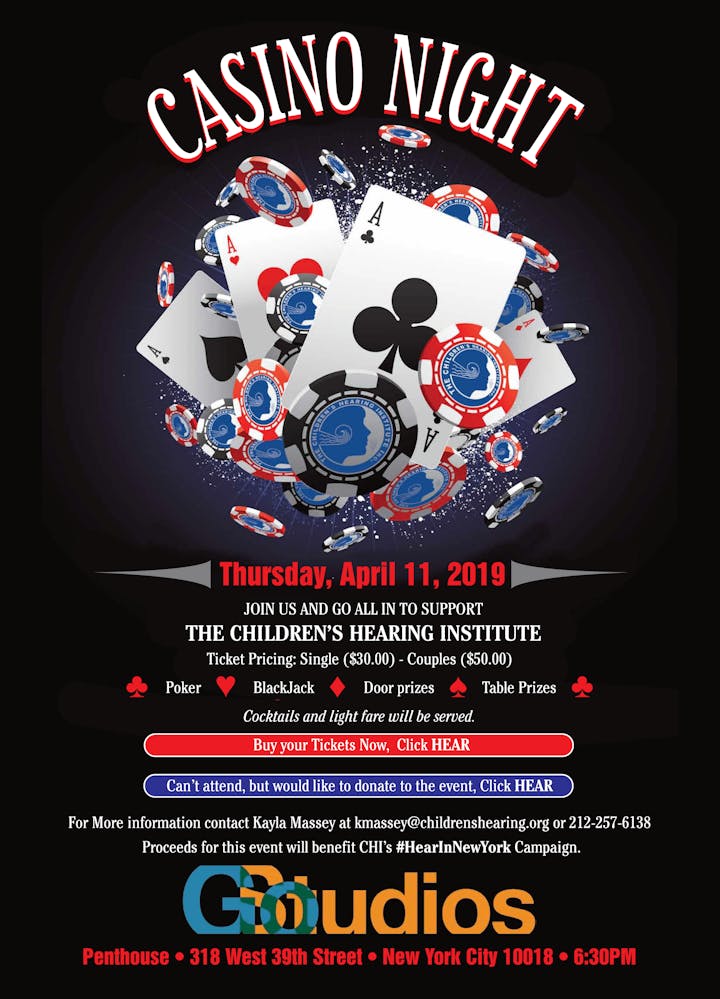 If you would like to have a copy of this with clickable links to share, please contact our office; kmassey@childrenshearing.org