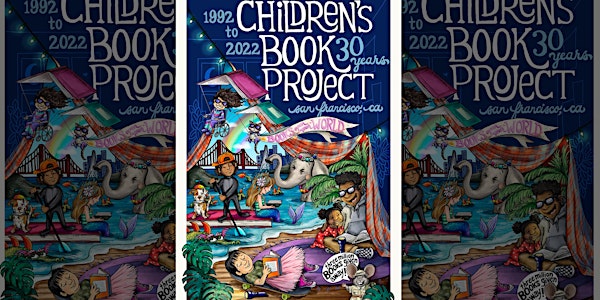 Children's Book Project's 30th Anniversary Community Celebration
Join the Children's Book Project for a kid-friendly community event celebrating 30 years of advancing children's literacy in the SF Bay Area
When and where
Location
Children's Book Project 2166 Palou Avenue San Francisco, CA 94124
About this event
All are welcome to join us for this FREE community event outside our Book Bank, as we give away our 3 millionth book and celebrate 30 years of advancing children's literacy and education equity across the Bay Area.
Please come join us for this family-focused event, which includes the following free activities: AUTHOR READINGS, BOOK GIVEAWAYS, EYE EXAMS AND GLASSES, COOKING DEMONSTRATIONS, ART ACTIVITIES, AND MORE! This event will celebrate the Children's Book Project's 30 years of service, raise awareness about the importance of literacy, provide children with an opportunity to meet children's book authors and illustrators, and allow them to select their very own free books from our Book Bank to keep.
Click here if you are interested in becoming a sponsor.
Click here if you are interested in making an in-kind donation.
This event is made possible with generous support from Chronicle Books and Bill and Leslie Thompson.
----
Todos son bienvenidos a unirse a nosotros para este evento comunitario GRATUITO afuera de nuestro Banco de libros, cuando otorgaremos el libro número 3 Millones y celebraremos 30 años de avance en la literatura y educación equitativa de los niños de toda el Área de la Bahía.
Únase a nosotros para este evento enfocado en la familia, que incluye las siguientes actividades gratuitas: LECTURAS DE AUTORES, REGALOS DE LIBROS, EXÁMENES DE LA VISTA Y LENTES, DEMOSTRACIONES DE COCINA, ACTIVIDADES DE ARTE ¡Y MÁS! Este evento celebrará los 30 años de servicio de Children's Book Project, creará conciencia sobre la importancia de la literatura, brindará a los niños la oportunidad de conocer a autores e ilustradores de libros infantiles y les permitirá seleccionar sus propios libros gratuitos de nuestro Banco de libros para llevar a casa.
----
欢迎大家参加我们儿童图书项目书库的免费社区活动,庆祝书库赠送第 300 万本书,并庆祝它在整个湾区推进儿童识字和教育公平的30周年。
请加入这次家庭式的,其中包括以下免费活动:作者阅读、书籍赠品、眼科检查、赠送眼镜、烹饪示范、艺术活动等等!这次活动庆祝儿童图书项目为社区服务的三十周年、提高人们对识字重要性的认识,为孩子们提供与儿童图书作者和插画家会面的机会,并让孩子们从我们的书库中选择自己的免费图书.