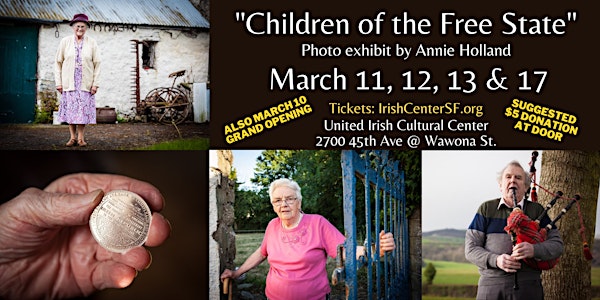 "Children of the Free State" Exhibition by Annie Holland, from County Laois
Join us as Annie Holland returns to the UICC with her "Children of the Free State" exhibition
When and where
Location
United Irish Cultural Center 2700 45th Avenue San Francisco, CA 94116
About this event
Annie Holland returns to the UICC with her "Children of the Free State" photo exhibition. Annie's talented sister Kathleen Holland will also join the exhibition with her beautiful jewelry.
This event listing (suggested donation of $5 in advance or at door) is for exhibit on March 11, 12, 13 and 17 during the UICC's St. Patrick's Day festivities to showcase and discuss their work.
Note: The Grand Opening Night event is March 10, 6 - 9 pm, and is sold under its own event listing (https://anniehollandsf_opening.eventbrite.com).
Laois artist, Annie Holland had conversations with older people from rural Laois born before or just after 1922, taking photographic portraits and engaging in conversations about the past and the present. These conversations create the framework for the exhibition 'Children of the Free State'
The project offers an enquiry and perspective into 'A Sense of Place' the overarching theme of the Laois Culture and Creativity Strategy 2018 – 2022. It encompasses and articulates our socio-cultural heritage through a range of art media. The photographic and video materials will form part of the Laois County Library Digital Repository and Archive.
Using photography and video, Annie focuses on how the process of documentation and storytelling can itself create space, physically and emotionally, for real dialogue and the narration of personal stories - past and present. She also explores old family photos, dating back generations, as the only tangible bridge that connects the past with the present and her photographs that will connect current and future generations.
Speaking about her work, Annie says:
'I believe that the past of any human being is never permanent, but constantly being reconstructed in the present'.
See http://www.anniehollandphotography.com or https://kathleenhollanddesigns.com for more on Annie and Kathleen.