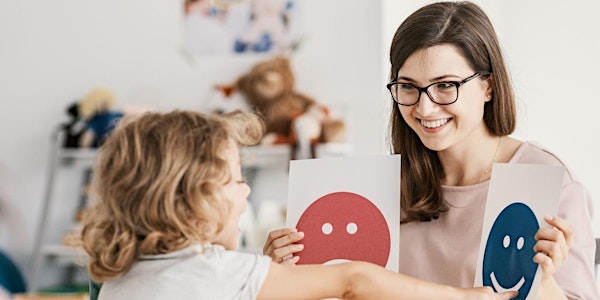 Childhood Trauma, Resiliency, and Compassion Fatigue
Childhood Trauma, Resiliency, and Compassion Fatigue for therapists, educators, caretakers, and treatment providers
Refund Policy
Refunds up to 7 days before event
About this event
Childhood Trauma, Resiliency, and Compassion Fatigue
For therapists, caretakers, educators, and treatment providers working with children and teens who have been impacted by trauma.
Our youth are growing up in unprecedented times. They have seen global tensions, a worldwide pandemic and upheaval to the safeties embedded in their daily lives, national friction and violence, social media and the impact of advanced technology, and ongoing conflict interweaving between these macro matters.
While trying to make sense of the world around them, our children and adolescents also often times face deeper and more individualized issues surrounding family, peer relations, community, and internal belief systems. The number of children and adolescents who have experienced mild to severe forms of trauma has risen exponentially. Therapists, treatment providers, educators, and other professionals working to support youths must therefore be well-versed in trauma and resiliency.
The Childhood Trauma, Resiliency, and Compassion Fatigue workshop provides professionals and caretakers with:
information to better understand trauma and its impact on children and adolescents
the ability to recognize signs of trauma in children and adolescents
evidence-based practices, models, and data on trauma and resiliency
strategies and techniques that touch on all wellness points and that can be individualized to match specific needs
tips on how to avoid compassion fatigue
Course Objectives:
1. Identify the main types of trauma
2. Explain possible impacts of trauma
3. Describe brain plasticity and its role in building resilience
4. Identify the key elements of being a trauma-informed professional
5. Recognize common trauma-informed treatment models
6. Discover how you can help combat the impact of trauma in youths that you work with
7. Determine a plan to alleviate and to avoid compassion fatigue
Agenda
9:00-9:15am    Introductions, Review Agenda
9:15-9:30am     Types of Trauma, impact of trauma
9:30-9:55am TED Talk activity and discussion
9:55-10:40am  Brain Plasticity, trauma-informed care
10:40-11`:00am  Strategies to promote the 6 areas of resiliency
11:00-11:10am Break
11:10-11:35am Compassion fatigue
11:35-11:50am Personal commitment to self
11:50am-12:10pm Q&A, Evaluation
Presenter:
Kat McGrady, Ed.D, LCPC, NCC
Kat McGrady Ed.D, LCPC, NCC is a licensed professional counselor at Sequence Counseling and Consulting Services and a presenter for the Sequence Institute. Using an integrative, solution-focused approach, Dr. Kat McGrady provides individual, family, couples therapy to children, teens and adults through remote teletherapy methods.
After many years working as a teacher, school counselor and child therapist she also offers remote parent coaching. Her style is warm, gracious and caring, as she quickly establishes a connection and listens deeply to what issues may be the source of difficulty. Her thoughtful assessments and use of multiple strategies offer support and direction to each individual or family she works with. Dr. McGrady believes in an authentic and collaborative approach. With compassion, an open mind and creative care, she creates positive therapeutic change for those she serves.
Well versed in the public education system and child development and strongly connected to the Maryland Montgomery County School system for elementary education, Dr. McGrady offers consultations around special education services, classroom accommodations and strengthening the home-school connection to best support student's success. Dr. McGrady has published several books on the subjects of trauma and resiliency in children and teens.
Continuing Education (CE)
Childhood Trauma, Resiliency, and Compassion Fatigue, #4405, is approved by the Association of Social Work Boards (ASWB) Approved Continuing Education (ACE) program to be offered by Sequence Institute as an individual course. Regulatory boards are the final authority on courses accepted for continuing education credit. ACE course approval period: 10/14/2022 -10/14/2024. Social workers completing this course receive 3 Clinical continuing education credits.
How to Attend The Event:
This event will be offered as a LIVE WEBINAR, with live options for Q & A through the chat function of the online platform ZOOM. Registered participants will receive information to log in at least 24 hours in advance of the program start time, along with all handouts as PDFs. Participants must fully attend and submit an evaluation online to receive their certificate of completion. Please register using the email you wish the zoom link and CE certificate to be sent to.
Phone: 240-200-5401 Ext 717
Email: mareilly@sequenceservices.com
Registration Fee, Cancellations, and Refund Policy:
$95.00 per participant
Sequence Institute reserves the right to cancel any event due to low enrollment, inclement weather, instructor illness or other reason. If Sequence LLC decides to cancel the class, all registrants will receive a full refund. Through October 7th, registrants of the workshop who need to cancel for any reason will receive a refund of 90% of their registration fee. Cancellation requests must be received no later than October 7th, 2022 either by phone 240-200-5401 Ext 717 or by email: mareilly@sequenceservices.com. Be sure to include your name, address, and contact information as provided in your registration information. No refunds will be issued for any reason after October 7th, 2022.