How has COVID impacted childbirth? Let's take a deep dive with our national and international experts to find out!
About this event
Melinated Moms in observance of Minority Health Month and Black Maternal Health Week is hosting our annual community workshop, Childbirthing in Communities of Color.
The purpose of these discussions is to create an open dialogue about how different communities of color are vulnerable to maternal and infant mortality rates. These rates are affecting the ability of mothers to raise, connect and save our children from repeating this cycle of uncertainty. The odds are still high regardless of resource availability, socio-economic status or educational background, however we are developing strategies outlining how we can equip other mothers with empowering messaging to improve the outcome of birth for themselves and others.
This volume of the series will address the Impact of COVID on Childbirth. We take a deeper dive by looking at the systems that create change on a micro and macro scale and we address these changes by putting our advocacy into action, and incorporating holistic health solutions with doulas and midwives and the public policies to solidify these changes are happening. We are also expanding our reach by including a global health initiative to see how we can learn from other countries to help alleviate the issues seen with women everywhere.
The outline for this event will be as follows:
1. Preconception. How do we prepare parents-to-be for the journey of parenthood?
2. Prenatal. How has pregnancy care been affected by COVID?
3. Postpartum. How has the birthing experience been affected by COVID?
4. Beyond Birth (Interconception). How has public policy caught up to the health disparities that COVID exposed?
We know it takes a village to raise a child, but that same village is needed to guide the woman through the intersectionality of motherhood and all of its transitions. We can be prepared by hosting conversations like this to encourage, enlighten and empower our women to be their own advocates. We want every woman to leave with a sense of maternal knowledge that will enable them to know they have support no matter where they are.
The entire event will be 2 hours in length from 10am - 12pm EST/ 3pm - 6pm BST (United Kingdom Daylight Savings Time)
Even if you cannot attend live, register for the event to receive the replay.
Panelists Include:
Assemblywoman Angela McKnight, NJ-31st District
Chena Davis, Birthing Doula, Butta the Holistic Doula
Mariekarl Vilceus-Talty, President/CEO, The Partnership for Maternal Child Health
Alisha J. Harper, Melinated Moms Member, Mom of Twins
Delia Muhammad, BSc, Former Doula, Qualified Midwife, United Kingdom
The only person missing from this conversation is you, make sure to register to add to the discussion!
Interested in sponsoring this event or any other Melinated Moms events?
Contact us at mmhq@melinatedmoms.com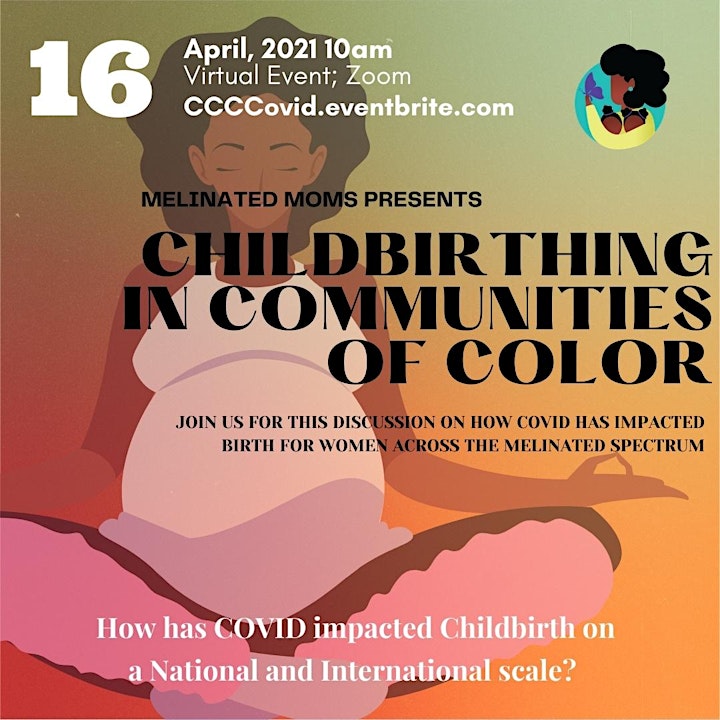 Organizer of Childbirthing in Communities of Color: COVID & Child Birth