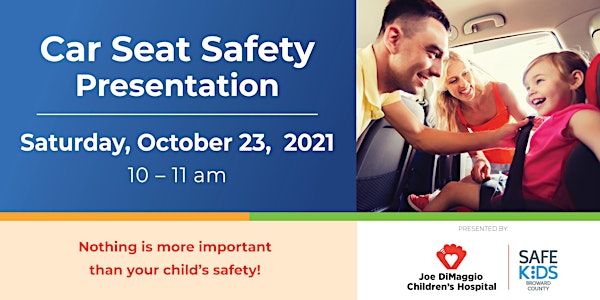 Child Safety - Car Seat Safety
Nothing is More Important then Your Child Safety! Joe DiMaggio Children's Hospital / Safe Kids Broward hosts "Child Passenger Car Seat "
About this event
Child Passenger Safety Car Seat Basic Virtual Presentation
Date: Saturday, October 23, 2021
Time: 10:00 am – 11:00 am EST
Where: Zoom
Once you have registered for the event, an email will be sent to you with the Zoom meeting number and link.
Did you know that 3 out of 4 infants and children aren't as secure in the car as they should be because their car seats aren't being used correctly according to the National Highway Traffic Safety Administration?
Reserve your spot today to learn from one of our Certified Child Passenger Safety Technicians about infant and toddler car seat safety.
Topics
Common Misuse / Questions
Best Location
Seat Belt or Lower Anchor
Best Car Seat
Aftermarket Products / Projectiles
When to turned Forward-Facing
Registration Card
Car Seat Label Information
Car Seat Harness
Car Seat Installation
Rear- Facing
Forward - Facing
Any questions prior to the appointment date; please contact us at lbravo@mhs.net or 954-276-1236