Chief Technology Officer of the U.S. Megan Smith

Wednesday, September 30, 2015 from 7:00 PM to 8:00 PM (PDT)
Event Details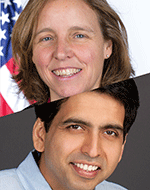 Megan Smith, Chief Technology Officer of the United States
In conversation with Sal Khan, Founder and CEO, Khan Academy

"If we're the country that makes Amazon and Facebook and Twitter, why can't the federal government have websites and digital services that are awesome?" — Megan Smith

It's no secret that the U.S. government needs a tech upgrade, says U.S. Chief Technology Officer Megan Smith who is committed to shaking things up. President Obama's tech mandate is far more than just moving on from floppy disks – initiatives of the Office of Science and Technology Policy include getting more women and people of color in tech jobs, pushing regulatory reform that would allow entrepreneurs to advance their ideas more quickly, and delivering better digital services like welfare registration. And when they're done there, Megan's team has their eyes on expanding online networks to 900 million people in Africa.

As former VP of Business Development at Google and CEO of PlanetOut, a media company targeting the LGBT demographic, Megan Smith has a unique understanding of the capacity of technology to impact public policy. Join us for a conversation between Megan Smith and Sal Khan, founder and executive director of Khan Academy. This event is the second in the new INFORUM series of interviews featuring Sal Khan in conversation with various leaders pushing the limits of learning and breaking boundaries in their industry.
Location: The Nourse Theater, 275 Hayes Street, San Francisco
For GA ticket holders:
6-7 p.m. check-in at The Nourse Theater, 275 Hayes Street, San Francisco
7-8 p.m. program at The Nourse Theater, 275 Hayes Street, San Francisco
For Premium ticket holders:
5:30-6:30 p.m. check-in and premium reception at The Herbst Theatre, Green Room, 401 Van Ness Avenue, San Francisco
7-8 p.m. program at The Nourse Theatre, 275 Hayes Street, San Francisco
The Herbst Theatre at 401 Van Ness Avenue is located .2 miles—a three-minute walk—from The Nourse Theatre at 275 Hayes Street. Transportation will not be provided from 401 Van Ness Avenue to 275 Hayes Street.
All ticket sales are final and nonrefundable.
When & Where

The Nourse Theatre
275 Hayes St.
San Francisco, CA 94117


Wednesday, September 30, 2015 from 7:00 PM to 8:00 PM (PDT)
Add to my calendar
Organizer
The Commonwealth Club is the leading national forum open to all for the impartial discussion of public issues.