Event Information
Refund Policy
Refunds up to 7 days before event
Eventbrite's fee is nonrefundable.
A YEAR-LONG learning cohort that combines the power of chief of staff-specific training, group and 1:1 coaching, and peer advisory
About this Event
In 2021, our teams are looking to us – to you as CoS – to lead them through what's next. That will involve new frameworks, new capacities, and new habits.
You're the leader who can drive your team to shared context and create clarity in this environment.
If your teams are Zoom fatigued, you're the leader who can show them a better way.
It can be challenging, and it can even be scary. Your best chance of success is not going alone. Knowing there will be more white water ahead:
Now is the time to get ready for what's next.
Now is the time to update not just your skillset but your mindset, to muster courage and resiliency for the journey ahead, and to show up differently.
Now is the time to join Chiefofstaff.expert's Chief of Staff Mastermind Cohort 3
Achieve your best results
Leadership only happens through continuous learning, and research shows that the most impactful learning comes when you find the answers for yourself. But that doesn't have to mean you're on your own.
Group and 1:1 coaching, and peer reviews of your current challenges, in this cohort, create the space for to you explore your challenges, see your blind spots, chart a course, and get you where you want to go.
Nobody walks away without lasting change, and you won't find a space like this anywhere else.
Find a place to belong
It's easy to feel isolated in a CoS role, so learn, grow, and connect with other chiefs of staff for your greatest impact.
You'll benefit from learning with your true peers – people in roughly similar industry, size of organization, and leadership span of responsibility – as well as a broader, more diverse group of chiefs of staff from startups, Fortune 100, nonprofits, academics, and everything in between.
With Tyler's network of more than 3,000 worldwide chiefs of staff, and an active/engaged community of 730 CoS through chiefofstaff.expert, he can match you with other chiefs of staff as a mentor or mentee.
We have fun together. Whether we're pioneering innovative techniques for ENGAGING virtual meetings or touring an innovation lab in Seattle or a VR creative agency in Dallas, we get to know each other as trusted colleagues by learning together, sharing a meal, and listening to live music. (And we look forward to doing that again when we can!)
Our cohort model creates a depth of relationships that online forums can't offer.
Click Tickets to register now.
FAQs
• If I join this cohort, can I share my experience in confidence? Our overall policy is: what is said in the cohort stays in the cohort. See the registration form for additional Confidentiality details.
• How do I show my boss the ROI on this investment? Here's a draft email to your executive sponsor with some suggested talking points and ROI verbiage that you can edit and make your own.
• I'm already Zoom-fatigued and can't imagine trying to learn in this environment for another year. Is there another way? I hear you, and I wrestled with the same thing shifting from meetings where CoS participants said the in-person experience was the most valuable part. But that was before I met John Chen, who wrote the book on Engaging Virtual Meetings. John's going to open your mind to a world of possibilities that you might not have considered. He did for me. Since I attended one of his workshops, I've hosted 3 virtual meetings that people said were the best virtual meetings they've ever attended. I've partnered with John to model some virtual facilitation skills that will help you, your exec, and your leadership team create shared context, drive to clarity, and stay engaged. You can't NOT learn for a year, so let's learn how to do this better - together! In a group of peers who are supporting you and where the stakes are not so high. Imagine leaving our virtual cohort meetings exhilarated instead of Zoom-exhausted! Now imagine everyone leaving your organization's meetings feeling that way and committed to the next steps. That might be worth the "price of admission" by itself.
• Why should I trust Tyler Parris to be my guide on the "white water" of the next year? Tyler wrote the book on the chief of staff role, has now interviewed over 1,000 chiefs of staff, globally and in different industries, continues to provide original and curated content for chiefs of staff through his newsletter, blog, and global CoS Slack workspace, and is the expert behind chiefofstaff.expert. He's also a Hudson-certified executive coach who's coached dozens of chiefs of staff (sometimes their CEOs, too!). That means he won't merely tell you how to do your job or give you a bunch of advice. He will use questions to help you explore your challenges, see your blind spots, chart a course, and get where you want to go. Don't just take his word for it - references available upon request.
• Can you give me more details about the schedule? We will have a highly-engaging, interactive, experiential virtual kickoff April 27 and 28( 2 x 2-hour sessions), followed by 2x/month virtual calls about 90min-2hrs each, through March 2022. The cohort has the opportunity to adjust the schedule at kickoff and as we go, modeling ways you can lead your teams through evolutions in the rhythm of the business. You will also have the opportunity to schedule a monthly, .5hr, 1:1 coaching session with Tyler Parris. See Schedule and Representative Topics, below for more info.
• What topics are we likely to discuss, and how will I know if you'll hit the right topics for me? Chiefs of staff share a lot of common challenges – that's where the group sessions are most useful. For issues unique to your situation, that's where the 1:1 coaching sessions can have the most impact. See Schedule and Representative Topics, below for more info.
• Still have questions? Email tyler@tylerparriscoaching.com, or just book a 15-minute slot on my calendar: https://calendly.com/tapcoach
Schedule and Representative Topics
Our cohort is influenced by and models LEAN/continuous improvement, Design Thinking, and Agile disciplines. As a result, while I have chosen some broad time periods for our meetings, specific dates/times of day for our virtual calls will be finalized by the cohort at kickoff. Also, the topics below are representative of common challenges for chiefs of staff, including Cohort 1. However, the final list of topics might include these or other topics pressing for this group, including topics related to unfolding realities in your world (like Covid-19) for which best practices are fluid and unfolding.
Apart from the kickoff, the final dates and times and prioritized order of topics will be confirmed by the cohort at our kickoff:
2021 (All virtual until otherwise noted)
April 27& 28 (2hrs each day) - KICKOFF: Chief of Staff as Facilitative Leader
Week of May 3 - CoS as Leader - The Art of Leading (Virtually) from Behind
Week of May 17 - CoS as Leader - Leading with Power without Leading by Power
Week of May 31 - Thinking About Your Replacement From Day One
Week of June 14 - Your Challenge: Peer Review 1 
Week of Jun 28 - Systems & Strategic Thinking for CoS, Pt. 1 - Concepts, Definitions, Map Your World
Week of Jul 11 - Mastering the CoS-Executive Partnership
Week of July 26 - Boundary Awareness and Management for CoS
Week of Aug 9 - Peer Review 2
Week of Aug 23 - Strategic Planning & Execution, Pt 1/Planning. Avoiding "Ready, Fire, Aim" (with special guests)
Week of Sep 13 - Strategic Planning & Execution, Pt 1/Execution. Getting more of the right stuff done, better (with special guests)
Week of Sep 27 - Peer Review 3
Week of Oct 11 - Retrospective and MidPoint Check In
Week of of Oct 25 - Tech & Tools Expo - apps that make CoS life easier
Week of Nov 14- Systems & Strategic Thinking for CoS 2 - Applying Different Lenses to Your World
Week of Nov 29  - Former CoS Panel
Week of Dec 13 - Tough Conversations With Those Who Outrank You
Week of Jan 10  - Performance Management & Accountability for CoS
2022
Week of Jan 24 - Making and Executing Great Decisions as a Leadership Team
Week of Feb 7 - CoS as Coach (with Coaching Lab)
Week of Feb 28  - Coaching Lab 2, Peer Review
Week of March 14 - Peer Review 4
Week of March 28 - GRADUATION: Evolving Your Role & Planning for Your Next Steps (plus special guest speaker)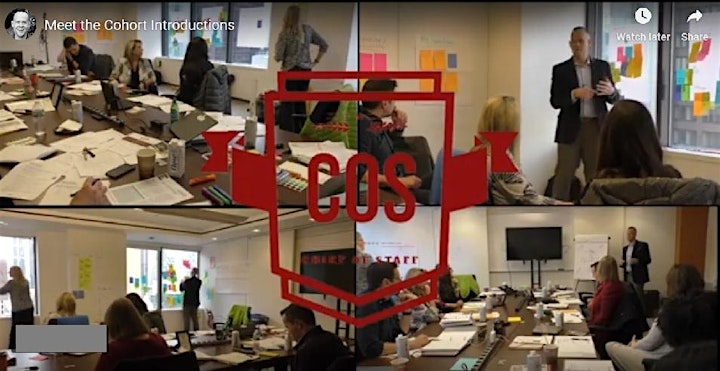 Date and Time
Location
Refund Policy
Refunds up to 7 days before event
Eventbrite's fee is nonrefundable.