Chico Camp / Paradise California Wildfire Informational Meeting
About this Event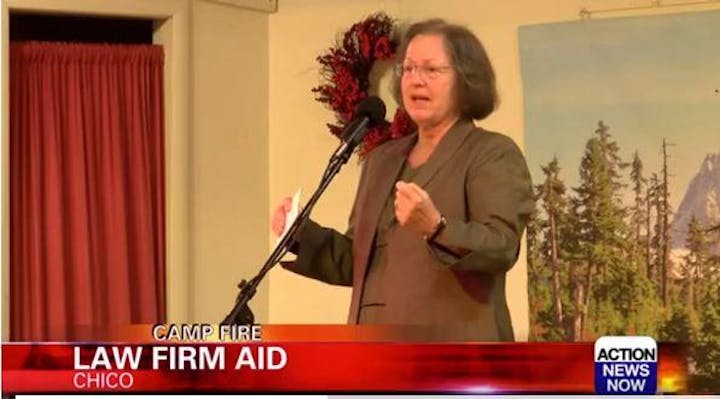 Please REGISTER to attend this FREE June 21, 2019 Town Hall Meeting!
Refreshments will be provided.
Find out about the PG&E lawsuits in a special briefing by two board certified civil trial lawyers, Ronald L. M. Goldman and Diane Marger Moore. Both of these lawyers have extensive legal experience with 95 combined years of practice. Diane is one of the most seasoned fire trial lawyers in the country. Robert F. Kennedy, Jr. is also a member of their team, along with lawyers from two other law firms.
The firm's California wildfire legal team at Baum Hedlund Aristei & Goldman represents many families displaced by the fire, including many of the 50 Guild members who lost their family homes in the Camp Fire disaster in Butte County.
"PG&E continues to pay execs millions without paying a penny to the homeless and dispossessed! Shameful! Suing PG&E is the only way that it will be held accountable," stated Diane Marger Moore
To help Camp Fire victims better understand their legal rights, the law firm of Baum, Hedlund, Aristei & Goldman and the California Guild are holding this town hall meeting in Chico on June 21, 2019. Attorneys Ronald Goldman and Diane Marger Moore will be present to answer any questions and speak with victims about potential legal claims, regardless of whether or not they have insurance.
The Town Hall Workshops will help victims in the following ways:
► Learn how to deal with insurance claims effectively.
► Learn how to identify when a bad faith claim is necessary.
► Learn how a civil lawsuit can recover damages beyond insurance, like severe emotional distress, loss of pets and loss of sentimental items.
► Learn what impact PG&E's bankruptcy may have on the lawsuits.
Please reserve your seat by Registering for a FREE TICKET today!
About Baum, Hedlund, Aristei & Goldman
The law firm of Baum, Hedlund, Aristei & Goldman has coordinated a California wildfire team that includes Robert F. Kennedy, Jr. and attorneys from Strange & Butler LLP, Nix Patterson LLP and Crowley Norman LLP to represent victims of the Camp Fire and the Woolsey Fire.
The firm has handled thousands of cases against some of the world's largest corporations, securing over $4 billion on behalf of clients across all areas of practice. Last month, Baum, Hedlund served as co-lead trial counsel on the trial team that obtained the $2 billion jury verdict against Monsanto for its weed killer Roundup causing cancer.
The public is invited to this FREE EVENT.
Please reserve your seat by Registering for a FREE TICKET today!
We hope to see you there.
You can learn more about the lawsuits here - http://cawildfireattorney.com
Our past performance, verdicts and settlements do not constitute a guarantee, warranty, or prediction regarding the outcome of future cases. Ronald Goldman is responsible for the content of this advertisement.