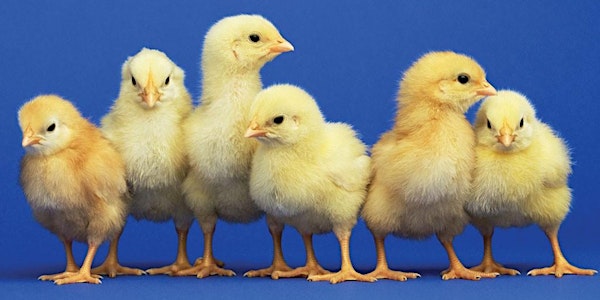 ChickQuest workshop 9.27.22
Challenge your students to use Science, Engineering, and Technology to investigate the life cycle of an embryonic chicken egg!
When and where
Location
Nationwide & Ohio Farm Bureau 4-H Center 2201 Fred Taylor Drive Columbus, OH 43210
About this event

ChickQuest, a Classroom Journey Through the Life Cycle of Chickens, is a 4-H School Enrichment Program that challenges students to use Science, Engineering, and Technology to investigate the life cycle of an embryonic chicken egg. From monitoring living eggs to observing fluffy chicks, these lively activities pique curiosity, encourage collaboration and communication, and provide young scientists with unforgettable experiences. The Ohio Soybean Council, Meyer Hatchery, and OSU Extension are providing this curriculum for elementary teachers in Ohio during the 2021-2022 school year. Each teacher will receive:
Teacher Guide
Science log books—(set of 25 student log books)
incubator and egg turner
fertilized egg coupon
kit that includes experiment supplies
one day of professional development training for the teacher
Teachers receive .7 CEUs for attending this workshop.
"Your program is one of the the best teacher programs I've been involved in. Your enthusiasm was contagious. I feel ready to help my students better understand life cycles of living things. We have already ordered our eggs." From a teacher, Bexley City Schools.
"I want to pass on a compliment regarding the recent ChickQuest workshop! Three teachers from my school attended the workshop. They came back fired up about the information! They have been raving about the quality of the inservice, the speakers, the materials, etc. They have hatched chicks and ducks in the past but they have a renewed sense of energy now. In short they loved it and can't wait to come back. It is not always the case that we find such quality information, workshops, and inservices for teachers." From a principal, Cincinnati Schools
"I wanted to let you know how much we enjoyed the workshop yesterday. It was very well run, organized, and meaningful. The curriculum materials are very well done – a teacher's dream. I can't thank you enough for helping me bring this experience to my students." From a teacher, Gahanna-Jefferson Schools
NOTE: Some schools seem to be blocking the registration process. If you have trouble, please try to register from home or contact sally@educationprojects.org.