Chickens & You Two Day Intensive

Saturday, March 2, 2013 at 9:00 AM

-

Sunday, March 3, 2013 at 6:00 PM (EST)
Who's Going

Loading your connections...
3 of your friends are going.
Share it to get more people on board!
Share

Sara Haughty
San Francisco, California

Luke Picard
London, United Kingdom

Rick Vespucio
Florence, Italy
Event Details

Chickens and YOU Training Series Leading to the
Master Chicken Keeper Certification
This two-day intensive course teaches you how to raise, keep, employ and enjoy family flocks and homestead chickens.  Learn in detail—with hands-on, real-life information, interactive live discussions. You get practical and effective cutting-edge ways to integrate chickens in with your yard and garden that benefit you, your neighborhood and your community.
Learn how chickens can empower urban agriculture with their skill sets that include serving as fertilizers, herbiciders, insecticiders and top soil creators. They can also serve as clucking civic workers to help save municipalities BIG TIME local tax-payer dollars. Explore how to develop your very own "Chicken Have-More Plan. It's time to "think outside the coop and inside your garden" and this series of courses show you how.
At the end of the program, participants undergo an exam and are eligible to receive a Backyard Chicken Keepers Certificate, suitable for framing.  All courses lead to the esteemed Master Backyard Chicken Keepers Certificate.
The weekend course includes lunch and dinner on Saturday, and lunch on Sunday.  Snacks are also provided.  Participants are responsible for their own breakfast, as well as the $5 per day parking fee.  OVERNIGHT ACCOMODATIONS ARE AVAILABLE ON A FIRST COME, FIRST SERVED BASIS.  Click here for more information about First Landing State Park, or click here to reserve your cabin now.  Participants may bring one chicken for the Day One Chicken Whispering Workshop, as long as it is kept in a cage or box and has ample food and water.
DAY ONE
Laying Hens 101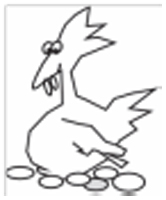 This is a comprehensive introductory course for those who want to keep small flocks of laying hens — beginning withadult birds. You will learn the most important considerations in caring for a flock in a limited space. Includes hen anatomy and physiology, behavior, handling, health, nutrition, egg management, and housing basics. This interactive, highly-participatory workshop also covers which chicken breeds tend to do best in the Central Virginia climate. All questions will be answered and you will leave the   course with the knowledge you need to know about successfully keeping chickens in your backyard. 
Raising Baby Chicks from Scratch
Learn the most important factors in caring for baby chicks, including chick anatomy and physiology, behavior, health, nutrition and housing. This interactive lecture based workshop also covers a wide variety of chicken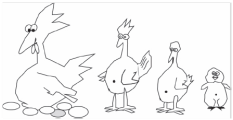 breeds. All questions will be answered and you will leave the course with everything you need to know to raise baby chicks successfully. 
Intro to Gardening With & For Chickens
Chickens have skill sets that can be gainfully employed in backyard gardens. This interactive discussion will give you practical and effective cutting-edge ways to integrate chickens in with your yard and garden. Topics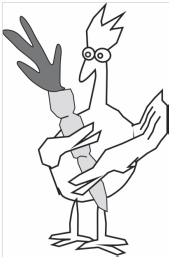 include types of fencing (what works and what doesn't), when to let birds in and when to keep them out of specific crops life cycles, bird-scaping, and, best of all, getting wholesome, home-grown food for both you, and your flock. This will truly be a "Think Outside the Coop" workshop.
Eggs-traordinary Eggs: The Tips, Tricks and Traps of Egg Production and Preparation
This intensive, hands-on interactive workshop covers just about everything you need to know about getting, and using, eggs from your family flock. Course topics include such egg-citing topics as:
 · Which breeds are best for egg layers

· Buying to hatchChef Chicken
 · Fertile vs. infertile eggs
 · Artistic eggs
 · Egg eating (by chickens as a vice)
 · Egg nutrition
 · Selling eggs for egg-stra income
Additionally, you will learn what great chefs know about the chemistry of cooking with eggs including how to make fool-proof hard boiled eggs, mayonnaise, meringue, hollandaise sauce and more. After this class you will be an egg-spert - impressing friends and family with your egg-sperience.
Chicken Whispering: Discover the Chicken You Never Knew
There are ways to handle and communicate with chickens that can result in

trust,gentleness and even an emotional bond. But first you must learn how a chicken thinks, and prefers to be treated. It's sometimes not what you think. Some birds can even be trained to serve as therapy chickens and class room assistants. Get close and personal with your biddy buddy. Learn the basics of chicken whispering in this cutting-edge, hands-on, nose-to-beak workshop.  Participants may bring one chicken, as long as it is kept in a cage or box and has ample food and water.
DAY TWO
Way of the Hen: Incubating Eggs and Brooding Chicks Naturally
Using, managing and understanding broody hens is almost a lost art. And yet, broody hens happen. With the surge of family flocks, many poultry owners are wondering what to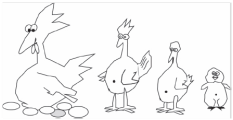 do with their broody biddies. From our literature searches there is very little practical information about employing hens to incubate eggs, and brood chicks naturally. In many ways, this is a key not only to family flock self-sufficiency, but also to preserving the heritage breeds.
Biomass Recycling, Composting & Creating Topsoil with Chickens
The chickens in your family flock have skill sets that can be used not only for local food production, but also to create compost, fertilize and build tilth in top soil. And

simultaneously, they help decrease the amount of "trash" that is collected by the solid waste management system. Learn how your feathered bipeds can serve as clucking civic workers to help save BIG TIME tax payer dollars and as Partners Toward Zero Waste. Space is limited.
Primary Poultry Health Care
Learn the basics of preventative disease management that utilizes proactive care to keep your flock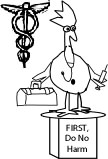 healthy. You will learn about considerations for housing, air quality, feed, water and special challenges that you might face with your flock. You will learn how to treat the most common diseases as well as wounds and trauma. Includes hands-on administration of treatments and wound care. Learn how to use or make simple, but effective treatments without prescription drugs. This workshop teaches you what you need to know to avoid most veterinary bills.
Examination for the Backyard Chicken Keeper Certification 
Awards Ceremony
About the Instructors
Patr

icia Foreman graduated from Indiana University with a Masters of Public Administration.  She went on to Graduate School and received her BSC both from Indiana, and then from Purdue University, where she majored in Animal Science, Genetics and Nutrition. She is both an author and licensed pharmacist.
She is the author of City Chicks: Keeping Micro-flocks of Laying Hens as Garden Helpers, Compost Makers, Bio-recyclers and Local food Suppliers. She is the co-author of Chicken Tractor, Day Range Poultry, Backyard Market Gardening and A Tiny Home to Call Your Own. 
Lisa Dearden is a long-time advocate for sustainable agriculutre and local food.  Her company, ChiknEGG Productions, produces ag-themed special events.  Lisa has been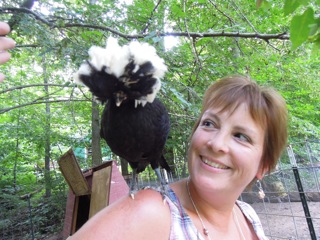 working with Pat for several years on the Occupy Backyards Movement and they have partnered to develop and deliver the Chickens and You training program to scores of hen activists all over the Commonwealth of Virginia and beyond.  Lisa has an A.A.S. in Horticulture from J. Sargeant Reynolds Community College in Goochland County, VA.  She works behind the scenes, keeping Pat organized!
Cancellation Policy
A minimum of 14 days notice is required in writing prior to March 2, 2013 for a full refund. From February 16-23, 75% refund will be issued.  No refunds will be issued after February 23, 2013.  We're sorry, but we are not able to issue refunds without notice in writing (email is fine).  
When & Where

First Landing State Park
2500 Shore Drive
Virginia Beach, VA 23451


Saturday, March 2, 2013 at 9:00 AM

-

Sunday, March 3, 2013 at 6:00 PM (EST)
Add to my calendar
Organizer
Chickens And YOU™
Chickens AND YOU™ is a project of the Gossamer Foundation, a 501(c)3 non-profit organization dedicated to Global Sustainability and Local Foods.
There is so much new information about family flocks, that the learning curve for the majority of our population starts with never having seen, or touched a live chick—to keeping and employing a family flock.
The old ways of chicken keeping are not the best ways. And the commercial ways of chicken husbandry are completely different from keeping family flocks. Micro-flockchicken husbandry has evolved with many new ways that are more sanitary, safer, and productive. That's why we created The Chickens and You™ training series, so that folks can easily have access to courses, and learn first hand the humane, and cutting-edge ways and advantages of micro-flock poultry management.
After completing the specified classes, and passing an exam, participants are awarded the Backyard Chicken Keeper Certification (with a diploma suitable for framing). Advanced classes and projects lead to the estemed Master Backyard Chicken Keeper Certification (also with a diploma suitable for fraiming).
To arrange for courses in your area, or for registration, contact: Lisa Dearden. (804) 314-9141, email: Training@ChickensAndYou.com
Questions about workshop content, custome programs or consulting services, contact:  Patricia Foreman, Phone & fax: (540) 261-8775, email: info@ChickensAndYou.com
Questions about textbooks and training materials contact: Pat@ChickensAndYou.com
Chickens & You Two Day Intensive