Description
Sophistiratchet Saturdays
Are you a classy, educated professional who likes to wind down after a hard week at work by getting all the way #turnt up to a soundtrack of trap music? If this is the way you like to spend your weekends, then... you just might be sophistiratchet.
so·phis·ti·rat·chet
(adjective):
A person of highly educated pedigree (academically, socially & otherwise). Fluent in various forms of public etiquette yet is equally knowledgeable of the latest trap music , updated on most prime-time ratchet cable programs & conversant in the tongue of ratchet.
If you're about that boozy brunch life, then Sophistiratchet Saturdays is the place for you. It's a place where you can let loose without fear of being judged by sidditty, pretentious people. A spot where you can feel free to twerk when Juvenile tells you to back that thing up; a sanctuary where you can freely admit that you are in love with the coco.
On Sophistiratchet Saturdays, turn up with us as we partake in boozy brunch at Harlem Bar-B-Q from 12:00-5:00pm. Brunch includes appetizers, a delicious entree, and unlimited brunch cocktails (mimosas, bellinis, screwdrivers, hard iced tea, hard lemonade, and frozen flavored margaritas) for 90 minutes, all while NYC's hottest DJs spins the best of R&B, hip hop, and trap music for your listening pleasure.
There's only one rule: check your bougie attitude at the door (don't worry -- you have our permission to act dignified again when you leave).
*$35 per person (Not Including Tax & Gratuity) is to be paid to your server at the conclusion of brunch*

Happy Hour Specials $3 Beers, $5 Wine, $5.99 10 oz. Margaritas, and $7.99 20 oz. Margaritas

**Brunch is first come first served. Reservations/Accomodations for large parties must arrive before 2pm (Email Host for details)**
***Strict 2 hour seating limit maybe imposed during brunch***
****Complimentary shot is given to those who arrive before 2pm (You must ask for it)****
*Free Shot for All College Grads & Greeks*
*****Must be 21+ to participate in bottomless brunch*****
Please use #TAGBrunch #SRBrunch when sharing socially.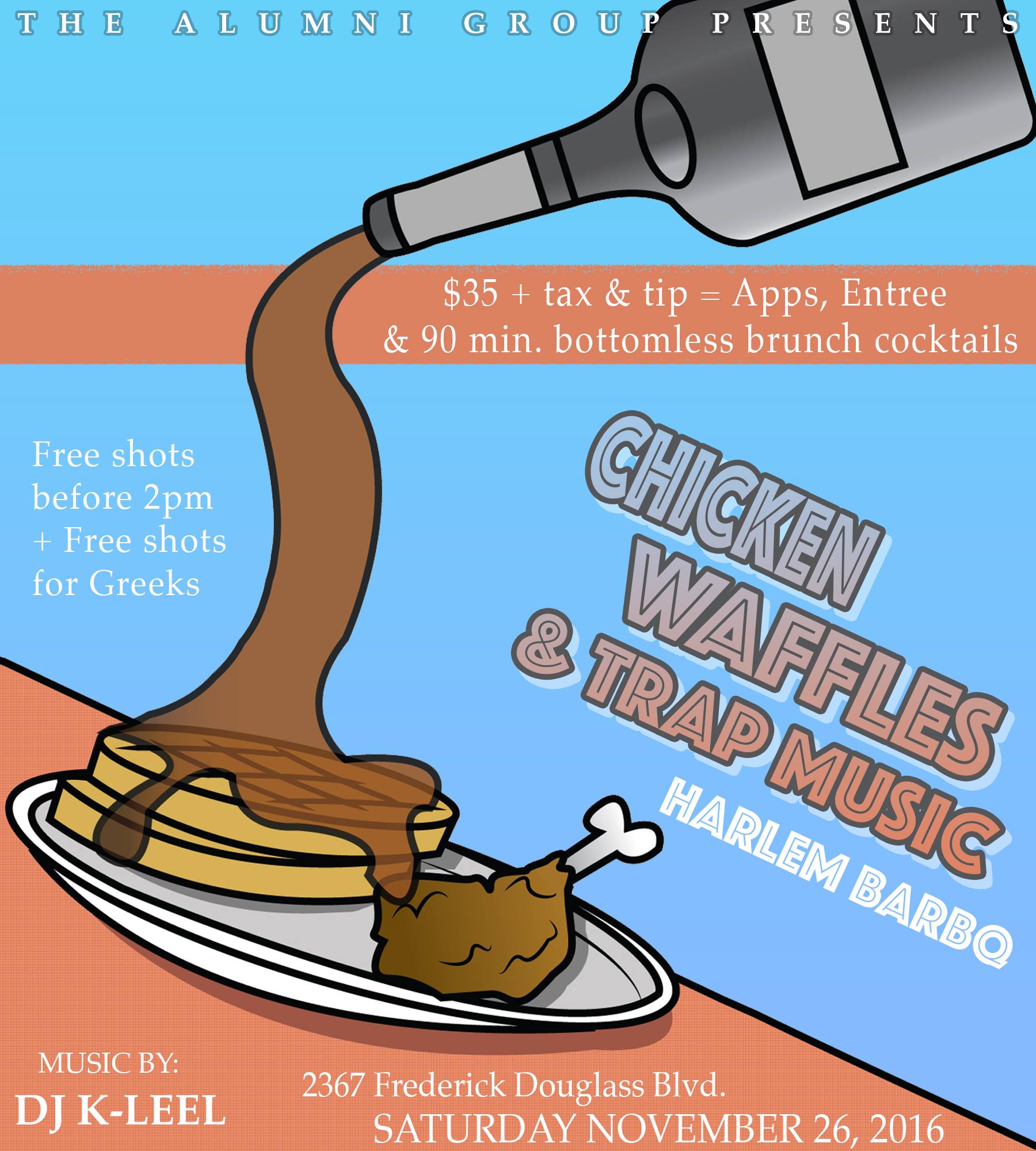 Prix Fixe Menu:
$35 (Plus Tax & Tip) Per Person
Starter plus your choice of Entree with 1.5 hours of Unlimited Drinks
Starter
Corn Bread (Included with Brunch)
Honey & Butter Glazed Cornbread
Catfish Bites (Included with Brunch)
Herb-seasoned, battered catfish bites served w/ a chipotle sauce
Entrée
Fish & Chips
Herb-seasoned, battered catfish served over French fries
Shrimp & Grits or Catfish & Grits
Creamy style cheese grits topped w/ your choice of crispy catfish or fried shrimp
Soul Food
Southern Fried Chicken Wings served w/ mac& cheese and collard greens
Wings available in your choice of sauce: Honey, Jerk, BBQ or Buffalo
Frandy's Burger
8 oz juicy cheese burger on a brioche bun topped w/ a fried egg & bacon
Served w/ French Fries or Sweet Potato Fries
** Sub Turkey Burger
Chicken & Waffles
Harlem Bar BQ's famous wings (traditional or boneless) your choice of sauce: Honey, Jerk, BBQ or Buffalo
Served w/ a Belgian Waffle
(Red Velvet or Classic)
Beverages (1.5 Hours Unlimited):
Traditional Mimosa (Champagne & Orange Juice)
Mango Mimosa (Champagne & Mango Nectar)
Bellini (Champagne, Peach Schnapps, &Peach Nectar)
Screw Driver (Vodka & Orange Juice)
Hard lemonade (Lemonade & Vodka)
Hard Iced Tea (Sweet Iced Tea & Vodka)
Frozen Margarita
Available Flavors: Mango, Peach, Raspberry, Strawberry, Wild berry or Blue Hawaiian