About this Event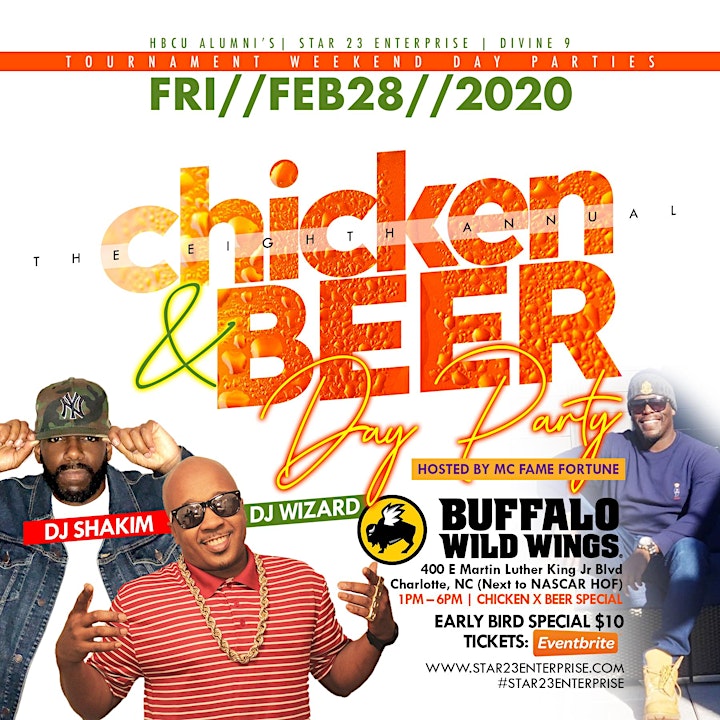 8th th ANNUAL TOURNAMENT WEEKEND DAY PARTIES
FRIDAY DAY} CHICKEN & BEER DAY PARTY
Who says chicken and beer doesn't mix? Star 23 Enterprise will be hosting the 8th annual alum networking and day party at Buffalo Wild Wings. Grab your tickets now and come out to hear DJ Shakim (ATL) and Charlotte's own DJ Wizard spinning on the 1's and 2's. Fellas make sure you're ready to do your old school dance and ladies be ready to have your kitten heels, it's going down all day!
Buffalo Wild Wings! come get ready to get your Party Grove on next to NASCAR Hall of Fame! (It's a sell out every year)
Music by: DJ Shakim | DJ Wizard
Hosted by: MC Fame Fortune
Time: 1PM -6PM
Vendors|Great Food|Great Music
PURCHASE YOUR TICKET TODAY Or PAY MORE AT THE DOOR
BOOK YOUR SECTION BEFORE IT'S TOO LATE!
CALL/TEXT (716) 553-2923|(917)414-9605
Early Arrival is Strongly Suggested to All EVENTS
#Star23enterprise
21 To Enter 30 Plus Preferred
NOTE: ALL TICKET SALES ARE FINAL. THERE ARE NO REFUNDS!
Legal: We are an independent entertainment company. We are in no way affiliated with CIAA®, or any other association. All copyrights, trademarks, and registered trademarks are the property of their respective owners.