Description
ChickChat's first Speed Coaching event sold out in January 2016, so we've decided to host two more!

Is your life good, but you want it to be great? Are you feeling stuck in a relationship, job or city that no longer fulfills you? Do you lack energy, drive and commitment? Are you sick and tired of feeling sick and tired? Do you want better relationships? Do you need help strategizing and growing your business? Are you in Corporate America and finding it hard to go to the next level, manuever the Old Boy's Club or claim your power? Maybe you just want to THRIVE more and live the life you created on your Vision Board?

Then ChickChat's "Create the Live You Desire" Speed Coaching & Soul Searching Summit is just for you!
YOU are the common denominator in everything that is going well, or not so well, in your life. The good news is that if you're having success in one area, you know HOW to succeed and be happy; you just may need a lil' inspiration and guidance to rock all aspects of your awesome self. You can't know it all. And sometimes it takes someone else to help you find the way out and over. That's where your TRIBE comes in. Your Tribe are the Experts, Advisors, Coaches, Trainers and other "service providers" who you connect with and trust, who you hire for a long time, or just a few sessions...to assist you in creating and LIVING the life you truly desire. Remember that Vision Board?

Attend ChickChat's "Create the Life You Desire" Speed Coaching & Soul Searching Summit on Saturday, April 23rd to find your Tribe. To receive laser coaching. To get inspired and leave energized, hopeful and with a plan of attack. There will be open networking time as well, to meet other awesome women (and a few men) with similar outlooks as you.
......

HOW IT WORKS:
*Doors open at 9:00am. Venue is the stylish, new Coterie Worklounge, an urban co-working space in Seattle.

Continental breakfast (pastries, fruit & yogurt, granola), coffee & tea and mimosas will be served. Before the speed coaching starts you'll have time for open networking with the 25 Coaches & Advisors featured, as well as other attendees. There will be shopping vendors, chair massages and more!
There will also be Breakout Sessions (25 minutes each) throughout the day, featuring a variety of different Coaches and Expert Advisors going deep in a variety of life areas.

*There will be three speed coaching waves; each attendee will be assigned to one of the following waves:

10:00am-11:00am
11:30am-12:30pm
1:00pm-2:00pm

Each attendee will have three, 20 minute, one-on-one laser speed coaching sessions with various Coaches and Advisors that they've requested. We do our best to match you with your top, preferred professionals.

1:1 SPEED COACHES & ADVISORS INCLUDE:

*JEN BRIGGS: Authenticity Coach & LIfe Coach for Bad Asses

*SUMMER HUNTINGTON: Fit Body Wellness - Movement Coaching and Flow/State of Mind Entrepreneurial Coaching

*HEATHER PEARCE CAMPBELL: Attorney & Legal Coach

*TRACEY WARREN: The Social Playground - Social Media Strategist

*SHALYNN FLAVELL: Temple Hypnosis - Hypnotherapist and Integrative Life Coach

*NIKKI RAUSCH: Sales Maven - Sales & Communication Coach

*OMAR RIVAS: Rivasity - Motivational & Educational Speaker, Executive & Presentation Coach, Sales and Business Advisor

*GINA FRESQUEZ: Women's Side Hustle Society & Girls Weekend For Your Soul Retreats - Freedom Catalyst, Success & Mindset Coach, Desire Map Faciliator

*RUBY RAYNE: Empath, Energy Work & Intuitive Consultation

*DR. TINA HUANG PhD: LifeLong EnerJoy - Holistic Healer for a Happy & Healthy Brain

*DENISE MARINACCI: Prosperity Coach, Healer & Intuitive and....Accountant!

*KATHY CLAYTON: Kathy Clayton Coaching - Personal, Life & Relationship Coach

*DENISE MYERS: YBR Coaching - Women's Leadership & Business Coach
*RISA SUZUKI: Suzuki Environmental - Healthy Home Consultant, Building Biologist & EMF Specialist
*BARBARA BADOLATI: Live Blissful - Lifestylist for Home, Health & Happiness
*ANDREA COLE: Career & Leadership Development Coach
*NANCY JUTTEN: Get Known Get Paid & Business Bio Expert

*TOM NEUFELD: Relationship & Vulnerability Coach

*MIKKI KINGREY: Real Results Mentoring - Conscious Business Consultant
*MICHELLE MAZUR: Communication Rebel - CEO & Public Speaking Consultant
*JESSICA RIVERSON: Permission To Charge - Business & Money Coach

........................
BREAK-OUT SESSIONS (25 minutes each):
There will be 6 Breakout Sessions, led by Coaches and Experts going deep on a variety of different topic areas. These sessions will provide ACTIONABLE information and strategies that you can implement immediately to help you breakthrough to the next level. These powerful breakouts are scheduled throughout the day. You can attend all the break out sessions when you're not Speed Coaching or just pick and choose which ones most speak to you.

"Finding Your Super Power" ~ Kim Smith, Relationship & Leadership Coach
In this session, Kim shows you how to take the bricks that are thrown at you to build a foundation for success. Through your stories, obstacles, blocks and adversities; you'll discover how to use your personal strengths, resources, networks and personal power to discover your Super Power!

"Live Your Life From the Front Seat" ~ Jessica Butts
Join Author, Motivational Speaker, Therapist, Coach and Myers Brigg Expert, Jessica Butts to learn how to build your life and business around your innate personality type so you can stop doing stuff you suck at!

"The Art of Idea Capture" ~ Christina Marie Kimball, Business Coach - Artful Thinking
Floods of ideas can sink the ship or help you climb the mountains. In this session we'll cover practical techniques to handle both the smallest of tasks and the grandest of ideas. Divinci had his notebook to capture ideas. We'll discuss ways to capture ideas in this fast-paced, high tech world.
"Soul Awakening: Tools for Greater Clarity & Transformation" - Heather Blankinship, Transformational Coach & Spiritual Sherpa
Explore the most important steps to uncover greater Clarity, Confidence and Ease in your life. Heather will guide you through a powerful process of self-discovery and empowerment by shining the light of awareness on what is really holding you back, and give you a roadmap to set you free!
"Image Alignment: Intentional Strategies to Create Your Authentic Personal Brand" ~ Lisa Fischer, Certified Personal Stylist, Author & Speaker
Create your unique personal style statement that will have you living in-sycnh with your personal values via your wardrobe, accessories and personal style
......................

THE AFTER PARTY: 2:00-4:00pm
When the last Speed Coaching wave has ended, we'll break open the wine and bubbles. This is when you can meet other attendees, introduce yourself to other Coaches and Advisors you wanted to meet, but didn't have a laser speed coaching session with; shopping our vendors, get a chair massage and other fun stuff, before heading home.

......................
VENDOR & PARTNER MARKETING TABLES:

*JEN COLLMAN: Your Life Empowered with Coach Jen (Health, Wellness, and Fitness)

*STACIE THOMAS: Professional make-up artist

*MARCIA SEARS: Nerium skincare

*ANDREA KOEHLER: The Coloring Project (adult coloring books, cards and other products)
*CITY SWEATS: An urban spa specializing in Infrared Sauna treatments! ***All attendees receive a coupon for 50% off your first visit! www.UrbanSweatSeattle.com

*NICOLE PONTILLO: Dancing Love Organic Oils: nourishing aromatherapy products that inspire joyful, balanced living
*INITIATIVE 123: An initiative to create an elevated park along Alaskan Way; will appear on the ballot in August. Come learn about this unique plan to beautify our city (and cut down on gridlock traffic)!

*NEURO: Functional, supplemental drinks with a purpose (will be sampling)
*MIKE NAKAMURA: Photographer...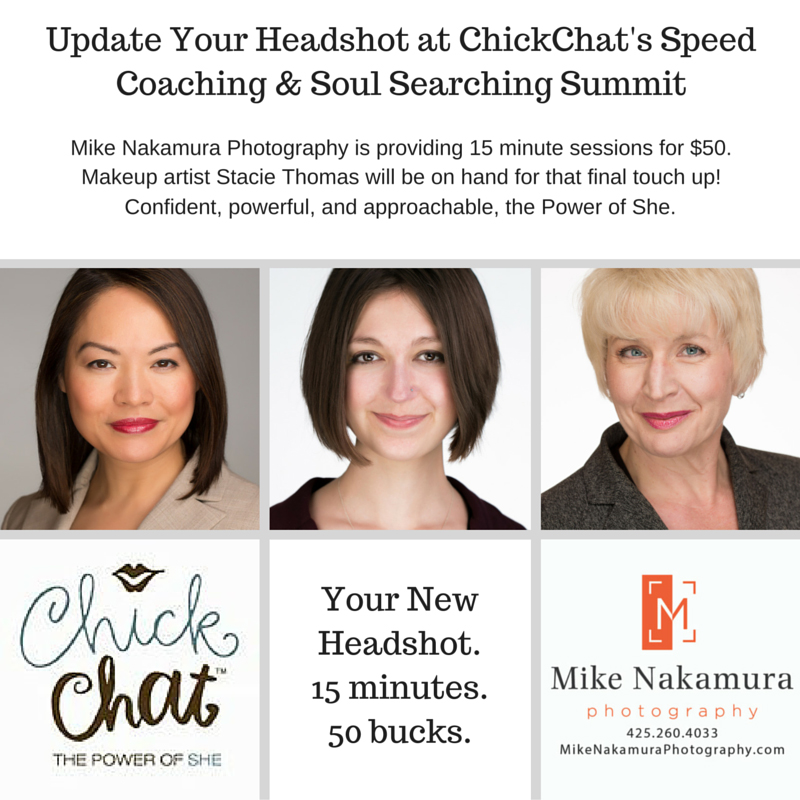 *****BUY YOUR TICKETS NOW. SPACE IS LIMITED TO ONLY 70 ATTENDEES!

****MEN ARE WELCOME TO ATTEND!***
.............
WHAT IS COACHING? Helping another person to improve awareness, use and build on skills and strengths they already possess to create action plans and set & achieve goals in order to improve a particular behavioral performance, thought process or relationship.

WHAT IS SPEED COACHING? You've heard of Speed Dating? Well, it's kind of like that, only without all the difficult small talk and bad potential dates. You bring your burning questions, concerns, hopes & dreams to the table and the professional sitting across from you provides you with her/his insights and advice for how to tackle it, think about it differently and DO differently so as to bring about the change you desire.

.............
PARKING: anywhere downtown or at the Motif Hotel; the elevators are shared with the Coterie Worklounge. It's not cheap though, but if you get in early enough, there will most likely be weekend deals?

FOOD: We'll be serving a continental breakfast; but you're on your own for the rest of the day. Feel free to bring food & snacks with you; or you may want to go out during the 30 minute downtime between each Speed Coaching wave to grab a bite to eat.
*******NO REFUNDS WILL BE GIVEN ONCE YOU'VE PURCHASED YOUR TICKET.