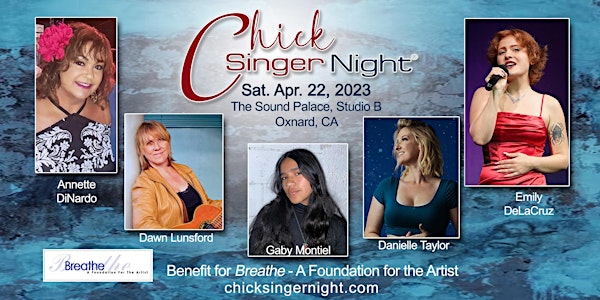 Chick Singer Night | 2023 Show | Benefit Concert for Breathe
Chick Singer Night® is the world's longest-running songfest for female artists. Five featured singers perform with the amazing CSN Band.
By Chick Singer Night National
Date and time
Saturday, April 22 · 7 - 9:30pm PDT
Location
Studio B 1681 Beacon Place Oxnard, 93033
Refund Policy
Contact the organizer to request a refund.
Eventbrite's fee is nonrefundable.
About this event
2 hours 30 minutes

Mobile eTicket
Chick Singer Night - Ventura County is proud to present our first show of 2023 at The Sound Palace - Studio B in Oxnard. What started in Chicago over 30 years ago has grown into an international presence with chapters in over 20 cities nationwide and abroad. The evening will showcase five featured singer/songwriters backed by the incredible CSN Band.
The mission of CSN is to help female artists in all aspects of their musical lives with a showcase that welcomes all singers to share a stage free from competition or criticism. Hosting the celebration is our new CSN VC Director, Jodi Farrell. Jodi is a CSN alumni who is an accomplished singer-songwriter and an award-winning music educator in Ventura California for the past 28 years.
A portion of the proceeds from this event will benefit Breathe- A Foundation for the Artist. Breathe is a not-for-profit organization dedicated to supporting arts education and the performing arts. CSN's 34th Anniversary Show will help fund Breathe's educational programs, which include after-school and in-school workshops in theatre, music, and dance. For more information about Breathe and how to become involved: BreatheForArtists.org
The evening will showcase five featured singer/songwriters all backed by the incredible CSN Band! It's sure to be a night of extraordinary music and BIG FUN!! Limited seating, so be sure to get your tickets early!
Dawn Lunsford
First Instrument: Piano age 5, Guitar age 10
Multi-Instrumentalist: Trumpet, Flute, Drums, Percussion, Bass, Singer, Songwriter
Dawn began playing the piano at age five, but she picked up guitar at age ten and liked being able to transport her instrument around with her. Her parents bought her a Sears guitar when she turned 11 and this immediately lead to songwriting. In high school she learned to play a bit of everything, taking home trombones, trumpets, flutes and even a tuba. She played in bands during and after high school and continues to play in bands to this day.
In the 1990's her Alt-Grunge band, Lava Diva, was born when civil unrest broke out in L.A. and she and her music buddies were all sequestered at home during a city-wide curfew. They wrote eight songs in one weekend and a month later played their first show at the Whiskey A Go-Go. Thus began her performing career, under the name Dawn Fintor. Lava Diva toured the Pacific Northwest opening for bands like Rage Against The Machine and Kurt Cobain and Courtney Love, among other heavy rock bands of that era. After a 22 year hiatus, Lava Diva recently reunited and is currently playing in and around Los Angeles. Just after the turn of the century, Dawn took on the job of choir leader for Petra Haden and the Sell Outs tour – a ten-woman a cappella group that opened for The Foo Fighters and The Decembrists.
Dawn has had success with song placements for shows, such as Late Night With Craig Ferguson and several CNN Docu Reports. Anyone who lived in Southern California in the Late 90s/early 2000s might remember a radio spot for Laser Eye Center…yep…that voice was hers.
Today she enjoys playing with her 3 bands – Gypsy Jazz with her ensemble Swing Ambiance, post-punk-pop with The Resonant Heads and Lava Diva as well as singing and playing as a solo artist performing her own songs.
Dawn recently left her 30 year career as a Foley Artist at Paramount Studios where (after 3 nominations) she won her first Emmy Award for Netflix animated series Love, Death and Robots. She now enjoys composing/performing music and producing podcasts.
Danielle Taylor is an Adult Contemporary/Pop artist out of Los Angeles, CA. With a background in classical music and her heart rooted in pop tunes from talents like Sara Bareilles, Michael Jackson and classic writers like Carole King, Ms. Taylor found herself quickly drawn to the piano. Though she had no formal training, she taught herself the basics and jumped into LA's music scene with both feet. Her talent, drive and determination have afforded her many great opportunities including an exclusive mentorship with former SVP of Epic Records, Don Grierson as well as countless direct support slots for touring artists such as Ari Hest, Jonny Lang, Steve Tyrell, Leon Russell, Colby O'Donis, Marc Broussard, Marc Cohn, Wilson Phillips, Howie Day, Lisa Loeb, Striking Matches, Crystal Bowersox and many more.
In 2015 her EP titled, 'The Chase' was released via SonyRED. The record was produced by Grammy Winner, Erich Talaba, received rave reviews, was signed to over 2 dozen licensing deals and was in heavy rotation on college radio across the US and Canada.
In 2016 her first full length album, titled 1440 was self-released to a sold out show in the heart of LA. Reviews of the record compared Taylor's vocals to both powerhouse vocalist, Adele, as well as the edgy pop artist, P!nk. Revered for the strength and range of her voice, her lyrical ingenuity and ever-present pop sensibility, Taylor's '1440' was the first of her records to earn a spot on SiriusXM radio.
In the summer of 2017, her song, 'RSVP' charted at #43 on the DRT's National HOT AC/POP chart Gust 4 spots under Adele). Later that year, she released a music video for her hit ballad 'Is It Ok?' - that video currently has over 2.2 Million views on Facebook.
Following the popularity of her songs 'RSVP, 'A Borrowed Dime' and 'Is It Ok?' on SiriusXM 'Velvet,' Taylor was invited to perform at the 2018 NAMM Convention in Anaheim, showcasing for the NAMM Foundation directly. In May of 2018, Taylor flew to New York to interview and record a Guest DJ spot called 'My Personal Velvet.' This opportunity allowed Taylor to talk about artists that influenced her writing, singing and everything in between. While there, Taylor also discussed her [then] upcoming release, 'COLORS.' In mid-October, her second full length album debuted on SXM with her single, 'Here' leading the way.
In December of 2019, Taylor recorded a live concert in Hollywood and a few months later, in the spring of 2020, Taylor's live track 'Better Together' was added into the permanent rotation on SiriusXM. A week later, the album version was introduced to the world by Pat Monahan of the band Train on his weekly show, 'Train Tracks.' Two weeks following, Ms. Taylor was personally contacted by the director of programming for SiriusXM and asked for additional material to feature on their stations. To date, Taylor has 13 regular songs on SiriusXM Radio as well as 3 Christmas tracks in holiday rotation:
Better Together, Here, Hurricane, What I Like, Aorta, Flawless, A Borrowed Dime, RSVP, Is It Ok?, Warrior, Family, I Wanna Get Naked, Fearless+ Have Yourself A Merry Little Christmas, Silent Night, Santa Claus Is Comin' To Town
In 2021 she met and worked with multi-Grammy winning producer, Jim Scott, and recorded an EP titled, REAL. Experimenting with raw production and organic sounds, this EP went on to win several songwriting awards. Later that year, in the midst of the pandemic, she organized and headlined a massive live, outdoor show. Tickets quickly sold out and reviews raved of her 'unforgettable voice' and 'achingly intimate lyrics.'
In addition to being on SiriusXM Radio, Taylor's songs can be heard on terrestrial radio across North America and in the skies on both JetBlue and United Airlines, in restaurants throughout the US, in shopping centers and big box retailers throughout the world, as well as featured in film and TV. Taylor tours year-round, across the West Coast so keep your eyes on her calendar and catch her when she comes to your town!
Just listed in Music Connection's 2022 Top 100 Unsigned Artists of the Year, Gaby M has been nationally recognized as a soulful singer songwriter. As a recording artist, Gaby M performs throughout southern California and has been requested to write and record songs for social advocacy organizations like AwarenessTies and Fear of Return. At just 14 years old, Gaby M has recorded "Reality" (2021), "Red Letter" (2022), and "She" (2023). Her first album will be released Summer 2023. She is based in Los Angeles, CA.
Emily DeLaCruz is a 19- year- old freshman currently attending Ventura College and majoring in psychology. Her hobbies include writing, going to the beach, traveling with friends, and spending time with her family. She was born and raised in Oxnard, California and has always had a love for singing. She discovered Jodi Farrell's Music Studio when she was 10 years old after doing her first talent show, and was one of the youngest students at the time. She is now 19 years old and grateful for everything Jodi has provided; recording studio opportunities, performance workshops, recitals, songwriting workshops and much more. Over the past years, jodi has helped to expand Emily's talents with the discovery of her own genre, stage presence, and confidence; even being featured in the VCReporter. Emily is hoping to one day share her music with others and get deeper into the music industry.
photo credit: Amanda Peacock
Annette DiNardo is an explosive singer who has performed in Southern California for over 30 years. As a band leader, she has lent her talents throughout the years for many to enjoy. She has performed at festivals, weddings, corporate parties and hundreds of private events. She surrounds herself with great musicians and connects to people with her stage presence and her unique rendering of songs.
Annette has a distinctive ability to sing a wide range of styles, R&B, Pop, Jazz, and Rock! Her diverse musical repertoire and ability to sing many genres of music make her a commanding performer who captivates audiences wherever she sings.
Annette's powerful and soulful voice, her stage presence and performances, often genuinely move people. She loves to perform her songs in such a way that you can't help but feel everything she puts out to her audience!
Annette currently performs locally in Ventura County and is a wife, mother and grandmother of six beautiful children.
CHICK SINGER NIGHT Ventura County JODI FARRELL - Director
Jodi Farrell has been a music instructor in Ventura for the past 28 years. She teaches music lessons in voice, guitar, and piano to both beginners and experienced performers.
Aside from private music lessons, Jodi also spent 11 years teaching an evening vocal performance class at Ventura County Community College, and as a member of National Association of Teachers of Singers, she participated as an adjudicator for many of their performance competitions.
Jodi has received the honored title and award of "Best Music Teacher in Ventura County" from the VC Reporter poll 2010, 2011 and has remained in the top 3 each year since. In 2019, Jodi, once again, received 1st place honors and award for "Best Music Teacher in Ventura County" in VC Reporter's poll with repeat wins in 2020, 2021& 2022 . She was also awarded the City of Ventura's "2016 Mayor's Art Award for Arts Educator," an award presented to an individual or organization whose achievements and contributions to arts education have been significant and far reaching.
Her students have achieved recognition and awards for their participation in local competitions, such as the Spotlight Awards and National High School Musical Theatre Awards. Jodi even has students performing in international touring bands and a few alumni on the great stages of Broadway (Sara Jean Ford).
The most valuable asset Jodi brings to her students is the fact that she herself is also a professional performer. Jodi is a long time singer songwriter. She fronted a blues band, The Front Street Prophets, and performed with TreCoustics, a local Ventura County acoustic rock band that offered beautiful 3 part harmonies while playing both originals and classic covers.
Jodi's duo with Jim Rankin currently perform throughout Ventura County. She is also performing with Kerri Climer. Jodi has also performed internationally in Taiwan at their yearly memorial music concert at Taiwan University. Jodi is always looking for new and exciting performance opportunities. https://jodifarrell.com
photo credit: Chris Jensen
CSN VC BAND
Michael Henszey • Music Director, rhythm guitar, vocals
George Friedenthal • Keyboards, vocals
Ray Pannell • Lead guitar
Mychal Lomas • Bass
Donzell Davis • Drums
About the organizer
Now in its third decade, Chick Singer Night is the world's longest-running songfest for female artists. CSN founder Lori Maier hosted the first show in Chicago back in 1988. Since then, CSN has spread its wings to over 18 cities nationwide and abroad: from Chicago to Los Angeles, New York City, Nashville, Boston, Minneapolis, Miami, Atlanta, New Jersey, Hawaii, Houston, Madison, Milwaukee, Charlotte, Dallas, Las Vegas, Ventura County, and Stockholm, Sweden. More city chapters coming in 2022!