Discover the great legacy of the Mayan world in Chichen Itzá, the last Great Mayan City with a history of more than a thousand years.
About this event
👷🏻‍♂️ Build this project with us:
Our Tours are FREE TO JOIN
the Event is TIP-SUPPORTED (read below ⭐)
⏰ Time is listed as Eastern Time (US/New York)
Check here your local time:
Language: English
Live stream event from Mexico, hosted by FREDO O.: Graduated Licensed Tour Guide, tourist journalist with 7 years of experience.
Summary
Chichen Itza
El Castillo
Live Q&A
Contents suitable for children
Description
The great legacy of the Mayan world has one of its last phases in Chichen Itzá, with a history of more than a thousand years and dominating the north of the Yucatan Peninsula for more than 300 years.
A military city and worship of the Mayan gods that adopted in its architecture and style the influences of other powerful civilizations of the time such as the Toltecs, masters of the central region of Mesoamerica.
Knowing its monuments and main buildings located among the tropical forests surrounded by cenotes, we can notice the enormous impact and power that this 25 square kilometer metropolis had.
Of course, the tour will also take place through the pyramid known as "The Castle", this mythical construction dedicated to Kukulkan (The Feathered Serpent) that every spring equinox offers an optical spectacle unique all over the world when the shadow of the serpent god descend by its main staircase.
Special Instructions and Requirements
PC, laptop, tablet or smartphone
Stable internet connection
This experience will use Zoom
PLEASE NOTE: since is a Free Event with high demand, if you don't connect on first 10 mins from tour start, we reserve the rights to assign your reserved seat to someone else
Read Carefully Our TOS here:
https://worldvirtualtours.online/terms.html
You can TIP Fredo here:
https://worldvirtualtours.online/tiptheguide.html?guide=Fredo
⭐Why donate to your Tour Guide
Our project is solely funded by your donations.
All our virtual tours are made possible only thanks to your support as part of our Community.
The majority of your tip supports the Guide, the rest lets our group continue to carry out our initiative.
THANK YOU!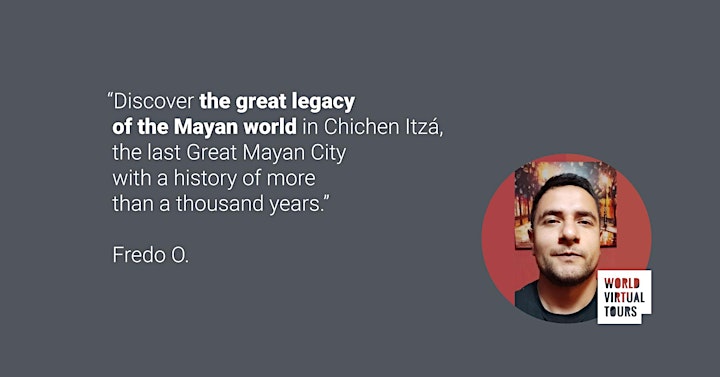 #maya #toltec #mexico #chichenitza #elcastillo #monument #history #travel #art #immersiveexperience #virtualtour #virtualtrip #arthistory #culturalheritage #gods #artandculture #culture #mesoamerica #yucatan