Panel discussion with Chicana/Latina artists & activists Juana Alicia, Evelina Fernández, Elisa Marina Alvarado, & Gina Hernandez Clarke.
About this event
Join La Raza Historical Society of Santa Clara Valley in conversation with artists & activists:
Juana Alicia
Evelina Fernández
Elisa Marina Alvarado
Gina Hernandez Clarke
This panel discussion will explore the journey of talented Chicana and Latina artists and activists, the impact of their work on the present, and the direction of their activism in the future.
Moderated by Mary Jane Solis with introductions by Rosanna Alvarez. Funded by California Revealed's inaugural mini-grant program, "Our Collections, Our Communities."
About the Panelists:
Juana Alicia has been creating murals and working as a printmaker, sculptor, illustrator, and studio painter for over thirty years. Her style, akin to genres of contemporary Latin American literary movements, can be characterized as magical and social realism, and her work addresses issues of social justice, gender equality, environmental crisis and the power of resistance and revolution.
She has been the recipient of a Fulbright Fellowship, a Windcall Residency, Master Muralist Award (Precita Eyes), Woman of Fire Award, among other recognitions, and her sculptural and painted public commissions (individual and collaborative) just to name a few. Her work can be seen in Nicaragua, Mexico, Pennsylvania and in many parts of California, most is her work on the mural on the Women's building in San Francisco.
Evelina Fernández, born and raised in East LA, is an award-winning playwright, screenwriter, actor and activist whose work focuses on the Chicanx experience. She has received numerous awards for many of her plays which include: The Mother of Henry (L.A. Drama Critic's Circle Award, L.A Times Critic's Choice), A Mexican Trilogy (L.A. Drama Critics Circle Award for Outstanding Writing of a World Premiere Play), Solitude (LA Times Critic's Choice), Dementia (LA Times Critic's Choice, GLAAD Media Award for Outstanding Theater Production in Los Angeles), La Virgen de Guadalupe, Dios Inantzin (featured in both the LA Times and the NY Times), Hope: Part II of A Mexican Trilogy (Ovation Nomination Best Playwright), and four Ovation Award nominations.
Her play, Premeditation received 3 Ovation Award Nominations, and Evelina's A Mexican Trilogy: An American Story ran at the Los Angeles Theatre Center in the Fall of 2016 to great acclaim.
Evelina's works also include Luminarias, La Olla, Liz Estrada in the City of Angels, and Sleep with the Angels. She also wrote Macario & Departera for San José's own Teatro Visión. She was a writer for Emmy Nominated East Los High and is currently developing A Mexican Trilogy for television with Imagine Entertainment. Evelina is a founding member of the Latino Theater Company, her artistic family.
Elisa Marina Alvarado was the founding Artistic Director of Teatro Visión, a theater company that for 36 years created and produced plays exploring and celebrating Chicano/Mexicano/indigenous life. Prior to Teatro Visión, Elisa led several 'teatritos' and was a 4 year member of Teatro de la Gente. She has taught theater at San Francisco State University, San José State University, for many community organizations and nonprofits. 
As Teatro Visión Artistic Director (1982 – 2017) she developed the Instituto de Teatro, which provided intensive training in participatory theater. She integrated her knowledge as a clinical social worker and community organizer into development of theater tools for community education and organizing. She created the Codices program which developed and performed new plays by Chicano/Latino playwrights including world premiers of Conjunto (Oliver Mayer), Boxcar (Silvia Gonzalez S.), Visitors Guide to Arivaca (Evangeline Ordaz), and Perla (Leonard Madrid). With Rodrigo García and Russell Rodriguez (composer) she led the development and world premiere performances of Macario and Departera (both with commissioned playwright, Evelina Fernandez).
She also led the production of over 60 plays for Teatro Visión. Directing credits include Spirit Dancing (José Cruz González), When El Cucuy Walks (Roy Conboy), The Lady From Havana ( Luis Santiero), Boxcar (Sylivia González S.), La Víctima (1996, 2006, Teatro de la Esperanza), Hero (Luis Alfaro), The Woman Who Fell From the Sky (Victor Hugo Rascon Banda), Perla (Leonard Madrid), Bless Me Ultima (Rudolfo Anaya), Macario (Evelina Fernandez stage adaptation of B. Traven novel).  
In 2010 she was selected as one of the Silicon Valley Business Journal's Women of Achievement, received the Human Relations Commission James McEntee Lifetime Achievement award and in 2017 received the City of San José's Cornerstone of the Arts award and was recognized by Theatre Bay Area as a pivotal arts maker.
Gina Hernandez Clarke is a Lecturer in Comparative Studies in Race & Ethnicity (by courtesy) and a Director of Community Engaged Learning at the Stanford Arts Institute. Hernandez received an M.F.A. in Theater, Film and Television from the University of California, Los Angeles, and is working on her masters in liberal arts at Stanford University A participant in the Smithsonian Latino Center Museum Studies Program in 2009 she teaches courses in Latino visual and performing arts and community-based and public art in CSRE.
About La Raza Historical Society: La Raza Historical Society is an avenue for the preservation of social, business, political, and civil rights contributions of La Raza community from the mid 1800s to present. Our mission is to preserve the history and contributions of La Raza in the Santa Clara Valley and surrounding areas by identifying, collecting, preserving, exhibiting, and advocating for the history and contributions of La Raza while disseminating historical knowledge to families, schools, and community-based organizations. To connect or contribute to our work, visit: https://www.larazahs.org/about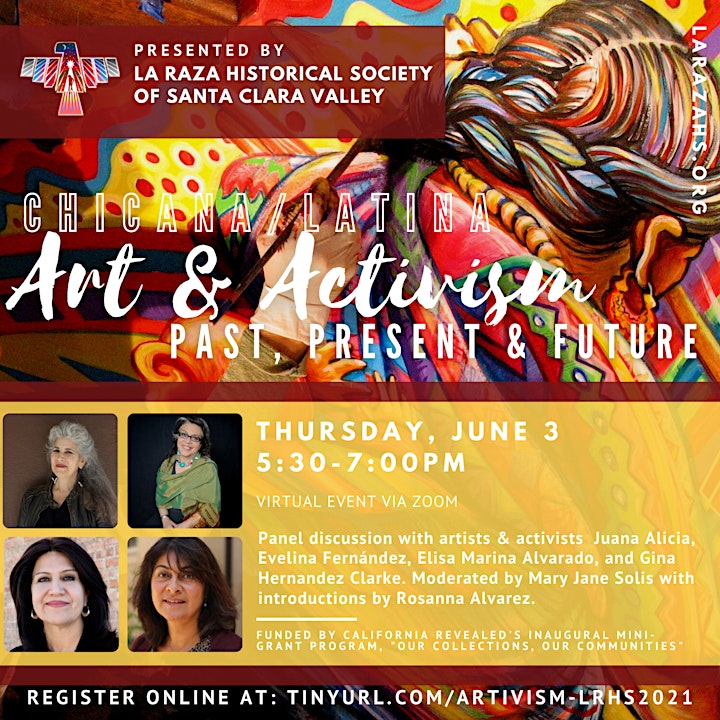 Organizer of Chicana/Latina Art & Activism: Past, Present and Future