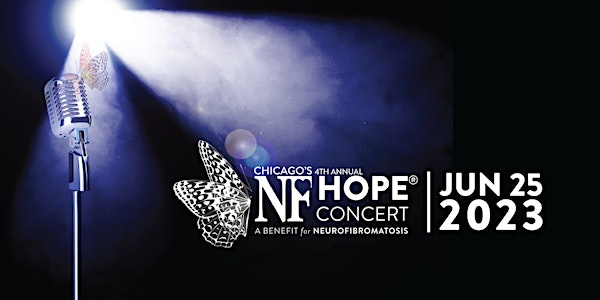 Chicago's 4th Annual NF Hope Concert to Benefit NF Network
Chicagoland's top local talent join in the fight against Neurofibromatosis (NF) at Chicago's 4th Annual NF Hope® Concert
When and where
Location
THE VENUE 21 South Broadway Aurora, IL 60505
About this event
Sunday, June 25, 2023 | Doors open 2p
$69 - Premium Floor Seats
$59 - Reserved Bar Seats
$39 - General Admission
Chicagoland's top local talent join in the fight against Neurofibromatosis (NF) at Chicago's 4th annual NF Hope® Concert, a benefit set to take place 3 p.m. Sunday, June 25, 2023 at The VENUE in Aurora, IL. Proceeds from the event will benefit Neurofibromatosis Network, an organization serving families and individuals suffering with the neurological disorder Neurofibromatosis (NF).
About the NF HOPE CONCERTS
The NF Hope Concerts were founded by former JERSEY BOYS star Jeff Leibow and his wife, Melody after their daughter, Emma was diagnosed with the neurological disorder, Neurofibromatosis (NF) at nine months of age. Over the last twelve years, the NF Hope Concerts invited the biggest names in Las Vegas, Chicago and New York to contribute their talents for the cause. This year, hope is live again in Chicago at our new venue, The VENUE. The concert will once again the best local artists Chicago has to offer, plus NF Hope Concert co-founder (and JERSEY BOYS alumni) Jeff Leibow and many more.
NF is a genetic disorder of the nervous system characterized by tumors that can grow on any nerve in the body without warning. Leibow and his wife, Melody, conceived the idea for the concert upon the realization that they had an obligation to their daughter and the 128,000 people living with NF in the US alone to educate others about the disorder. Since its inception in 2011, the NF Hope® Concerts have raised more than a $1.5 Million for Neurofibromatosis research and advocacy.
About Neurofibromatosis Network
The NF Network (formerly NF, Inc.) is a non-profit 501(c)(3) organization and was founded in 1988 by a group of people who were in some way affected by neurofibromatosis. We are the leading national organization advocating for federal funding for NF research and building and supporting NF communities. The NF Network's goal is to eradicate the health issues, pain, isolation and uncertainty that the diagnosis of NF inflicts. The NF Network provides opportunities for local NF organizations to share experiences. The network is a dynamic and growing open space for shared resources, development of new tools, and creation of innovative programs. It brings together groups from around the country to speak as one voice on national issues. You can find more information about Neurofibromatosis Network at http://www.nfnetwork.org or by calling the office at 630-627-1115.
ABOUT THE VENUE
The Venue http://www.themusicvenue.org at 21 S. Broadway in Aurora is owned and operated by the Fox Valley Music Foundation, a 501(c)3 not-for-profit organization comprised of music lovers, volunteers, music educators, arts enthusiasts and people who have spent many years in the business of music.