Chicagoland LifeVantage August Super Saturday!!!
Description
Calling All LV Distributors! It's Time for Our Chicagoland LifeVantage Super Saturday!!!
We will begin the morning with a LifeVantage Opportunity Meeting from 9AM - 10AM, directly followed by a lively, positive, upbeat, and informative distributor training.
YOU and your guests DO NOT want to miss it!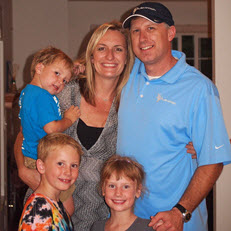 Tammy Dougherty is a wife and mom. She is married to Mark, they have 3 beautiful kids (12, 10 and 7) and dog- Hank!
Before LifeVantage Tammy was a stay at home mom who was "Trying out" another company like this with not much success….
Prior to staying home with the kids, Tammy worked for a division of Crayola as a corporate trainer, sold educational books door to door, worked for a fundraising company, substitute taught and went to University of Northern Iowa to become an elementary teacher.
Tammy says she found success in LifeVantage because of a few key things…. "Stand Alone products that no one else in the world has PLUS major universities are funding studies on our flagship product, Timing…not many know of us yet, and an incredible company/ compensation plan."
She LOVES helping people find success in LifeVantage. Tammy and Mark say the mission of the Dougherty family; " is to help hundreds of families have FREEDOM to choose…. And with LifeVantage we are helping people stay home, go on trips, save more, GIVE more, and be all around healthy! Growing a business from the comfort of our home is amazing and we KNOW ALLLL can do this business with success..there is plenty of room for ALL with this amazing company!"
Tammy and Mark are Pro 8's with LifeVantage!!!
Distributor Pre-registration: $20 | At the Door: $25 | Guests: FREE
Registration starts at 8:30 AM. The meeting starts at 9:00 AM SHARP.

Spring Hill Suites - 8101 W. Higgins Road, Chicago, IL 60631