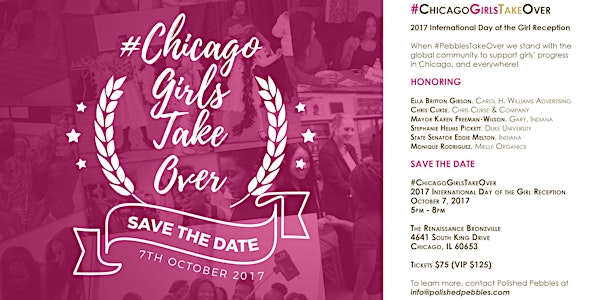 #ChicagoGirlsTakeOver: Celebrate International Day of the Girl with Polished Pebbles
When and where
Location
The Renaissance Bronzville 4641 South King Drive Chicago, IL 60653
Description
You are cordially invited to the Polished Pebbles Girls Mentoring Program annual fundraiser, #ChicagoGirlsTakeOver. In honor of International Day of the Girl, we are raising funds to support girls in our community. Because when #PebblesTakeOver, we stand with the global community to support girls' progress in Chicago, and everywhere.
The funds raised through this event will help girls in our communities to become leaders and future changemakers. The event will honor an elite group of honorees including entrepreneurs and political leaders, who all make a difference in their communities.
Honoring:
Mayor Karen Freeman Wilson, Gary, IN
Chris Curse, Chris Curse and Company
Ella Britton Gibson, Carol H Williams Advertising
Stephanie Helms Pickett, Duke University
State Senator Eddie Melton, Indiana
Monique Rodriguez, Mielle Organics
Please consider standing with us on October 7, 2017 to support our girls in becoming future leaders.
If you are unable to attend, but wish to donate to Polished Pebbles Girls Mentoring Program, please do so here: http://polishedpebbles.com/make-a-donation-give-online