Description
***Customer Service Info***
These events are PRIVATE EVENTS hosted by ChicagoCruiseEvents.com. Please do NOT call Anita Dee for any questions because they will NOT have any of our event information.


For Event Questions, please e-mail: ChicagoCruiseEvents@gmail.com or Call/Text: 312-543-9798
***Tips/Reminders/Directions***
All cruises are 21+ to board (Wednesday & Thursday Cruises)
Are you interested in attending a sold out cruise? For Standby options, click here
For Detailed Directions & Parking Info, click and print the following: Anita Dee Directions & Parking Info
There are NO refunds if you miss a cruise.
---
Celebrate the Summer On the Water!
Fireworks | Sunsets | Skyline Views | Cocktails
Break up the work week and enjoy the summer evenings on a beautiful cruise. Enjoy cash bar cocktails, while enjoying the amazing Chicago skyline, fireworks, sunsets, and great music.


---
ChicagoCruiseEvents.com
presents

Wednesday Night Fireworks and Sunset Cruise*
Aboard the Anita Dee II Yacht

&

Thursday Night Happy Hour & Sunset Cruise
Aboard the Anita Dee II Yacht

21+ To Enter

For Detailed Directions & Parking Info:
Since the Harbor has no real physical address, GPS and online directions are unreliable. Please use the maps along with the directions on the link above to get to the boat.
In the event that DuSable Harbor Parking Lot is at capacity, we've listed additional parking options. Please be sure to inform your guests to allow ample time for travel and parking prior to the event! See link above.
Map Overview: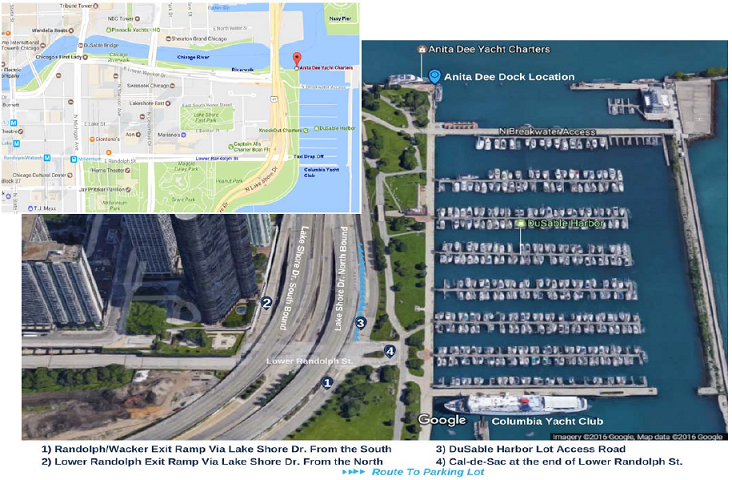 For Full Event Information: www.ChicagoCruiseEvents.com
The Anita Dee II is one of the most prestigious yachts that Chicago has to offer. If you want to cool off and relax on the boat's observation deck, you'll also get 360 degree views of Chicago's skyline as the yacht sails around Lake Michigan. Feel like utilizing one of the dance floors or fully stocked bars on one of the yacht's two interior decks? The Anita Dee II has that covered as well. This 140-foot floating beauty has all the amenities one could ask for and is the best way to unwind, kick back, mingle and drink with friends as well as strangers.
---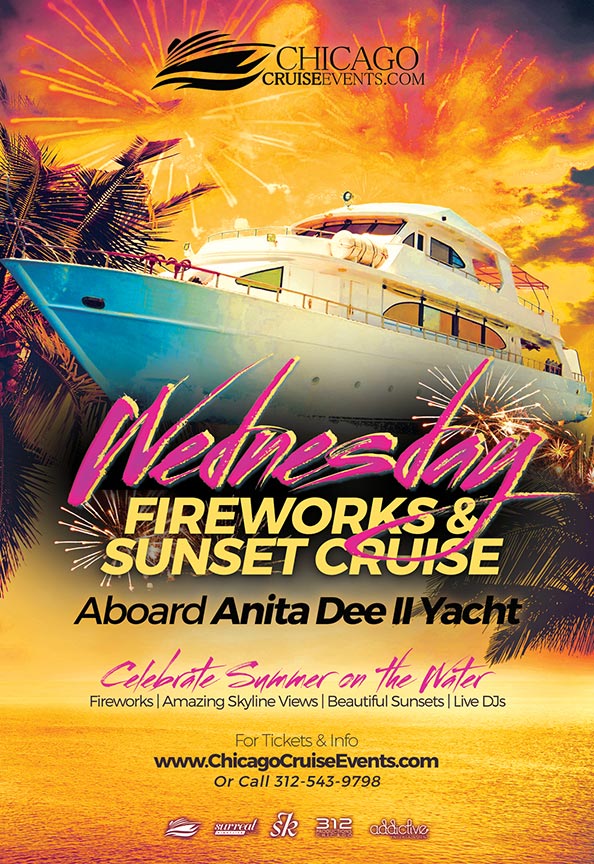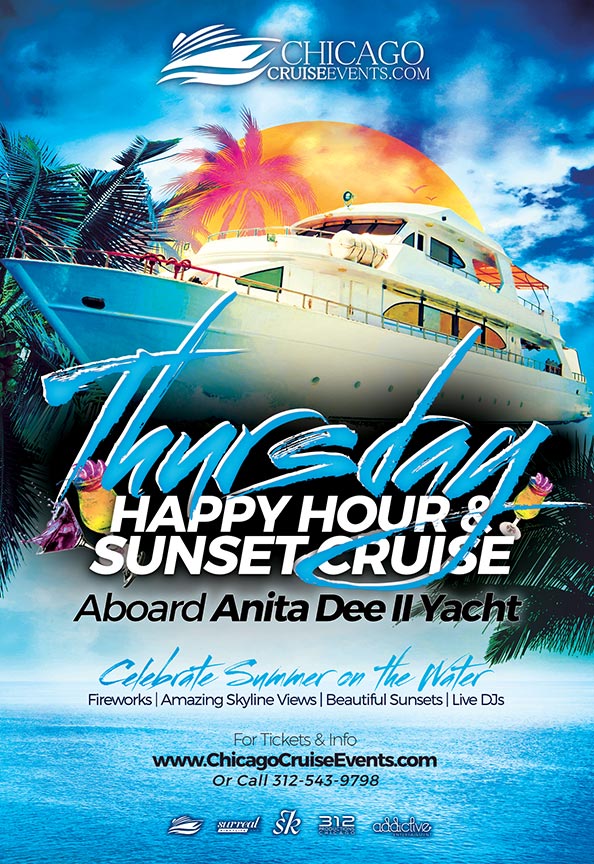 Wednesday Night Cruises (May - August):

Boarding at 7:00pm.
Departs: 7:30pm.
Returns: 10:00pm
*Note: Fireworks are hosted by City of Chicago from June - August. Fireworks start at 9:30pm. Starting September, these cruises will be the same time as Thursday Night Cruises listed below.
Thursday Night Cruises:
Boarding at 6:00pm.
Departs: 6:30pm.
Returns: 9:00pm


---
Ticketing Technical Issues:
​For any ticketing / technical issues​, please contact Eventbrite through​ the e-mail below.

https://www.eventbrite.com/support/contact-us​.
For Event Questions:
E-mail: ChicagoCruiseEvents@gmail.com | 312-543-9798
---
Terms and Conditions:
Important: ALL TICKETS ARE NON-REFUNDABLE.
Do NOT buy tickets Craigslist, Stubhub, Scalpers, etc. Unfortunately, many of these are either already used or are counterfeits. Only purchase tickets from www.ChicagoCruiseEvents.com

The event attendees must be present at the door along with valid photo identification. It is highly recommended that you purchase your own ticket.

Please note that you will have to take a print out of the ticket that you will receive from Eventbrite.com and show it at the venue to gain access. Any failure to provide proper identification / order printout may result in the denial of admission with no refund.
All guests must be 21+ with a valid government issued ID that will be checked by security prior to boarding the boat. A valid ticket with scannable QR code is required by all guests to board. It is recommended to print a paper ticket to prevent any technology complications which would prevent your ticket from displaying on your phone. There is no guest list at the boat, each ticket must be scanned. Security reserves the right to inspect all bags and persons. Absolutely no outside food or beverage may be brought on the boat. Guests who are deemed intoxicated (or otherwise unfit) upon arrival, will be denied entry and no refunds will be given. We want all guests to enjoy themselves on the cruise, but please note it's a 2.0 - 2.5 hour cruise and our number one priority is the safety of all guests. The boat will depart the dock as soon as boarding is completed. Once the boat begins its cast off procedure, for the safety of all guests, absolutely no late arrivals will be allowed within the security fence to board. If you are late, you will be left at the harbor without a refund. In the event of dangerous weather conditions, security situations, mechanical issues with the locks, the boat, etc., the boat may not cruise, but the party will still go on at the dock. In the event of rain, or other inclement weather, the party will continue on the enclosed portion of the boat. Sorry – no refunds or price adjustments. The Eventbrite system does not allow us to restrict people who are underage from buying tickets. If you are not 21 and purchase a ticket, you will not be allowed on board. Cruise length will vary based upon multiple factors, including, but not limited to: boarding time, lock operations, boat traffic, weather, special events such as fireworks, etc. The DJ's aboard the boat will play a variety of music, at their discretion, with the goal of making a fun cruise for the entire crowd. The music's volume level will be set to an acceptable level intended to please all guests and may be regulated/limited by safety regulations set forth by the captain.