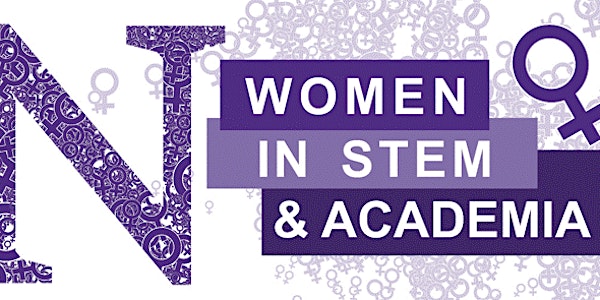 Chicago Women in STEM and Academia Initiative: 2018
When and where
Location
Conference room L South, Prentice Women's hospital, 3rd floor 250 E Superior St Chicago, Illinois 60611
Description
NUPF would like to invite you to a special event that focuses on addressing inequalities facing women in STEM and academia, building a community to promote gender equity, and identifying solutions for the prioritization of work and lifestyle. This event is for everyone, students, postdocs, staff and faculty from Northwestern and other institutions whatever your gender identity is!
REASONS TO PARTICIPATE:
Discuss the unique challenges facing women in STEM at Northwestern and nation-wide.

Build a community of local women in STEM and academia to promote gender equity through varied interactive sessions

.
Get to know ways to improve your work/life balance (maternity leave, parental support, child care, elder care, etc).
Find out how to address inequalities at the workplace (sexual harassment, discriminitation, wages discrepancies).
Learn from the life lessons and successful stories of our guest speakers who are leaders in their respective fields.
Cultivate leadership skills and mentor-mentee relationships with the invited speakers.
Learn about the missions of our partner organizations and upcoming local events at our exhibitors' booths.
AGENDA:
12:00 pm: Opening remarks

12:05-12:30 pm: Northwestern University benefits-specific information session.
12:30-1:00 pm: Lunch (Food/drinks provided).
1 pm-1:45 pm: "How to address inequalities faced by women in STEM and Academia", Geri R. Donenberg, PhD, Vice Chair of Research Dept of Medicine, and Director of the Center for Dissemination and Implementation Science, UIC.
2:00-2:45 pm: Keynote presentation, Dr. Carol Tamminga M.D., Professor & Chairman, Dept Psychiatry, UT Southwestern.
2:45-3:30 pm: Talks by women leaders in STEM. Participating speakers:
Vicky Kalogera, PhD, Linzer Distinguished University Professor in Physics and Astronomy, and Director of CIERA, Center for Interdisciplinary Exploration and Research in Astrophysics at Northwestern.
Jennifer Cole, PhD, Assistant Chair of Chemical and Biological Engineering at Northwestern.
Nancy Schwarz, PhD, Professor, Dept Pediatrics & Dept of Biochemistry and Molecular Biology at UChicago, and Director Joseph P. Kennedy Jr. Intellectual and Developmental Disabilities Research Center.
3:30-3:45 pm: Coffee break.
3:45-4:15 pm: Talk, Teresa Woodruff, PhD, Dean and Associate Provost for Graduate Education,The Graduate School, Northwestern University.
4:15-5:15 pm: Panel discussion on women's leadership in STEM with previous speakers.
5:15-7:00 pm: Networking event (Appetizers/drinks served).
Attendees will be able to directly interact with the speakers and discuss mentoring in a small group setting during the round-table networking reception.
We also encourage our attendees to visit the exhibitors' booths and get to know more about other organizations in Chicago and their future events! Some of the exhibitors registered are:
NU work/life office
The Graduate School at Northwestern University
Graduate Women Across Northwestern
Chicago.AnitaB.org

The Women's Health Research Institute (WHRI) at Northwestern University

Searle Center for Advancing Learning and Teaching at Northwestern University

NU Office of Equity and Access

Chicago Council on Science and Technology

NU Postdoctoral Forum

NU Benefits

YourLife Wellness Program at Northwestern University

Graduate Women in Science: Chicago Chapter
HOSTED BY:
This event is sponsored by Northwestern University Postdoctoral Forum (NUPF), Graduate Women Across Northwestern (GWAN), The Women's Health Research Institute (WHRI) at Northwestern University, The Searle Center for Advancing Learning and Teaching at Northwestern University, the Clinical and Translational Sciences Institute (NUCATS) at Northwestern University, The Feinberg School of Medicine at Northwestern University, The Graduate School at Northwestern University and The Office of Postdoctoral Affairs (OPA) at Northwestern University, The Office of Institutional Diversity & Inclusion at Northwestern University, and the INVOReach initiative from the INVO Office at Northwestern University.