CHICAGO - The Punany Poets #SweetestDay for Men & Women

Saturday, October 15, 2016 at 11:00 PM

-

Sunday, October 16, 2016 at 1:00 AM (CDT)
Event Details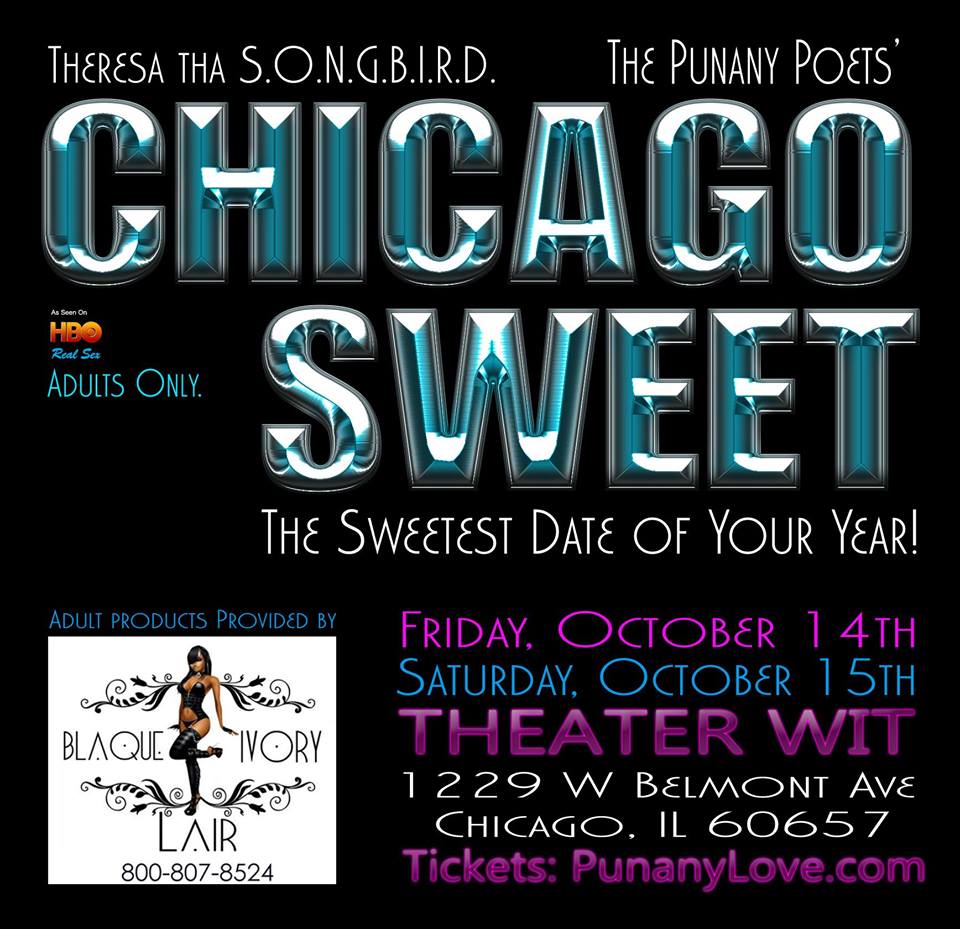 YES!!! It's The Punany Poets Second Annual Sweetest Day Show in Chicago AND we are so excited!

You will enjoy this special Sweetest Day edition of Midnight with The Head Doctor while on The Perfect Date Night. Shed your inhibitions in Jessica Holter's signature Sex Education Theater Show where a balance of the sexual and the spiritual welcome you into the light of freedom. Punany is Sex with The Lights On.


The Punany Poets create live and recorded Romantic Comedy events for adults, (think The Carol Burnett show meets Dr. Ruth in living color!) We will take you on a sensual journey of positive energy and sexual pleasure that explores relationships, romance, spiritual connectivity, and what it means to love. We offer an informal and intimate human-contact experience in the digital age, that is unparalleled in live entertainment. From Love Confessions to Kissing Competitions, you will remain engaged in this witty and wise sexual urban erotic twist on Augusto Boal's Theater of the Oppressed. As seen on HBO, BET, Playboy TV, Cinemax, London 5.

Jessica Holter's The Head Doctor Show is an interactive, poetry based, erotic cabaret show replete with music, dance and comedy. As seen on HBO, The Punany Poets create intimate settings for lovers, singles and friends to explore their ideas, thoughts and fantasies about love, relationships and sexuality in the age of HIV/AIDS. The evening begins with The Head Doctor's Question & Answer Exchange (30 minutes) and then moves seamlessly into a 90-minute performance of The Head Doctor Show, that is all at once fantastic and familiar, at times inviting audience members to become part of the act. The Head Doctor takes the audience on an emotional roller coaster ride of fantasy and pleasure that explores human sexuality, touching on issues of romance, dating, poverty, prostitution, marriage and sex in the age of HIV/AIDS all while keeping it sexy and without being preachy or judgmental. The show is humorous, sexy, witty, wise and unforgettable.

Show Date: Saturday, October 15th, 2016

Doors Open: 10:45pm
Show Time 11:00pm

A Romantic Comedy Show for Lover's & Friends. Adult Themes, Audience Interaction, Artistic Nudity, Adults Only.

Event Location
Theater Wit
1229 W Belmont Avenue
Chicago, IL
When & Where

Theater Wit
1229 West Belmont Avenue
Chicago, IL 60657


Saturday, October 15, 2016 at 11:00 PM

-

Sunday, October 16, 2016 at 1:00 AM (CDT)
Add to my calendar
Organizer
HIP INC for JESSICA HOLTER
Introduce yourself to the art and entertainment of Jessica Holter & The Punany Poets at www.punanylove.com. We are an art syndicate working as Artists in Resident with Holter Intellectual Property, Inc in the educational social service fields of sexual health and self esteem development through speech and gainful employment. Our program embodies multi-talent collaborations for music, video, visual and wearable art and live theatrical events. Best recognized for television appearances on HBO's Real Sex Documentary, and The Breakfast Club, The Punany Poets have been serving the community with our cutting edge brand of edutainment since 1995, when the announcement that late Rapper, Eric Eazy E Wright, was suffering from AIDS. H.I.P. Inc maintains a vault of on the ready music, scripts, video, visual art and poetry which are available for community campaigns and private use. We are a 501c3 approved, Georgia Nonprofit Organization, seeking patrons, partners, and passionate philanthropists to join us in this business of love.
 * We sponsor, write and produce many things. But we specialize in creating romantic comedy and erotic sketch theater; Adult date night events for lovers and friends. Get in on this business of love as a member of our Director's Circle. Go to www.hipinc.org for details.
CHICAGO - The Punany Poets #SweetestDay for Men & Women