Description
This Special Four Day Lomi Lomi Course happens only once a year.
Four inspiring days provide students with a solid foundation in the art of Sacred Lomi and Hawaiian Lomi Lomi Massage while earning 32 Credit Hours through NCBTMB and most States. The added fourth day allows for ample practice, receiving and quantum transformation.
Dates: August 3-6, 2017 • Times: 8:30-5:30 Daily
For information please visit Sacred Lomi
To View our Youtube Channel Click Here
Workshop Facilitators: Donna Jason & Tom Cochran
Students practice and receive Lomi Lomi each day, allowing them to experience for themselves the aloha, beauty and transformational power of this healing, flowing, forearm massage.
Participants will learn:
Forearm Runs of Lomi Lomi on the Back and Front of the Body

Draping and adjusting the runs for various environments including spas

Self Trust & Cultivating Intuition

Conscious Stretching & Self Care for the Healer

'Flying / Ka Lele' - Shamanic movement

Exercises in Presence

Principles of Ho'oponopono - Hawaiian Peacemaking

Techniques for Staying in Balance While Maintaining a Service Oriented Life and Career.

Sacred Lomi is approved by the National Certification Board for Therapeutic Massage and Bodywork as a continuing education Approved Provider.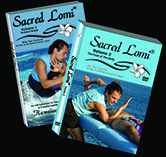 Not yet ready to attend?
You can order our Home Study Course & DVDs and earn up to 12 CE credits at home!
Sacred Lomi DVD Set, plus Home Study Course $164.95
Integrate Hawaiian Healing Principles into Your Sessions with

Hawaiian Healing Intention Cards $24.00
written and designed by Donna Jason
What Students Have Said...
"Your workshop has changed the whole way that I massage, how I approach each body and spirit, the intent I have and the focus on my clients on so many levels. My intuitive skills have dramatically increased. I have taken other classes and none of them gave me anything close to what 4 days in your workshop gave me… THANK YOU!" ~ Laura B., Tucson, AZ"
You need to know that Sacred Lomi has completely changed the way I work! I have adopted Sacred Lomi as my signature service and my new office will be entirely in tropical decor!" ~ C. Talkington, Cheyenne, WY
"All that I can say is thank you thank you thank you, from the deepest level, thank you....you lomi people. Deepest gratitude!!!" C. Dimond, LMT
"This training took my practice to a more sacred level of healing. The techniques performed have saved my hands and lengthened my career indefinitely." J. Groom, LMT, Denver, CO
"Tom & Donna are pioneers of a new world of honoring the earth, the heart center and sacred space. Their work is so necessary and beautiful." R. Farley, Body Worker, Yoga Instructor