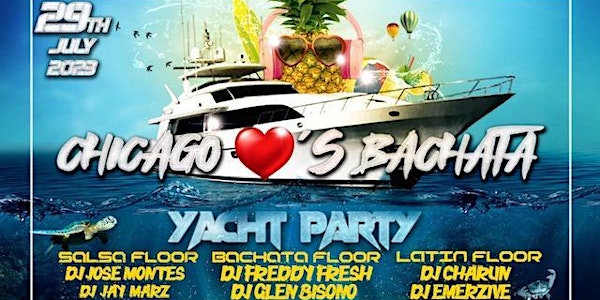 Chicago ❤️'s Bachata Yacht Party
One Of The Best Latin Dance Cruises In The City Of Chicago! You Dont Want To Miss This!
When and where
Location
Anita Dee Yacht Charters 200 North Breakwater Access Chicago, IL 60601
Refund Policy
Contact the organizer to request a refund.
About this event
3 hours 30 minutes

Mobile eTicket
Chicago Loves Bachata Yacht Party
3 Floors
1)Salsa Floor
2)Bachata Floor
3)Latin Floor
6 AMAZING Latin DJ's (Flying in from Miami/Washington DC)
DJ Charun- Miami FL
DJ Emerzive- Washington DC
DJ Jose Montes Milwaukee WI
DJ Glen Bisono- Chicago IL
DJ Freddy Fresh- Chicago IL
DJay Marz- Chicago IL
This Sunset Cruise will include the view of the Chicago City Skyline and Fireworks.
Cash Bar21+ and up (ID Required)
Dress Code: Dress to Impress, No hats | No Tims/boots | No joggers | No sweats | No basketball shorts | No Facial Tattoos
No refunds (Ticket Visible Needed to Enter Yacht)
Last Day for Pass Transfers will be on Fri July 15th 2022
Boarding at 6:45pm
Boat Leaves at 7:30pm Sharp
Returns at 11pm
Ticket Sales (Prices will increase)
Dec 1st tickets $45
May 1st tickets $50
June 1st tickets $55
July 1st Tickets $60
At the door $65
VIP Tickets/Tables Available
Location: Anita Dee II 200 North Breakwater Access Chicago IL 60601
ZERO TOLERANCE POLICIES, PARKING & COVID
1. THERE IS NO PARKING AT DuSable HARBOR. USE THE MAP BELOW WHICH DETAILS PARKING OPTIONS IN THE AREA, GIVE YOURSELF PLENTY OF TIME TO PARK OFF-SITE AND GET TO THE HARBOR/BOAT BY THE SCHEDULED BOARDING TIME.
2. ENTRY ON BOARD THE YACHT IS STRICTLY DENIED FOR ANY PERSON INTOXICATED WITH ALCOHOL, NARCOTICS OR IN POSSESSION OF WEAPONS, ALCOHOL OR NARCOTICS. THIS INCLUDES MARIJUANA (IT IS ILLEGAL TO POSSES MARIJUANA, IN ANY QUANTITY, ON THE BOAT. THE BOATS ARE REGULATED BY THE UNITED STATES COAST GUARD AND INDIVIDUALS IN POSSESSION OF MARIJUANA OR OTHER NARCOTICS, ARE SUBJECT TO ARREST)
3. THERE IS A ZERO TOLERANCE POLICY BEFORE, DURING OR AFTER CRUISES FOR ANY INDIVIDUAL(S) FIGHTING OR EXHIBITING AGGRESSIVE AND VIOLENT BEHAVIOR. INDIVIDUALS WILL BE DETAINED BY SECURITY AND TURNED OVER TO THE CHICAGO POLICE DEPARTMENT TO BE ARRESTED IMMEDIATELY UPON RETURNING TO DOCK. INDIVIDUALS WILL BE BLACKLISTED AND DENIED ENTRY TO ANY FUTURE EVENT.
4. COVID: ANITA DEE YACHT CHARTERS WILL ENFORCE THE CURRENT FEDERAL, STATE OR CITY OF CHICAGO COVID PROTOCOLS THAT EXIST THE DAY OF EVENT.
* Parking Available around the area In Lots $$ (Please Google Best Options in The Area Before Heading Out) NO PARKING AT DUSABLE HARBOR See Below for Details
DIRECTIONS
The Anita Dee is docked at DuSable Harbor on the South side of the Chicago River at Lake Shore Drive.** Since the Harbor has no real physical address, GPS and online directions are unreliable. Use the maps along with the directions below to get to the boat! THERE IS NO PARKING ALLOWED AT DUSABLE HARBOR, WEVE LISTED PARKING LOT OPTIONS IN THE AREA BELOW. BE SURE TO ALLOW TIME TO PARK IN ONE OF THESE OFF-SITE PARKING LOT OPTIONS AND ARRIVE AT THE HARBOR ON-TIME FOR BOARDING AND DEPARTURE!
Drop Off Info:
* If getting dropped off by taxi, instead of telling the driver an address, tell them to drop off where lower Randolph Street meets the lakefront, DuSable Harbor, or Columbia Yacht Club.
* Lower Randolph Street, east to the lakefront. Drop off at DuSable Harbor cul-de-sac
* Walk down to the lake front path and turn left/walk north along the lakefront.
* Our yachts will be straight ahead at the end of the lakefront path where it ends at the Chicago River.
Walking Info:
From the Loop
* Take any stairway down to the Riverwalk on the south side of the Chicago River.
* Walk east toward the lake (From Michigan Ave. Bridge- 10 min walk).
* The south side of the Riverwalk ends at our boats just east of the Lake Shore Drive Bridge
From Navy Pier
* Walk west on Illinois to Lower Lake Shore Drive, the first street on your left.
* Cross Lower Lake Shore Drive to the west side of the street and turn left.
* Once you cross over the Chicago River, look for the staircase on your right to walk down to Riverwalk
* Turn left to go through tunnel on Riverwalk
* Once you exit tunnel, youll see both yachts to your left on the River.
From Millennium Park
* Head east on Monroe and cross over to the east side of Lake Shore Drive.
* Turn left or walk north on the lakefront path.
* Once you pass Columbia Yacht Club, keep walking north for 4-5 mins- Path ends at Chicago River and our Yachts.
Driving (NO PARKING AVAILABLE in DuSable Harbor Parking Lot)
From the West
* Head east toward the lake on Lower Randolph Street from Michigan Ave. or Columbus Drive. (If coming from Michigan Ave., stay to the left to access lower Randolph St., do not go to the upper level!)
* Take Randolph Street East all the way till it ends at the lake
From the North Via Lake Shore Drive
* Take Randolph St. exit off of Lake Shore Drive.
* Turn left at bottom of Randolph St. exit ramp.
* Take Randolph Street East all the way till it ends at the lake
From the South Via Lake Shore Drive
* Exit to Randolph/Wacker Dr. off of Lake Shore Drive. Stay in middle lane of ramp.
* At bottom of ramp, turn right.
* Take Randolph Street East all the way till it ends at the lake
Parking Lots Nearby: please note we have no affiliation with the parking lots below, please confirm availability in advance!
* Millennium Park Garage - 5 S. Columbus - (312) 616-0600
* ABM Parking Services - 400 N McClurg - (855) 234-0260
* ABM Parking Services - 323 E. Wacker - (312) 268-8116
* LAZ Parking - 350 E. Monroe - (312) 616-0600
* Navy Pier Lots - 600 E Grand - (312) 595-5072
Parking apps:
* SpotHero
* BestParking
* ParqEx