About this Event
Join us for the Chicago River Nibi (Water) Walk on World Water Day. Nibi is the Ojibwe word for water, and Nibi Walks are Indigenous-led ceremonies wherein every step is taken in prayer and gratitude for water, our life giving force. This 17-mile ceremonial walk along the North Branch of the Chicago River will be led by Anishinaabe Grandmother Sharon Day (Singing Wolf), Executive Director of the Indigenous Peoples Task Force and Founder of NibiWalk. The walk will begin at 9am at the Erickson Woods Picnic Grove, then will proceed south along the river, and will end at River Park at about 5pm. After the walk, we will share a meal together at the First Nations Community Garden, or at the American Indian Center, depending on the weather.
There is also a pre-walk gathering on Saturday, March 21 from 4-6pm at the American Indian Center that all walkers are strongly requested to attend. At this gathering, you will learn more about Nibi Walks, become familiar with the ceremonial protocols, create a tobacco pouch for the walk, explore the history and ecology of the Chicago River, and meet the other individuals you will be walking with. A light meal will be served.
There is no cost to participate, though donations are very welcome to help cover the cost of Sharon Day's travel & the Saturday and Sunday meals provided by the AIC - if you want to skip the eventbrite fee, you can send via paypal using the email address carlyvisk@gmail.com.
To learn more, please review the Nibi Walk protocols and visit www.nibiwalk.org.
Details:
When: Sunday, March 22, 2020 from 9am-7pm (and pre-walk gathering on Saturday, March 21 from 4-6pm)
Where: The walk will begin at the Erickson Woods Picnic Grove and will proceed south along the North Branch Trail to River Park. You can see the route we will be taking on this google map.
Timeline: 9-9:30am - Opening Ceremony in Erickson Woods Picnic Grove; 9:30am-4:30pm - Walk to River Park; 4:30-5pm - Closing Ceremony in River Park; 5:30-7pm - Dinner at the First Nations Community Garden (or at the American Indian Center if it is too cold or raining)
Who: All are welcome! The walk will be led by women, and men and children are also very welcome to join!
Length: The walk is about 17 miles. You can walk the whole route and you are also welcome to just walk part of the way. It is a good idea to bring a car and take turns driving and walking along the route.
Transportation & Parking: We recommending carpooling with others and taking turns driving and walking along the route. There is ample parking at Erickson Woods and around River Park. You can also take public transportation to Erickson Woods: Take the CTA Purple Line, the Metra UP-N, or the Metra MD-N to the 423 Pace Bus. Lyft and Uber are also good options as well.
What to bring/wear: Bring good walking shoes, a full belly, easy-to-carry snacks or energy bars, a full large reusable bottle of drinking water, & water songs to sing. Women, please wear a long skirt to respect the ceremonial traditions. In addition, please review these Nibi Walk protocols carefully.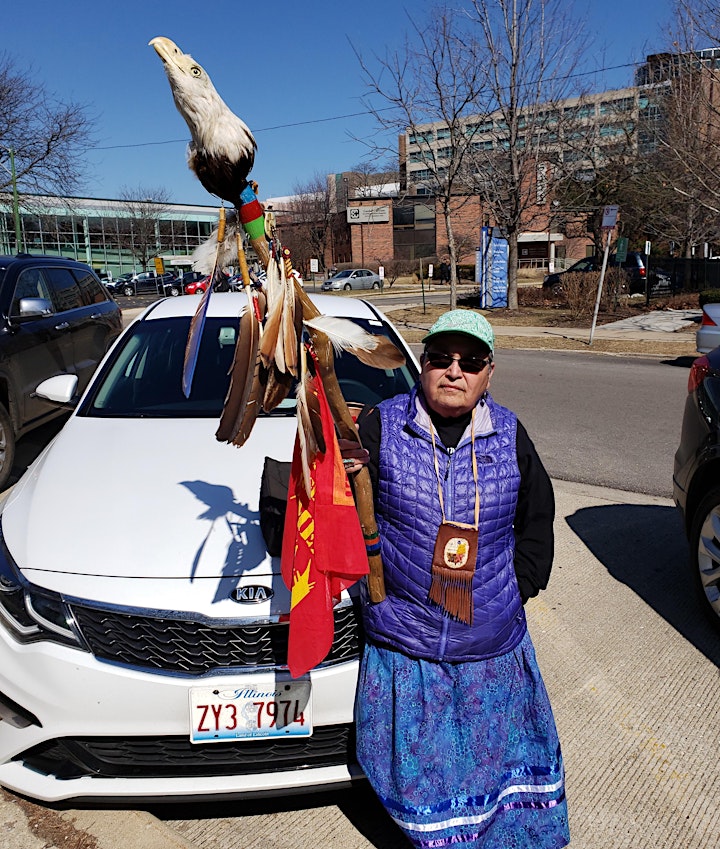 About Sharon Day:
Sharon Day, Ojibwe, is executive director of the Indigenous People's Task Force. Sharon is 2nd degree Midewin and follows the spiritual path of the Anishinaabe people; part of her spiritual practice is to care for water. In 2003, Josephine Madamin began Mother Earth Water Walks to bring awareness about water issues. By carrying and praying for the water with each step, the women raise awareness about how water is connected to our lives. In spring 2013, Sharon led a group of Ojibwe women on a two-month walk from the headwaters to the mouth of the Mississippi River to pray and sing for the water. . She is an artist, musician, and writer and has received numerous awards, including the Resourceful Woman Award, the Gisela Knopka Award, BIHA's Women of Color Award, The National Native American AIDS Prevention Resource Center's Red Ribbon Award, and most recently, the Alston Bannerman Sabbatical Award. She is an editor of the anthology Sing! Whisper! Shout! Pray! Feminist Visions for a Just World (Edgework Books, 2000). Learn more by watching this short documentary and this interview with Sharon.
About Nibi Walks:
Learn more about this history of the Nibi Walks by watching these short videos of conversations with the grandmother of the Nibi Walking movement, Josephine Mandamin and with Water Walker Dorene Day. Read about some of the past walks here and see media coverage here.