Description
Chicago River Day 2020
Riverpoint Center
Site Captain: Rik Lantz
Meet in the parking lot just south of Chuck E. Cheese
---
The Chicago River is critical to our community. It brought explorers, adventurers, entrepreneurs to create our great city and remains an incredible natural resource, brimming with life, with boundless opportunities for education, inspiration and just plain fun!
Unfortunately, litter is a stubborn problem which hurts animals and people alike. Every year Friends of the Chicago River and partners organize the biggest clean up event of the year, Chicago River Day, to dedicate energy towards cleaning and improving river habitat. If we all spend a little time addressing this global issue, we can make our river Litter Free! Some sites do additional stewardship activities like removing invasive species and planting native plants.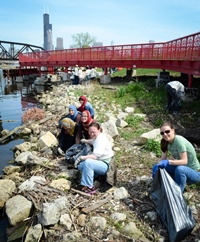 Grab a friend, your family or a whole group and join the thousands of people who embrace this opportunity to reduce litter in the Chicago area. Volunteering brightens our landscape and our community spirit. As a special thank you, volunteers receive a Chicago River Day T-shirt!
Registration is encouraged
(but not required) so we can provide enough supplies for each location. Please wear closed toed shoes, work clothes that can get dirty, and bring a full (reusable if possible) water bottle. Please arrive prior to 9:00 a.m. so we can start on time. Registration for all Chicago River Day sites is open until the site reaches capacity.
Visit Friends' Chicago River Day FAQ page for more information about how to prepare for the day and other general information. Not able to help on May 9th? Visit Friends of the Chicago River's website to join our volunteer team and get monthly emails letting you know of future volunteer opportunities.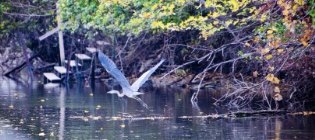 The featured animal this year is the pumpkinseed fish. It is one of the species new to Mill Creek in the Palos area after barriers preventing fish access from the Cal-Sag Channel were removed in a project by Friends. In celebration of this newly accessible habitat, we honor the pumpkinseed and its home in the Chicago River watershed.
---
---
LIABILITY WAIVERS
Volunteers must sign Friends' waiver and any additional waivers the site requires. The following waiver(s) need to be completed for this location:
IMPORTANT NOTES
Minors must be accompanied by a parent or legal guardian to participate on Chicago River Day. Children without parents/guardians will NOT be allowed to participate unless they are part of a school or scout group with a teacher or group leader and bring signed waivers from their parent or guardian.

Volunteers must be at least 8 years old to participate. As each site is unique, some are more suitable than others for families and children. If you have questions about whether a site is family-friendly, please email riverday@chicagoriver.org.

Photo Credit for Pumpkinseed Fish:Tino Strauss - WikiCommons