Chicago River Crawl - River North's St. Patrick's Day Bar Crawl!
Description
Bars will be flooded, the streets will be packed, and the atmosphere will be awesome! When you think of Chicago on St. Paddy's, you think of the green river and the amazing parade. Well, why not join the only St. Paddy's Day crawl that is just steps from both! On the Chicago River Crawl you'll gain entry to Chicago's top bars situated in the heart of River North! No transportation or long walks!! All of the venues are within walking distance so you can spend more time enjoying green beer and partying with friends.
This year we went even bigger! We have stilt walkers, bag pipers, "leprechauns," and more! Guests will gain entry and four $5 Gift cards to be used at stops along the crawl. This is the ultimate self guided tour with hours of fun before the start of the parade. The river goes green at 9am so make sure you start early!
TICKETS INCLUDE: Admission to ALL bars and $20 in Gift cards to use on the crawl! The river will be dyed at 9am and the parade begins at noon!

FREE TICKETS/RAISE MONEY FOR YOUR CAUSE: See below for more info.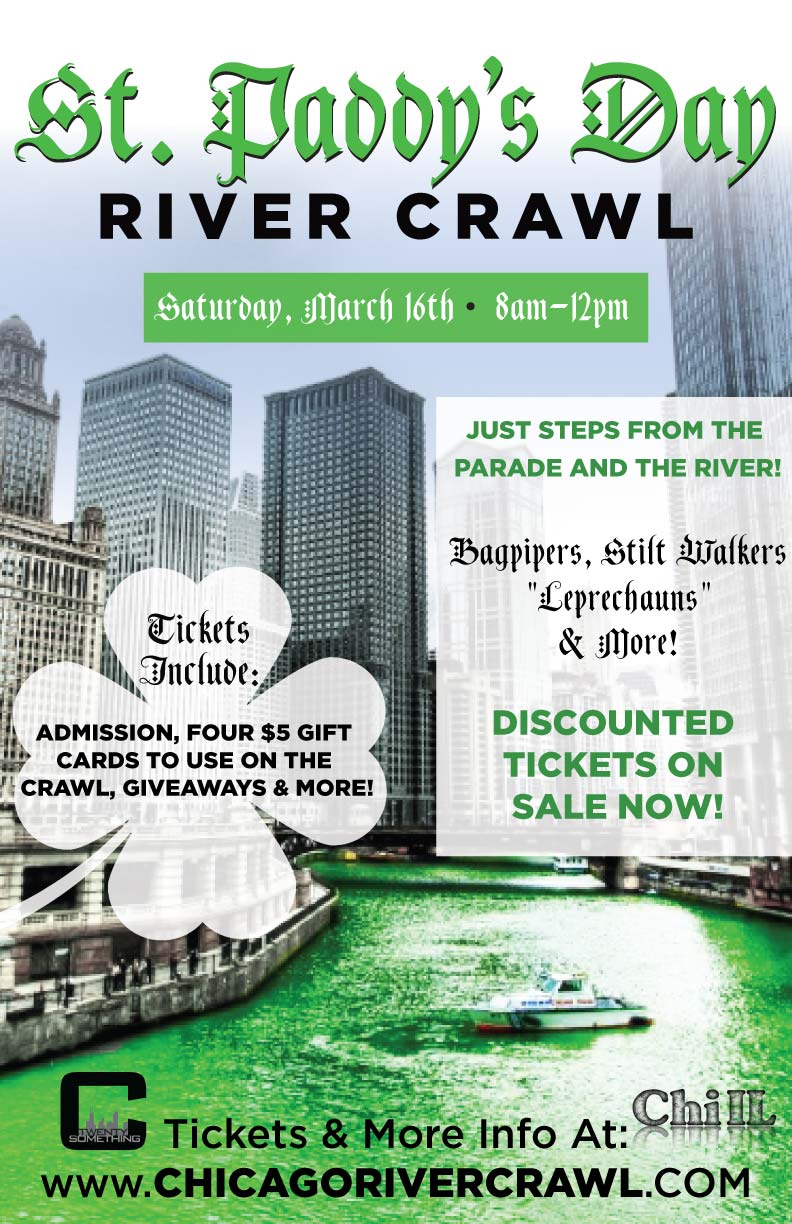 WHERE: River North's BEST Bars including: Point and Feather, Theory, 10 Pin, AceBounce, Bar Cargo, Bassment, Boss Bar, Fat Baby Tacos, Ironside, Social Twenty Five, Jojo's Milk Bar, Moe's Cantina, Moxy Hotel, Old Crow, Pink Taco, Rock Bottom (2nd floor), Tunnel, Underground, and more TBA (subject to change)
WHY: It's St. Patrick's Day and the river is dyed once per year! Also, why not?!
FREE STUFF!
All attendees will also receive the following Freebies*: 2 FREE rides in an affordable ride share with Via using promo code 'CTS2' – Get $7 in DoorDash cash from DoorDash – $10 in FREE food at your favorite restaurants like Freshii, Protein Bar, Rockit & more from Ritual – 5 FREE on-demand dog walks from Rover with promo code CHICAGOFREEBIES – $50 in FREE food & drink from Spring Rewards! *All offers valid for first time users only and subject to change without notice. Click HERE for more info!
PHOTOS FROM LAST YEAR: Check out pics from last year by clicking HERE!
PHOTO CONTEST: Enter to win our PHOTO CONTEST by posting pictures to Facebook or Instagram using "#ChicagoRiverCrawl" Our panel of judges will go through the pictures and winners will be contacted after the crawl! Be a Chicago River Crawl Champ, and post a picture from every bar!
RIVER DYEING: Chicago is famous for dyeing its river green! The river will be dyed at approximately 9am between State St. & Columbus Dr. if you want to check it out!
CRAWL SCHEDULE & DAY OF PACKET PICK-UP INFO: The crawl schedule and day of packet pick up information will be announced on Friday, March 15th in the afternoon, please check back for details!
ADVANCE PACKET PICK-UP INFO: You can pick up your wristband, gift cards, etc at a location in River North TBD on the following dates and times:

Wednesday, March 13th (4-8pm)
Thursday, March 14th (4-8pm)
Friday, March 15th (12-8pm)
Please Note: You can pick up your friends packets IF you bring their PRINTED TICKET*
SPONSORSHIP OPPORTUNITIES: For questions, sponsorship opportunities, and press inquiries, please email Info@ChicagoRiverCrawl.com!

FREE TICKETS/RAISE MONEY FOR YOUR CAUSE:
-Fundraising Opportunity: Are you trying to raise money for a certain cause? Email Info@ChicagoRiverCrawl.com for more info!
-Celebrate your birthday on the crawl and your ticket is free! Email Info@ChicagoRiverCrawl.com for more info (restrictions apply)
-Want to earn a free ticket and some cash for spreading the word? Email Info@ChicagoRiverCrawl.com for more info!
WARNING: We strongly encourage you to NOT purchase tickets from people you do not know. We have seen fake tickets in the past, and will not honor them for entry into the crawl.
FINE PRINT:
All Guests must be 21+ with valid government issued ID. We will crawl rain or shine! NO REFUNDS! If you cannot find your ticket please contact
Eventbrite.com
directly, please do NOT email us as there is nothing we can do. Must be 21 years old to participate; valid government issued ID required. Participating venues and advertised times are subject to change. Chicago Twenty Something, Inc. and ChiIL Productions promote safety and urge all participants to drink responsibly. Participating venues reserve the right to refuse entry to guests who are deemed intoxicated (or otherwise unfit) upon arrival. No refunds will be given. Gift cards must be used for food in accordance with state and local liquor laws. Participants must bring their Print At Home Ticket to the registration venue. No refunds. All sales are final. If a venue is at capacity then you may have to wait or proceed to another venue. Do not be late for registration. Prices are subject to change while supplies last.
*Unfortunately the Eventbrite system does not allow us to restrict people who are underage from buying tickets. If you are not 21 and purchase a ticket, you will not be allowed into the event.*